High-Speed Rail Funding at Work
Find yourself wondering what those federal dollars dedicated to high-speed rail are actually funding? The Illinois Dept. of Transportation sent cameras out to capture a high-speed rail upgrade in progress near the Twin Cities.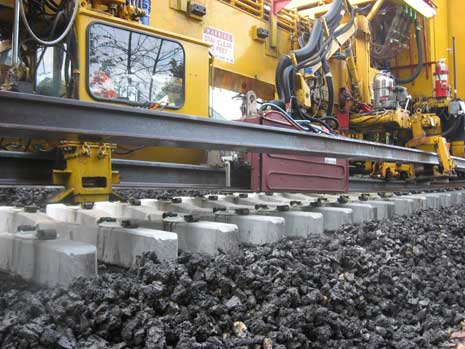 From the IDOT website explaining the project you see in this photo:
"In September 2010, one of the first construction projects in the national High-Speed Intercity Passenger Rail (HSIPR) program began along the Chicago to St. Louis route to prepare it for future train operations at up to 110 miles per hour. This track renewal project will be completed over two construction seasons: 2010 and 2011. The 2010 construction, completed in early December, included upgrading 76.5 miles of existing track from Brighton to Elkhart, excluding the Springfield area. A study is currently underway to determine the best route through Springfield."
For continuing coverage of high-speed rail news, visit The Railist.
Published on Wednesday, May 18, 2011
in