A Prefab Prototype for Kenyan Villages
A Kansas City design team hopes its model for a prefabricated village can bring "simple, high-quality vernacular architecture" to the country's rural communities.
The prototype, to be installed on a 12.5 acre site near the village of Maai Mahui in the Rift Valley, includes structures for a community center, medical facility, sewing school and factory, facility for children with special needs, recreation center and a public library and internet cafe.
Plans call for expanding the prototype gradually to accommodate community needs, Gunnar Hand writes:
"A proponent of multi-transitional growth housing, [architect Philippe] Barriere said his design is slated to be the first of many such installations on the Kenyan site. As funding allows through partnerships and donations, structures will organically grow into each other over time."
The model village is on display in Kansas City through mid-2011, when is will be dismantled, shipped to Kenya and reassembled by local workers.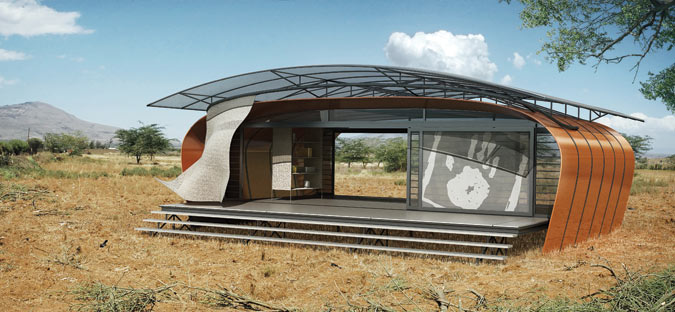 The prefab community center designed by Philippe Barriere Collective.
Topics