---
New York City's High Line was an instant success when it opened in the rapidly gentrifying Meatpacking District in June of 2009. The park attracted two million visitors in its first year and is widely viewed as economic boon to the neighborhood. But does that make it a model for other cities?
Last Wednesday evening, a diverse group of New Yorkers took the stage at the City University of New York in an attempt to answer that question. Moderated by the University's John Mollenkopf, panelists Robert Hammond, co-founder of Friends of the High Line, Jerilyn Perrine of the Citizens Housing and Planning Council, and New Yorker writer and West Village resident Malcolm Gladwell debated whether the project is repeatable for planners and architects in New York and other cities, or furthermore, a smart expenditure of municipal resources.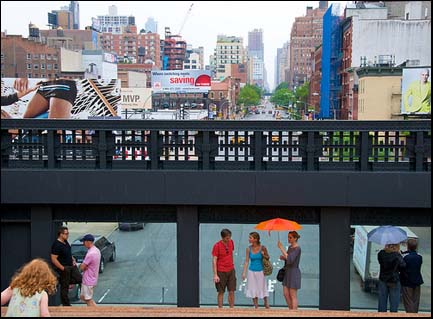 "It's a big, splashy symbol of all kinds of things that can be done in an urban environment," said Malcolm Gladwell. Innovative ideas like the High Line, he argued, are the reason that people come to New York in the first place.
Robert Hammond described the project's origins as a "bottom-up" movement. He and his co-founder Joshua David faced stiff opposition from the Giuliani administration in the late 1990's before the concept was championed by the Bloomberg administration.
"The early opposition was a really important part of our success," said Robert Hammond. "It brought a community together."
By building a coalition of artists, architects, small business owners and younger residents-people elected officials don't typically hear from, noted Hammond-the High Line was able to capture the public's imagination and the attention of city government.
(Poking fun at Hammond's characterization of his early supporters, Gladwell quipped: "'Bottom-up' is very misleading. That's a sophisticated bunch If that's the bottom, I want to be on the bottom.")
Hammond also noted that making an argument for the project's benefit in economic terms-using projections to show how it might drive real estate values, draw tourists and boost local businesses-was a key factor in winning official support. The city ultimately preserved the High Line by creating a special zoning district that allowed owners of adjacent properties to transfer development rights from their buildings to other sites in the neighborhood. The economic development impact on the neighborhood has been greater than either Friends of the High Line or the city ever imagined, with ten times the number of visitors expected, said Hammond.

"I think it's dangerous to equate economic values to purposes like this. It leaves other communities behind," countered Jerilyn Perrine.
She argued that the High Line is likely not the sole driver of escalating real estate prices in its neighborhood, which was already in the process of shifting from industrial uses to residential and commercial ones before the new park came along. Furthermore, if projected economic impacts become the primary basis for deciding what public projects get built, low-income communities that cannot compete with the "star power" of causes like the High Line will inevitably be left behind.
Acknowledging the inherent difference between creating a quirky elevated promenade in one of Manhattan's trendiest neighborhoods and reclaiming industrial wasteland in the South Bronx, for example, Hammond noted that the successes of smaller-scale endeavors might be more relevant most communities.
He pointed to the 3-mile long Bloomingdale Trail in Chicago, similar to the High Line in that it will convert a derelict rail line into a park, as one potential model. The project lies outside of Chicago's main downtown area and is supported by a small group of locals who enlisted the aid of the Trust for Public Land to navigate the public approvals process.
In design terms, Hammond said, the superlative examples of how to reuse industrial infrastructure for public purposes tend to be found in other countries.
"America has a hard time with industrial use Most Americans don't see the beauty in the industrial," Hammond said.
Perrine agreed, pointing to Ferrapolis, a formerly contaminated ironworks site on an island near Dessau, Germany transformed into an open-air museum and concert venue, as one remarkable example. Hammond seconded Germany's prowess at revitalizing former industrial sites and added that Japan, Italy and the Netherlands also boast creative examples adaptive re-use projects.
Perrine and Hammond agreed that such works need not be as pricey as the High Line, the first two sections of which are estimated to cost over $150 million. However, as Perrine mentioned earlier in the conversation, even at lower costs, new projects often come at the expense of maintaining existing parks when done with city money.
Gladwell argued that in some instances, that might be a necessary trade to make. He recounted a scene from The Godfather: Part II in which an elderly mobster explains to the young Michael Corleone that there's no room for complaining about the ugly side of their illicit business, even when your friends are murdered. This the business we have chosen, the mobster says.
"Well, this is the business we have chosen," said Gladwell, the we a stand-in for all of New York.
In a city so dependent upon a small fraction of its residents generating a huge portion of its tax revenue, says Gladwell, it's necessary to build amenities to attract the wealthy in order to subsidize the infrastructure and programs that support low-income communities. For that reason, the panelists seemed to agree, if not just for the beauty, the novelty, the tourism, and the "star power," there is a place for a piece of the High Line in every city.
Density and Driving: A Second Look
A common argument against more compact housing is that increased population density will only reduce vehicle miles traveled at moderate levels of density, as opposed to very low-density and very high-density areas. But this might not be so.
This six-course series explores essential urban design concepts using open source software and equips planners with the tools they need to participate fully in the urban design process.
This course aims to provide an introduction into Urban Design Sketching focused on how to hand draw master plans using a mix of colored markers.
View More