---
For the past few weeks, we've been asking you to help us crowdsource the Top 100 Public Spaces in the U.S. and Canada, in collaboration with Project for Public Spaces. For a different perspective, we asked some top architecture critics and practitioners to give us their favorites. 
If you still haven't voted, head on over to IdeaScaleand give us your suggestions. Voting is getting competitive, with Seattle's Cal Anderson Park currently topping the list.
It has been a fascinating experiment so far, attracting some of the expected responses (The High Line, Millennium Park, Bryant Park) and some less so (The Circle in Normal, Illinois). For me, it's been a revelation to read about the many beloved plazas and parks I've yet to visit.
While crowdsourcing has its benefits, it is also useful to talk to people who's business is to think about cities and architecture. I asked a handful of architecture critics, urban designers and architects to give us their bests.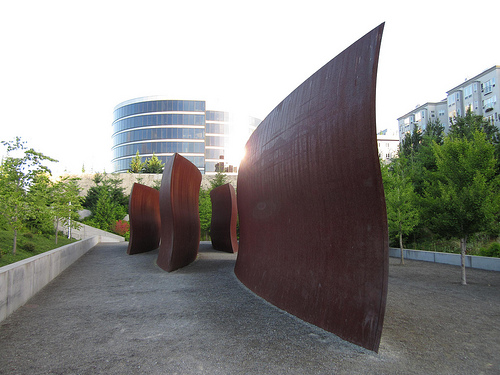 James S. Russell, architecture critic for Bloomberg News and recently the author of The Agile City: Building Well-being and Wealth in an Era of Climate Change
, was kind enough to send us his Top 10:
James S. Russell's Top 10
High Line Park, NYC
Central Park, NYC
Olympic Sculpture Park, Seattle
University of Washington campus, Seattle
Benjamin Franklin Parkway, Philadelphia
Millennium Park, Chicago
Stanley Park, Vancouver BC
Moore Sculpture Garden (Nelson Atkins Museum), Kansas City
Back Bay Fens, Boston
Times Square, NYC
John King is urban design critic for the San Francisco Chronicle, and he also has a new book out, Cityscapes: San Francisco and its Buildings
. Rather than a top 10 list, John sent us this reflection on his favorite places:
For San Francisco, the one I thought of instantly is one that outsiders don't known: Grand View Park. It's on the west side of the city, a steep bare hillock surrounded by prim single-family homes, and it delivers exactly what it promises: a grand perspective on the remarkable setting that is essential to San Francisco's sense of place. In Boston, where I lived seven years, what comes to mind is Boston Public Garden. You enter and you have stepped out of time, a sensation felt often in The Hub. And yet it's centrally located, very much part of the daily ebb and flow, timeless yet integral to the city of today.
New York? What else but the High Line. Deride it as monied or mannered or a developers' boon in hip veneer, it is mesmerizing and exhilarating at once -- a reminder that the principles of urban design should never be considered set. Because new layers and the unexpected are part of the change that cities are all about.
Finally, in Portland, Tanner Springs Park. Again, people I respect consider the Atelier Dreiseitl design to be mannered. I love how it embodies the uniquely sustainable ethos that shapes this Northwest city more and more, year after after year.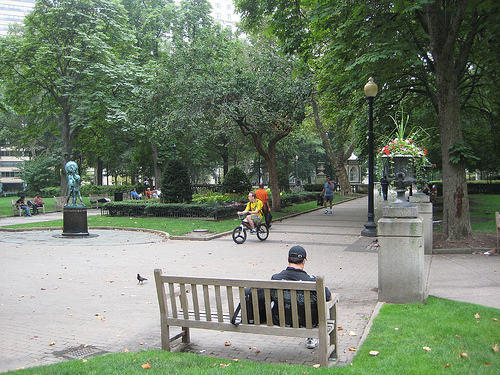 Inga Saffron is the Philadelphia Inquirer's architecture critic, and currently a Loeb Fellow at Harvard's Graduate School of Design, provided us with this list of her picks:
Inga Saffron's Top 10
Rittenhouse Square, Philadelphia
Central Park, New York
High Line, New York
Emerald Necklace, Boston
Millennium Park, Chicago
Olympic Sculpture Park, Seattle
Bryant Park, New York
Stanley Park, Vancouver
The Lachine Canal Bike Path, Montreal
National Mall, Washington D.C.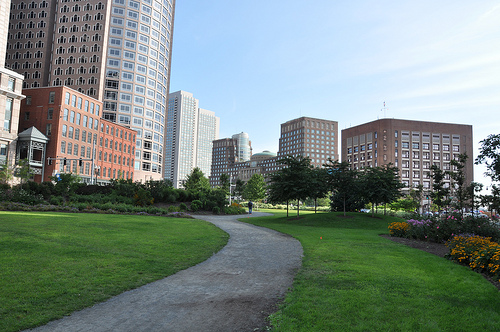 Anthony Flint, a fellow at the Lincoln Institute of Land Policy, a contributor to The Boston Globe and author of Wrestling with Moses: How Jane Jacobs Took On New York's Master Builder and Transformed the American City
, provided his top 10 and a generous description of his thinking:
Anthony Flint's Top 10 
Rose Kennedy Greenway, Boston
High Line Park, NYC
Harborwalk/Fort Point Channel, Boston
Millennium Park, Chicago
Washington Square Park, NYC
Yerba Beuna Gardens, San Francisco
Riverwalk & Waterplace Park, Providence
Presidio & Chrissy Field, San Francisco
Harvard Square, Cambridge
Grand Central Terminal, NYC
Flint explains his choices:
A confession: including the Rose Kennedy Greenway – the surface of the $15 billion Big Dig project in Boston – is at once nostalgic and an act of obligation. All that money for all that infrastructure; the suppressed roadways actually work very well, but the promised transit improvements that were supposed to accompany the traffic improvements have still not been realized, like the extension of the Green Line through Somerville, or the Red-Blue connector. And the potential of the 30-acre ribbon of open space has of course not been fully realized, either. The Greenway has not been able to benefit from proper funding or clear governance; the city thinks it's the state's responsibility, and vice versa. Abutting property owners are not contributing in accordance with the way this park is increasing property values. Considering all the challenges, though, the Greenway is doing OK. On a sunny day in downtown Boston it's a fine place to be, whether at the intersection with Hanover Street and the North End Parks (Gustafson Guthrie Nichol Ltd ), the carousel, or by the fountain in the Wharf District (EDAW). A terrific recent addition is the Boston Harbor Islands Pavillion by Utile (
http://www.utiledesign.com/projects/harbor-park-pavilion/
), which both celebrates the space near Christopher Columbus Park and leverages and redirects visitors to consider the incredible resource that awaits by boarding a boat a few steps away. The public buildings that were supposed to divide up and frame the Greenway space aren't there. Moshe Safdie's museum, a City of Boston museum, a YMCA, the botanical gardens and winter garden envisioned down by Dewey Square and South Station – all remain pretty pictures on a drafting table. There is no suitable crossroads at the Old Northern Avenue Bridge over to the Seaport district across Fort Point Channel. The Chinatown park is pleasant enough, though a bit hard to find.
These circumstances have forced the public space to evolve and reach out in other ways – with food trucks and public art installations, and programming that comes and goes without a whole lot of stress and strain. If there were more people living downtown, the Greenway would be a smash hit just with some Tuilleries-style crushed stone and Bryant Park-style movable chairs.
But then one must stop and think and marvel at what was here, what was erased from the landscape to create this space: the hulking elevated highway the Central Artery, rattling with thousands of cars overhead, cutting the city in two, looming over dreary parking areas in darkness and shadow. Some young people around here may not even remember this
Robert Moses
-era highway was ever there – like how some fans don't think much about those years the Red Sox went without a championship.
So the Greenway gets my vote as the public space created by a hugely expensive public works project correcting a 1950s mistake of the type Jane Jacobs fought against, that doesn't have much proper support but is finding its way and trying hard, in a way most Bostonians would want it to succeed.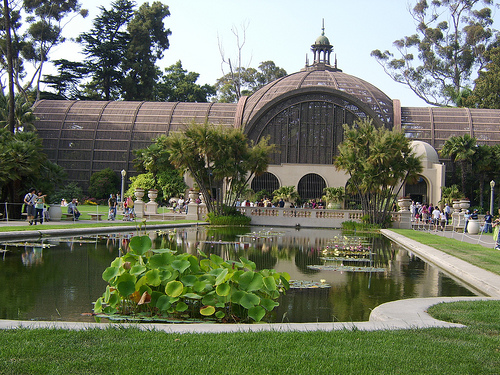 To get a different perspective, we spoke with some people who are on the design side, like David R. Gal, a landscape architect for SWA Group and the primary on-site landscape architect for Burj Khalifa Tower Park in Dubai:
My favorite public space is The Prado in Balboa Park, San Diego. Strolling on a warm southern California afternoon through the many museums and lush landscaping amongst the eclectic Spanish-Colonial Revival architecture (built nearly a century ago for the 1915 Panama-California Exposition) is pure bliss...it doesn't get much better than that...
Nicole Horn is also a Landscape Architect with SWA Group, and also has a California pick:
Alice Keck Park Memorial Garden in Santa Barbara is a small, public botanic garden with a two key features worth mentioning: the gardens exhibit low-water use and drought-tolerant plant species and there is a man-made koi pond that delights both kids and adults at the lower corner of the park. This gentle and beautiful urban park is the perfect place for a Sunday afternoon stroll and kids love watching the pond turtles and koi splashing in the shallows.
And to close, here's a completely different sort of public space, a favorite of Sam Zimbabwe, Director of the Center for Transit-Oriented Development:
One of my favorite public spaces in the United States is not the most beautiful place in the world. And it's not a place that I would choose to sit and sip a cup of coffee, but it is a place that works despite its disfunctions.
For 3 years, I traversed the plaza at the 16th Street BART Station in San Francisco's Mission District at least twice a day. Occupying a busy intersection of two major bus corridors and a regional rail station, the plaza was redesigned and reconstructed through a community-based process, integrating local artists in the creation of fence railings and other features. The community-led design replaced a uniform and monotone brickscape from the 1970s, and while it couldn't fix every problem (the stairs and escalators still face the wrong way and the station entrance is an obstacle to those cutting across the plaza to catch a bus) it somehow works. I never knew who I would encounter in the plaza-friend or panhandler, preacher or vendor-but there was always so much going on that I was impressed that everything and everyone didn't collide constantly. To me, it is the epitome of what our public spaces should be: alive with the pulse of a neighborhood or community, reflective of local wants and desires, and open to all kinds of activities.
Thanks to all our contributors, and let us know what your favorite public spaces are!
---
Tim Halbur is managing editor of Planetizen.
Red Cities, Blue Cities, and Crime
Homicides rose across the nation in 2020 and 2021. But did they rise equally in all cities, or was the situation worse in some than in others?
Tolling All Lanes
Bay Area transportation planners are studying a radical idea to reduce traffic congestion and fund driving alternatives: tolling all lanes on a freeway. Even more radical, the plan considers tolling parallel roads.
This six-course series explores essential urban design concepts using open source software and equips planners with the tools they need to participate fully in the urban design process.
Learn the tools for implementing Universal Design in planning regulations.
View More