Greening an Urban Highway
New York City presents three options for transforming the six-lane Brooklyn-Queens Expressway by covering it with vegetation and making streetscape improvements.
The designs, by Starr Whitehouse Landscape Architects, respond to community concerns about pollution and noise from traffic as well as bicycle and pedestrian safety. Residents in the Brooklyn neighborhoods of Carroll Gardens, Cobble Hill and Columbia Street Waterfront, where the project would be built, also expressed desire for a greener streetscape.
Brandon Klayko says that cost is a major consideration in the proposals. The baseline scheme would cost $10.7 to 18.7 million, while the "dream scheme" has a pricetag of up to $82.7 million.
Klayko writes:
"Three proposed designs offer increasing levels of complexity and ambition with an eye toward construction and financial feasibility. It remains to be seen what proposed intervention will actually be implemented, but nearly any change to this urban sore can be seen as an improvement."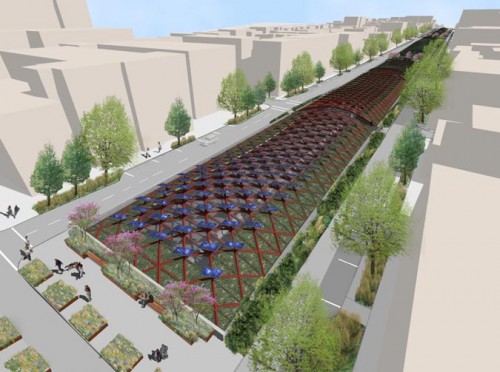 Starr Whitehouse Landscape Architect's "dream scheme."