Beyond the Corbusian Cult: Reflections on Chandigarh's Capitol
Vinayak Bharne pays a pilgrimage to Chandigarh, India, memorialized in planning literature as  Le Corbusier's utopian vision for Indian modernity, as well as a blunder of modernist insensitivity. Six decades since its conception, the city has been magically appropriated by its people, while its infamous Capitol complex appears like an abandoned ruin.
After fifteen years in architecture and planning practice, I finally visited Chandigarh in 2008. It was clear why Le Corbusier's largest urban endeavor had been the target of much criticism over the last six decades. Its 800 x 1200 meter introverted Sectors, vast distances, wide-thoroughfares, segregated zoning and decentralized civic core, while paradigmatic of a then refreshing Modernity, are today the hallmarks of a myopic urbanism, devoid of any sensibility to India's climate or culture.
Despite these shortcomings, Chandigarh was healthy and thriving, embodying all the qualities of a progressive, prosperous polis. It had nearly doubled in size over five decades along Corbusier's proposed pattern. It had survived the political upheavals and terrorist threats of the '80s. Its citizens wore an intrinsic civic pride towards India's first Modern city. It was known for its quality education. Children were taught about the city's birth and design, and everyone knew about the man named Le Corbusier. Its markets teemed with activity, overwhelming the bland concrete and brick facades with a riot of signage, canvas and color. It was India's first "green" city to ban smoking in public. Chandigarh has its act together – not because of its planning or architecture, but because it had, like many other Indian cities, been appropriated and absorbed by the plebian Indian ethos.
Then I visited the Capitol, the city's infamous administrative center that Le Corbusier had so meticulously designed in 1951. Since my student days, I had marveled the sheer chutzpah of this vast brutal landscape against the Himalayan backdrop, and admired the sculptural formalism of the Assembly, High Court, Secretariat and Pavilion of Shadows. Over the years, I had seen photographs of its aging concrete, and of villagers washing clothes in the Assembly's pools. And more recently, I had learnt of the controversies surrounding its potential designation as a UNESCO World Heritage Site.
But there was more to the Capitol I saw in 2008. Guard posts, gates and barbed wires enclosed the entire precinct, interrupting the view of the famous Assembly and High Court from the central Esplanade. Trees grew randomly, blocking the same vista of the 240-meter long Secretariat that had not long ago been a carefully conceived visual composition. Secured entry to the Assembly and High Court occurred from the rear parking lots, which also became the setting for hawkers and commerce. Except as a space to admire the buildings, the 440-meter long Esplanade remained perpetually empty with nothing but weeds and a few administrative cars sheepishly parked at its fringe. Apparently it stayed that way even on India's Independence Day, with the parades happening instead in the maidan near Sector 17. The Assembly's pools were full; the High Court's were empty. The famous Open Hand monument (constructed in 1982) and as its sunken plaza conceived for public debate appeared forlorn and brooding. From the Esplanade, the Capitol seemed like an empty proscenium whose performers had long since disappeared.
From atop the Secretariat the complex was something else. A green jungle had gradually engulfed Corbusier's uninterrupted plain of the fifties. The Assembly and High Court appeared shrouded in foliage like ancient temples of a lost civilization. The Open Hand and the Geometrical Hill in the distance seemed like altars of an antediluvian cult. Even as this dramatic juxtaposition of nature and aging concrete reminded me of William Curtis' poetic of the Capitol as a "a colossal grave, a dignified ruin", I wondered what Corbusier would have made of this seemingly sequestered world entombing the values of another era.
So whatever happened to Corbusier's Capitol? Circa 1985, some three decades after the Capitol's opening, Chandigarh had been gripped by the paranoia of Sikh terrorists killing people at will. A year ago Prime Minister Indira Gandhi had ordered a military attack on the Golden Temple in Amritsar, the holiest of Sikh shrines, killing hundreds of Sikh terrorists who had amassed weapons within, and eventually leading to her assassination. With everything from state to city wearing a somber garb, emergency security measures were implemented to safeguard the administrative center. Barbed wire fences with guard-posts, gates and gunmen had fortified the complex and entry to the Capitol had become far more limited than ever before.
What surprised me was that the Capitol had never been presented this way. It had always been projected in architecture and planning volumes as that original Corbusian figment. Its photographs were either from the early fifties, before any of this had happened, or they had been carefully cropped to erase the barbed wires, gateposts, and weeds, and showcase only the sculptural purity the buildings. The articles had always celebrated the Capitol as a Corbusian achievement, and the only thing that mattered was his original vision, not its legacy. All these years, I had been duped into seeing the Capitol through a manipulated viewpoint that had disconnected its history and denied me any knowledge of its evolving identity.
Ironically, I found this Capitol far more provocative than its manicured projection. Its hasty fortification represented the desperate and necessary safeguard against a looming national threat that transcended all aesthetic concerns. The tortured, protected Capitol seemed so vulnerable, so real – a helpless victim of unpredictable political circumstances on the one hand, and a mirror reflecting the darker colors of post-colonial India on the other.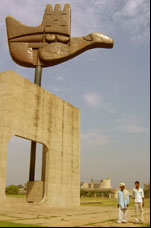 This Capitol was no longer a public place. Not that no one visited this isolated northern part of the city; they did – in fact in droves. They just did not go to the Capitol. Instead, they went next door to the fantastic world of Nek Chand's famous Rock Garden. This road inspector had scavenged discarded debris from Chandigarh's construction, and secretly built a jungle garden violating both local construction regulations and Le Corbusier's master plan. It was not until 1976 that the place was eventually recognized as a masterpiece and formally opened to the public. People of all ages, from all over, journeyed through its tenuous labyrinth with birds, beasts and people made of everything from broken bulbs and lavatories to beer bottles. The garden, unlike the Capitol was something people could simply associate with. It boasted a public magnetism the forlorn Capitol could only aspire to.
Corbusier's decision to decentralize the Capitol has received much criticism. But seeing the populist indifference towards this place, perhaps it is better off sequestered than engaged within the city. I was then reminded of the Chilean architect Rodrigo Perez de Arce's hypothetical scheme for the Capitol three decades ago. He had super-imposed a pedestrian-friendly block-street grid over the entire Complex, in-filling the vast open spaces with cohesive fabric, and overlaying Corbusier's expansive scheme with a completely new set of relationships among the buildings. With the original Jan Marg (the main southern entry) terminating into a garden and the Esplanade narrowed into a visual corridor, the Capitol's monuments now appeared intimately engaged within a new city, transforming its image from a disconnected utopia, to a place for habitation.
Today, the only true "inhabitants" of the Capitol - besides the diurnal political menagerie that come and go – seem to be the villagers of Kansal, the only surviving neighboring hamlet from the fourteen demolished to build the city. I saw them hanging out on the grass around the Open Hand and walking across the Esplanade as a shortcut to the city. If the city is the appropriated world of the urbanites, the Capitol appears to have become the self-proclaimed field of the villagers.
Chandigarh's thriving city and an empty civic core have lost their umbilical cord. Today, their only link is Corbusier's Open Hand monument – not through its original democratic symbolism of being "Open to receive, Open to Give", but through its ubiquitous scattering as a two-dimensional imprint throughout the city. From tourist hoardings and garbage bins to pamphlets and driver's licenses, it was the city's official symbol, though one may not exactly know its relevance then versus now.
Chandigarh's Capitol is an elusive place, whose emerging guises remain hidden beneath an antiquated Corbusian shadow. For all its celebrated stature, it still remains an unfinished utopia whose noble aspirations and architectural prowess have not been able to surpass the socio-political vagaries of post-colonial India. It affirms that architecture, however purposeful and masterful, is but a pawn in the complex socio-cultural game of city-making. Monumentality and civic pride are eventually not architectural but socio-political phenomena, and inasmuch as visionary aspirations are critical to their conception, the expectations and circumstances of those who "own", adopt and appropriate it are even more critical to their nurturing. Whether or not the Capitol becomes a World Heritage Site, what it needs desperately is an honest reassessment, an unapologetic stripping of its Corbusian veneer, and an unbiased re-examination of its post-colonial scars as the true and evolving dimensions of its future identity.
---
Vinayak Bharne practices urban design in Los Angeles and teaches urban theory at the University of Southern California. He is a co-author of the forthcoming book "The Emerging Asian City: Traditions, Tensions & Transformations."
Topics