Mike Lydon reports from the CNU Transportation Summit in Portland, Oregon, the country's laboratory of smart growth. "Change is imminent," says Congressman Earl Blumenauer via video.
---
From November 4th - 6th nearly 200 transportation reform practitioners, pracacademics, and advocates convened in Portland, Oregon for the Congress for The New Urbanism's annual Transportation Summit.
As the main event for CNU's ongoing Project for Transportation Reform, this year's Summit discussion were framed by the following six sustainable transportation network principles, originally drafted during last year's Summit in Charlotte, North Carolina:
A Network Supporting Place: A network of urban streets should support urban places-and vice-versa.
Diversity of Streets: Networks should consist of a diverse set of urban street types serving diverse transportation modes and urban settings.
Highly connected Network: Create street networks with abundant connections internally and to adjacent places.
Human Scale Network: Create a dense pattern of streets, blocks, and frequent intersections.
Integration with Blocks and Buildings: Neighborhood and city scale street networks must also integrate with a supportive context of blocks and buildings to create a truly pedestrian supportive environment.
Links to Regional and National Networks: must link with regional and national scaled transportation systems, including streets, transit, rail, shipping, and airports.
Put forth to a dedicated assembly of urbanists keen on changing the way local, state, and especially federal transportation provisions are funded, planned, and implemented, the above principles were refined at this year's Summit "to set a course for further development of the practice, polices, and evaluation tools and methods for creating a more sustainable [transportation] network."
With an imminent opportunity to influence the next federal transportation bill alongside a growing coalition of reform-minded organizations, a sense of urgency and purpose remained palpable throughout the Summit.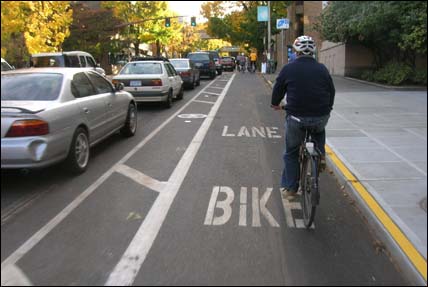 The Greatest Place
The first day of the Summit put the spotlight on the greater Portland metropolitan area-its accomplishments, its failures, and ambitious drive to make "the greatest place." After hearing from several of Portland's Metro Councilors, who impressively skipped the normal sustainability platitudes, it became clear that Portland has become the country's leading laboratory for the realization of smart growth because of its visionary leadership and progressive, but incremental, policy decisions.
A generous helping of data helped quantify the city's reputation as one of America's most livable. Research reveals that between 1990 and 2000 only 1% of the city's growth occurred in exurban areas, which is largely a result of the region's 30-year old urban growth boundary. In stark contrast, last year's CNU Transportation Summit host, Charlotte, experienced 45% of its regional growth in exurbia during the same 10-year period.
Portland's bike culture is about as progressive as they get in America. Yet, the city's reputation only started to expand nationally following a 1996 master plan that jumpstarted the city's bicycle infrastructure expansion. Overall bicycle mode share has increased 275% since then, and today reaches 20% in some of the city's inner neighborhoods. This demonstrates an incredible rate of return on the city's ongoing investment in active transportation and helps substantiate the virtuous cycle associated with safe bikeway provisions.
Portland is a city where an ever-burgeoning light rail system, an expanding network of streetcars, and even an aerial tram can get you from here to there with relative ease. It is also the only large city in America to see a decrease in VMTs over the past two decades. Summit attendees seemed inspired by the history and policies behind this accomplishment, which started when regional leaders began to convert federal highway subsidies in the early 1970s into public transit infrastructure in the 1980s.
Finally, Portland's land use is becoming ever more efficient. The average lot size for example, has shrunk by more than 50% since instituting the urban growth boundary. And local food and smart growth advocates alike appreciate that both chickens and auxiliary dwelling units legally roam and occupy Portland's backyards.
While the list of accomplishments continues, Metro Councilor Rex Burkholder instructed attendees "it's time to take off the green glasses." Portland, he explained, faces almost all of the same battles as other cities, and is not satisfied with its success.
Stuart Gwin from the City of Portland underscored this fact by explaining how the region's reputation extends mostly from the city's historic core, where 200' blocks make the street network one of the most porous and walkable in the country. Yet, much of Portland's built fabric remains low density and auto-oriented. The problem of suburban development within the actual growth boundary, and an inability to fund land acquisition for new street networks within these conventional street patterns, make retrofitting much of the city in the walkable core's likeness a particularly onerous task. This challenge is universal for cities and suburbs around the country, said Gwinn.
After hearing so much about the City and its development, participants headed out on a number of tours to experience what the region's progressive policies have resulted in on the ground.
Transportation Reform
The following two days were full of presentations, debates, and collaborative brainstorming sessions. While Streetsblog San Francisco and the Twitterati (#cnutrans) covered the conference in much detail, the latest field research to come out of academia proved particularly useful emboldening transportation reform efforts.
Professor Norm Garrick's of the University of Connecticut's Center for Transportation and Urban Planning delivered an update on his groundbreaking research, which demonstrates how the devolution of the urban street network continues to correlate directly with significant declines in public safety, walking, and bicycling.
Todd Litman, founder of the Victoria Transport Policy Institute, gave a spirited lecture about changing economic and housing trends and the current demand for smarter and more sustainable growth patterns. Litman pointed most emphatically to our country's glut of suburban housing and the utter lack of quality affordable housing in more compact, walkable settings.
And the prolific Larry Frank shared his latest research regarding the impact of street design on travel choice, public health, and climate change-providing a nice preview for CNU 18, which will be held in conjunction with the Center for Disease Control in Atlanta. Inspiring much conversation and debate was Frank's look at the fused-grid, a retrofit technique for improving existing suburban street networks for bicyclists and pedestrians.
Helping to close the Summit was Portland native Rep. Earl Blumenauer, a Portland native, who joined via video in Washington DC. Blumenauer, known as the best ally in the senate for the policies that create livable communities, delivered an encouraging message, stating that the Obama administration 'gets it' when it comes to land use and transportation reform and that change is imminent. Many Summit attendees, who were so hopeful during last year's Summit as Obama was about to take office, would like to see knowledge translate to more action in the coming months.
Detailed and focused on transportation policy reform, the Summit offered numerous opportunities for attendees to engage in the latest research and policy discussions, to debate the best ways to reform the MPO funding process, and even to learn the 140-year history of functional classification, as delivered in a brilliant lecture from Scott Bernstein of the Center for Neighborhood Technology.
If you find yourself concerned about transportation issues, please become involved in advocating for change. And by all means, please consider attending next year's Summit, which is to be held in Detroit, Michigan-a city that exemplifies the worst of our country's transportation policies, and therefore demonstrates the most need for its reform.
---
Mike Lydon is the Founding Principal of The Street Plans Collaborative and a co-author of the recently published The Smart Growth Manual.
This six-course series explores essential urban design concepts using open source software and equips planners with the tools they need to participate fully in the urban design process.
Learn the tools for implementing Universal Design in planning regulations.
View More