A photography show in 1975 is credited with changing the way artists looked at landscape, shifting towards looking at the built environment with a less romantic viewpoint. The original show is back on tour and opens at the LA County Museum of Art.
From the press release:
"Photographs in New Topographics emphasize aspects of the emerging, postwar American landscape: expansive parking lots detailed in Frank Gohlke's Landscape, Los Angeles (1974); subdevelopment tract housing documented by Robert Adams; idiosyncratic historic motels of Route 66 surveyed by John Schott's Route 66 Motels series; and industrial parks captured in Lewis Baltz's New Industrial Parks series."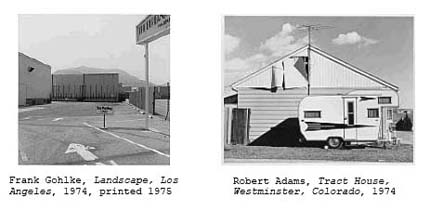 Along with the exhibition, the Center for Land Use Interpretation (CLUI) presents an installation exploring the role of oil in the development of the American landscape. A previous CLUI show covered the oil landscape of Texas.