Time for HUD to Rethink Rental
HUD needs to rethink its emphasis on home ownership and refocus on rentals, argues John Kromer of the Fels Institute of Government.

Federal housing policies have always favored sales housing and homeownership, and government funding programs have emphasized this priority consistently. The Clinton Administration's Homeownership Zone program offered financing for large-scale sales housing development in targeted areas. The Bush Administration's American Dream Downpayment Initiative (ADDI) provided homebuyers with money for down payments, closing costs, and rehabilitation expenses.
Rental housing has never been given comparable priority. Although the U.S. Department of Housing and Urban Development (HUD) commits substantial resources to support rental development and improvement programs every year, no HUD Secretary has initiated a Rental Zone program or linked apartment living and the American Dream.
The federal government's homeowner-friendly policy emphasis needs to change, because, for a growing number of American families, homeownership is no longer an option. Wage earners employed in lower-paying retail or service-sector jobs don't need another homeownership program. High sales prices and more restrictive mortgage lending standards will keep them out of the homebuyer market indefinitely. As important, lots of working families don't aspire to become homeowners; in the current economic climate, their primary goal is to find good-quality rental housing located within a reasonable distance of work. Added to this renter population is a large number of families that lost their homes through foreclosure. Most of them probably won't be in a position to consider re-entering the sales housing market anytime soon.
For these and related reasons, the homeownership rate is declining, and the number of renter households is growing quickly. Homeownership rates have fallen to their lowest level since the turn of the century, reversing the upsurge in homeownership that took place during the peak housing-bubble years. At the same time, according to a 2008 study by Harvard's Joint Center for Housing Studies, renter households increased by nearly one million in 2007 alone, at a rate of growth more than four times that which occurred in the period between 2003 and 2006.
While the renter population has grown, the supply of affordable rental housing has shrunk dramatically, due to the demolition of older apartment buildings, the abandonment of foreclosed rental properties, and the conversion of rental units to sales condominiums. This reduction in supply has made rental housing harder to find and less affordable. According to the National Low Income Housing Coalition's 2009 "Out of Reach" report, a family would need to earn three times the minimum wage in order to afford a two-bedroom apartment in the District of Columbia, New York State, or Pennsylvania rental markets.
This situation has been exacerbated by an unprecedented decline in HUD-financed rental units during the past two decades, as obsolete public housing projects have been demolished and replaced with lower-density communities containing a mix of sales and rental housing, including some housing priced at market rates. However, this spectacular transformation of some of the nation's worst public housing sites has substantially reduced the supply of affordable rental housing in many of the cities that need it most.
A long-standing requirement that housing authorities replace units lost through demolition on a one-for-one basis was repealed during the 1990s, and HUD subsidies for many units were terminated at or before demolition. The construction of lower-density housing on former high-rise sites, combined with the end of the one-for-one replacement requirement, produced a substantial net loss in HUD-supported rental units. As a result, according to a 2008 report by the Center on Budget and Policy Priorities, about 200,000 apartments have been removed from the public housing system since 1995.
The adverse impact of these actions on the availability of affordable rental housing could be substantially reduced if municipal housing agencies in major cities were working in close coordination with local housing authorities to ensure that available federal funding is being used strategically to address housing priorities systematically. But in many cities, this kind of coordination isn't taking place, and it won't happen unless HUD undertakes a major organizational adjustment.
The problem is that, although many formerly isolated public housing sites are being mainstreamed in the manner described above, the administration of public housing programs remains segregated, both at the local level and within HUD headquarters. Local housing authorities in most cities are state-chartered entities governed by boards that often have no direct accountability to the city's mayor. In Philadelphia for example, the Mayor appoints only two of the five Philadelphia Housing Authority board members; in the District of Columbia, the Mayor appoints none.
This separation at the local level has its counterpart within HUD headquarters. Housing funds for municipalities, made available through programs such as the Community Development Block Grant, are administered by HUD's Community Planning and Development (CPD) office, and the federal money is awarded directly to city governments. However, public housing funds, administered by HUD's Public and Indian (sic) Housing (PIH) office are awarded directly to housing authorities.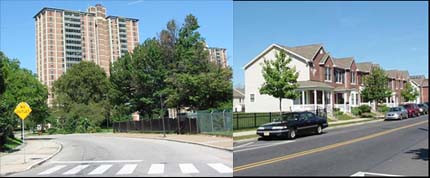 As a result of this disconnect between municipal governments and city housing authorities, important issues can remain unresolved indefinitely. In Philadelphia, it took years for municipal housing officials and their housing authority counterparts to agree on the amount of housing authority-controlled rental assistance funds that should be provided to enable formerly homeless people to move from Philadelphia's city-managed emergency shelters into apartments. As the interagency disagreements went on without resolution, the emergency shelter system became backlogged, and the number of homeless people living on Philadelphia's downtown streets grew substantially.
An intervention authorized by HUD headquarters is needed in order to address this situation and substantially improve the delivery of available resources for affordable rental housing. A comprehensive restructuring of the relationship between all municipal governments and city housing authorities experiencing this disconnect would take years to accomplish, but improvements could begin during the current fiscal year if HUD got started now.
On a pilot-program basis, HUD should select a number of city governments that, each with the consent of their respective public housing authorities, would be eligible to receive in block-grant form the annual operating and capital funding that would ordinarily be awarded directly to the housing authority by HUD's Office of Public and Indian Housing.
Although, under this proposal, a city's municipal government would be the recipient of all of the consolidated block grant funding, the implementing agency for these activities could be a government agency, a housing or redevelopment authority, or both. Smaller cities and some large cities (such as Baltimore, where the housing authority has been largely integrated into municipal government) have figured out on their own the best way to structure these intergovernmental relationships effectively. Other cities should be urged, and eventually required, to do so as well.
If successful as a pilot program, this approach could be mandated nationwide, based in each instance on HUD approval of a city/housing authority collaboration and a performance plan. This policy change, accompanied by a cost-saving merger of HUD's CPD and PIH staff, would be a final step in the integration of public housing into the mainstream real estate market. Because the need for rental housing is demonstrably the highest housing priority for the coming years, families seeking good-quality, well-located rental housing would be the biggest beneficiaries of this policy change.
---
John Kromer is Senior Consultant at the University of Pennsylvania's Fels Institute of Government, is the author of Fixing Broken Cities: The Implementation of Urban Development Strategies.
Topics