From Motor City to Garden City
Detroit may be struggling economically, but community groups and citizen activists are keeping the city vibrant with a wide variety of urban farming projects throughout the shrinking city.
Adam, a young Detroiter with a warm and easy way, works at Le Petit Zinc, a cafe on the way to Corktown. I'm slurping through a giant bowl of hot chocolate while Adam rests on his haunches opposite, his chin at tabletop level. He's talking about the responsibility that goes with inheriting a piece of farmland in the middle of an American city. "Our garden has grown to four city plots. Two older ladies had been farming there for decades. Until they passed away they were feeding their families for years. We're excited because the soil is really good, but it's a big garden now. I think we're going to plant an orchard."
The plight and blight of Detroit has been well documented. Between 1960 and 2000 the city lost 75% of its jobs, mainly through restructuring in the auto industry. 50% of the population, one million people, left town and 200,000 buildings have disappeared through processes of abandonment, demolition and arson. On the lower east side less than 20% of pre-1960 structures remain and over half of these are empty. Nature has reclaimed swathes of downtown Detroit - shrubs sprout through cracked concrete and grass and ivy covers the timber frames of empty, sagging houses.
This unique cityscape today offers a fertile opportunity for urban agriculture. Projects underway are not centrally led by city institutions but, to push a metaphor, grow organically from the grassroots up. Many downtown residents are active urban farmers in their downtime. Adam explains that Detroiters have always cultivated their lots for food, often out of economic necessity, whereas recent arrivals are attracted by the potential for sustainable urban living - land is cheap, buildings are ripe for adaptation to efficient green technologies, there is even a resurgent cycling scene in motor city - and home-grown food is central to this vision.
Keeping chickens for eggs is the latest thing. I meet Margaret at the Motor City Brewery in the Cass Corridor, where a number of small enterprises are clustering. Spring is imminent so she's planning her plot for the year and hopes to introduce a chicken run amongst the prairie, permaculture and vegetables. "It's illegal," she said. "A lot of what we do is illegal, but who's enforcing it? In Detroit a lot is left for you to work out with your neighbors."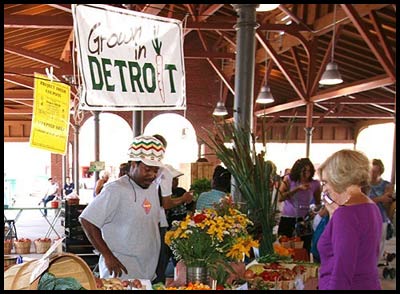 Recent commitment from unlikely quarters also suggest that urban agriculture makes economic sense. Ford, whose name is synonymous with the city's rise and fall, now maintains 200 acres of corn and sunflowers close to its global HQ in Dearborn. And this month John R. Hantz, a Detroit financier, unveiled plans drawn up with the Kellogg Foundation for the world's largest urban farm. Hantz set out his ambitions for the project, which if granted city approval, will transform 70 acres on the lower east side. "Detroit could be the nation's leading example of urban farming and become a destination for fresh, local and natural foods," Hantz said.
Much of what is grown is consumed by the farmers and their immediate communities but tenable jobs could also be created by selling any surplus through the largest open-air produce market in the U.S., Eastern Market, which occupies five downtown city blocks around Russell Street. Dan Carmody, Director of the Eastern Market Corporation, identifies two reasons why Detroit is now well placed to offer a post-industrial version of the Athenian Agora or Roman Forum, a vibrant food market and central public space: "Michigan is an incredibly diverse state agriculturally, second only to California in the U.S. in the number of different crops grown commercially, and the traders at Eastern Market have not been forced out by condo-loft mania like the market districts in NYC or Chicago." Last year Eastern Market welcomed up to 40,000 visitors on Saturdays throughout the Summer. This Spring the historic central sheds are being rejuvenated to accommodate a forecast growth in business, driven by a widespread demand for fresh produce. The Detroit Agriculture Network (DAN), a citywide coalition of community farmers, operates a stand at the market and according to Carmody "each year their offerings increase and they have more product to sell."
The modern era had its urban corollary in Detroit, the city which devoured its hinterland to maximize mass-production, built freeways (an astonishing 265 miles between 1950 and 1975) to expedite the movement of resources and goods, and the cars and trucks to go on them. Detroit, of all places, shows signs that urban agriculture could offer the key to life in the post-industrial city.
---
Michael Summerton is an independent urbanist and writer with professional planning experience in the UK, North-America and West-Africa. He currently lives in Toronto.
Topics