<p> Single-family detached homes typically epitomize sprawl, while 4 or 5 story apartment buildings now seem to be the utopian ideal for livable neighborhoods. But some of the most livable and walkable neighborhoods I know are largely comprised of single family homes. </p>
---
Single-family detached homes typically epitomize sprawl, while 4 or 5 story apartment buildings now seem to be the utopian ideal for livable neighborhoods. But some of the most livable and walkable neighborhoods I know are largely comprised of single family homes.
This is sprawl?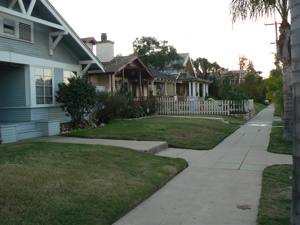 University Heights, San Diego, CA
This is an early 20th-Century streetcar suburb lined with craftsman homes (many of which have in-law units in back) interspersed with row houses and smaller apartment buildings. Located within blocks of traditional business districts, the neighborhood has well-maintained sidewalks and service alleyways throughout. University Heights and the surrounding neighborhoods are urban in character, with multi-story dwellings clustered closer to commercial streets. Motor vehicle traffic is typically quite low; pedestrians and bicyclists abound. Open space could be better, though the neighborhood has its own park and is only a mile from Balboa Park - a large urban park.
There is an overall feeling of serenity and adequate breathing space.
This type of residential arrangement is seen in small cities and towns throughout the country, as well as the first-ring suburbs of many metropolitan areas. Transit is often a missing link in these older areas; in most cases, rail and streetcars are long gone.
But this is not sprawl?

Fenton Parkway, San Diego, CA
This is the sort of cookie cutter housing that is popping up all over Southern California. It is high-density, autocentric suburban. Although these subdivisions are placed near transit and shopping (i.e., malls), many are logistically disconnected from these services. Car density seems to be at least as high as housing density. Functional park space and public open space are near zero, as much of the land is designated for housing and car storage.
The feeling is congested and claustrophobic.
Many of the problems associated with neighborhood #2 stem from its car-oriented framework and a serious lack of park space. If people are going to live in stacked apartments, sufficient space for outdoor recreation is essential, as is a safe framework for walking and biking.
In my experience, authentic neighborhoods like University Heights are some of the most walkable in the country, although inadequate foot traffic at night can be a safety concern on purely residential streets. Even without rail, these areas provide access and mobility because they are both centrally-located and designed for pedestrians.
So, which neighborhood density is the most livable? At what point is quality of life reduced due to overcrowding? Or does it all come down to good neighborhood design?
---
Making Healthy Places
The editors of the book "Making Healthy Places," recently published in a second edition by Island Press, discuss the intersections of public health and planning, including key concepts such as green gentrification, health impact assessments, and AI.
The Great American Exodus: A Conservative's Perspective
During his keynote speech on September 11 at the National Conservatism Conference in Miami, Florida Governor Ron DeSantis describes the demographic shifts in America since he became governor in 2019 in what he calls the 'Great American Exodus.'
This six-course series explores essential urban design concepts using open source software and equips planners with the tools they need to participate fully in the urban design process.
This course aims to provide an introduction into Urban Design Sketching focused on how to hand draw master plans using a mix of colored markers.
View More