What A Difference A Year Makes
In late 2007, it was with increasing frustration that I penned and op-ed entitled "Make Miami a Bicycle-Friendly City." Appearing in the December 13th edition of the Miami Herald, the article implored City officials to make the city more amenable to bicycling (It was no surprise in the spring of 2008 when Bicycling Magazine named Miami
one of the three worst cities in America in which to bicycle
).
The City's response exceeded all of my expectations.
In late 2007, it was with increasing frustration that I penned and op-ed entitled "Make Miami a Bicycle-Friendly City." Appearing in the December 13th edition of the Miami Herald, the article implored City officials to make the city more amenable to bicycling (It was no surprise in the spring of 2008 when Bicycling Magazine named Miami
one of the three worst cities in America in which to bicycle
).
The City's response exceeded all of my expectations.
Shortly after the op-ed was published, I found some kindred spirits in the newly formed Green Mobility Network and Emerge Miami -- a dedicated group of young professionals looking to make an impact in Miami. Together we took our case to Mayor Manny Diaz and staff in January of 2008. To our surprise, we were met with tremendous support. Indeed, we didn't get far into our well-prepared agenda before Diaz declared that under his leadership Miami would become more bicycle-friendly.
To prove the City's commitment Diaz issued a public proclamation that March would become Miami's official bicycle month and local activists and city officials were to be appointed to a Bicycle Action Committee tasked with creating an action plan that outlined short and long term goals.
Throughout the past summer the Committee crafted what became an ambitious Bicycle Action Plan (scroll down to October 16). Using a multi-faceted approach, the Plan calls for the expansion of Miami's on-street bicycle infrastructure (lanes, sharrows, and greenways), parking facilities, and signage. Improvements also include safety education for motorists and bicyclists, mechanisms to assure cooperation amongst city and county departments, and methods for measuring implementation progress. Although national rankings will not be the final determinant of success, the City would like to become a designated League of American Bicyclists "Bicycle Friendly" community by 2012.
In October the Action Plan went before Miami's City Commission for approval. As a large show of support, members of the Bicycle Action Committee were joined by the Mayor, citizen activists, city officials, Miami police officers and two City Commissioners in a ride to City Hall. Unsurprisingly, the Bicycle Action Plan was passed unanimously by the Miami City Commission.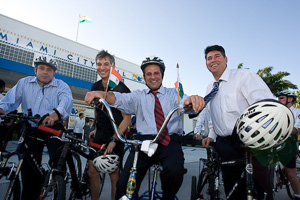 All smiles: Mayor Diaz, center, and members of the Miami
City Commission and Office of Sustainable Initiatives.
With all of the recent activity, bicycling has received an increasing amount of favorable press in the local media, with much of the coverage documenting a growth in ridership and the need for heightened public and safety awareness. The New Times has provided extensive coverage on bicycle safety issues, local NPR affiliate WLRN ran a story this summer chronicling "Miami's bicycle surge," and the Miami Herald has called the City's efforts "Miami's Green Wave."
A signature component of the Bicycle Action Plan, one that I highlighted in my letter last December, is to follow the example of Bogota, Columbia's now legendary Ciclovia, which closes more than 70 km of city streets for bicycle and pedestrian use on Sundays. Well on Sunday,November 9th a plethora of planned events and the attraction of car-free streets attracted thousands of people to experience downtown Miami in an innovative, family-friendly, and safe way. The event clearly demonstrates the wonderful potential of downtown Miami and I think the event's organizers and participants now understand what livable streets can mean for the health and vibrancy of this city.
And because the event was so successful, Mayor Diaz committed to making it a monthly event called Bike Miami Days. The most recent was held this past Sunday, December 14th. And while it didn't attract quite as many participants as the first Bike Miami (holiday shopping, Dolphins home game, less than ideal weather partly to blame), the event allowed people of all ages and background to enjoy downtown's streets, shops, restaurants and parks.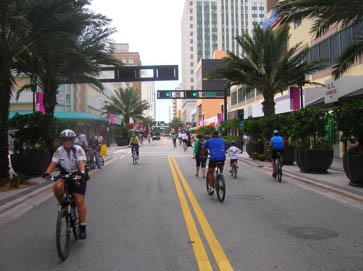 Bicyclists and pedestrians take over Flagler Street in Downtown Miami.
Although the City has a long way to go in becoming a top-notch bicycling city, the amount of change that has occurred over this past year is impressive and the City must be commended for their response. In fact, I am now hopeful that Miami will shed its 2008 ranking by Bicycling Magazine and become one of their more positive "Cities to Watch."