News Summary: Urban Policy and the Obama Presidency
The balloons have fallen, and the yard signs have been yanked up. The people have chosen, and in a historic win, Senator Barack Obama will soon be our next president. Now the hopes and promises of the campaign must harden into reality. Managing Editor Tim Halbur summarize what we can expect from an Obama presidency in regards to urban issues.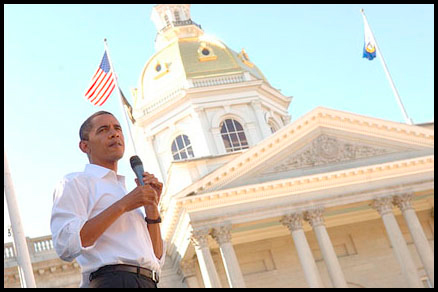 Unlike his opponent, the Obama camp has been putting together a cabinet and prepping for the job ahead for some time now. Obama's team is particularly strong in foreign policy advisors, as an extensive article in the New Yorker details. What is less well known is how his team will tackle the issues, such as transportation, energy, infrastructure and housing policies. Over the past month, a number of urban experts have read up on Obama's briefs and statements and have each taken a look into the crystal ball and asked, "What impact will an Obama presidency have on urban policy?"
A Regional Outlook
Mayor Manny Diaz of Miami was at the U.S. Conference of Mayors back in June, and witnessed one of the few speeches by Obama focused on the concerns of local government. Diaz believes that Obama will be a significant force for urban issues. "From business incubators to the college tuition tax credit," the mayor told Planetizen, "from the National Infrastructure Reinvestment Bank to the Foreclosure Prevention Fund, Barack Obama has offered comprehensive programs to invest in the assets of cities."
"[W]e need to strengthen our cities," said Obama to the crowd of mayors. "But we also need to stop seeing our cities as the problem and start seeing them as the solution. Because strong cities are the building blocks of strong regions, and strong regions are essential for a strong America."
Noted city specialist Neal Peirce thinks that Obama's regional focus will lead to a federal government that is very active in city issues, but with an approach that differs from the classic Democratic policy. In particular, he points to Obama's promise to invest $200 million in annual grants to bolster "innovation clusters" -- areas of cutting-edge thinking in technology and applied science. Peirce concludes that there are, of course, many challenges ahead for an Obama presidency, but "metro America's chances [will] surely be brighter."
But Steven Malanga, senior editor for City Journal, thinks Obama's urban policies -- in particular, his support of the Community Development Block Grant program -- are outdated maneuvers that could have a detrimental effect on cities. "The block grants," Malanga writes, "are perhaps the most visible example of the failure of federal urban aid, plagued, as so much other War on Poverty spending was plagued, by vague goals, a failure to demand concrete results from the groups it funds, and a reputation for political patronage."
Energy Policy
The subject of energy is of great interest to Planetizen readers, and has surfaced frequently in this presidential election. Much of the rhetoric on energy has focused on the obvious: reducing reliance on foreign oil, investing in renewable energy sources, cutting excess use and expanding domestic production of "clean" energy. In August, Obama called for an investment of $150 billion in renewable energy production -- an investment towards a goal of doubling the nation's renewable energy sources to 10% of total needs. This is a goal he hopes to achieve by the end of his first term.
"Well I think he's certainly got a few robust policies that will give us a lot of leverage in the years ahead," says Stephen Daley, who covers the industry through his podcast Inside Renewable Energy. Daley says that the promises of funding "gives a lot of people in the renewables industry confidence in his ability to lead in this area at the federal level. His nuclear policy is a bit sketchy at the moment, and he's also a big supporter of clean coal and traditional food-based biofuels. The industry is looking to see how much he supports these as-yet unproven technologies."
And though initially opposed to off-shore drilling, Obama has begun to warm up to the idea. He's called for more use of the country's Strategic Petroleum Reserve and a plan to lease more of the Alaskan Petroleum Reserve for increased production. He has, however, remained strong on the front of increasing a windfall profits tax on oil companies.
In a more recent interview on MSNBC, Obama touched lightly on infrastructure and energy policies, including an allusion to a New Deal-style public works program. The U.S., he says, is falling behind countries like China that are investing heavily in rail and ports, infrastructure key to economic development and global competetiveness. But Obama says one of the most important infrastructure projects that the country needs is an entirely new electricity grid system that allows for more efficient transmission of energy derived from renewable sources. Such a large-scale update and the "new energy" it creates could stand to inject more than 5 million jobs into the U.S. economy, according to Obama. He says it's time to take on the huge costs of fixing the country's crumbling infrastructure -- an investment he calls crucial for maintaining a healthy economy.
Transportation
The campaign's emphasis on infrastructure extends to transportation policy as well. As explained at The Daily Kos, Vice-President Elect Joe Biden famously rides Amtrak to work, and was the original co-sponsor of the Amtrak Reauthorization Bill. "For 30 years, I have witnessed Congress dangling a carrot in front of Amtrak's eyes, funding it just enough for it to limp along," said Biden as he introduced an early version of the bill. "And I'll tell you, this has to stop. Now is the time to commit politically and financially to a strong, safe, and efficient passenger rail system."
"I think the first step in solving any problem is properly defining it," says David Goldberg, Communications Director for Transportation For America, a coalition of organizations advocating for change in transportation policy. "I think Obama's defining transportation as a metropolitan issue is very promising. We have to temper our enthusiasm a little bit, because in the debates and on the trail, he has singled out roadbuilding as an important issue. But I think his administration is likely to support a direct relationship of the federal government in terms of funding and accountability on transportation issues."
Federal vs. Local
In the end, as Planetizen blogger and land use law professor Michael Lewyn reminds us, the hands-on work of urban planning, zoning and development are firmly in the hands of local government and therefore won't be directly impacted by a new president. But if the evidence is to be believed, an Obama presidency will be much more hands-on in making decisions about urban policy, particularly when it comes to significant investments in infrastructure for energy and transportation.
---
You can also listen to a podcast version of this analysis in the player below, or download it.
---
Tim Halbur is managing editor of Planetizen. Nate Berg is assistant editor of Planetizen.
Topics