Rising gas prices and thickening traffic congestion make small, fuel-efficient scooters seem like a great way to get around. But on roads built mainly for speeding cars, scooting can be scary. Occasional scooter-rider Pam Diaz argues it shouldn't be.
---

I'm new to this "urban planning" concept. I'd never heard the term until I started working for a web development company that seems to deal with it somehow. Many of our clients are involved in planning, but I won't even bother to act like I know what they do. I'm a web developer, and now that I'm waiting for clients to respond before I can get back to my main work, I have time to sit and ponder my world. How can I, as a non-planner, take advantage of my newfound acquaintanceship with these urban-planners to nudge them in a direction that will enrich my daily life?
My immediate thought is that planners are probably in the best position to help me improve my relationship with my new scooter. I recently purchased a small gas-powered scooter as an alternative form of transportation. It was kind of an impulse buy. But because I live in Los Angeles and have the benefit of generally good weather most of the year, it seemed like a reasonable idea at the time. With gas prices getting higher, it's a purchase that seems smarter and smarter every day.
But as much as I love the thought of getting 100 miles per gallon and having an abundance of parking spaces available to me, I am afraid to ride my scooter. On the outside, I smile when I do ride it because I truly believe that's the image a scooter-rider should portray: young, happy, carefree. On the inside, though, I'm completely paranoid that I'll get squashed by L.A.'s unforgiving traffic. I continuously scan what's coming towards me from the front, from the sides, and check my mirrors to make sure the car behind me is not following too closely.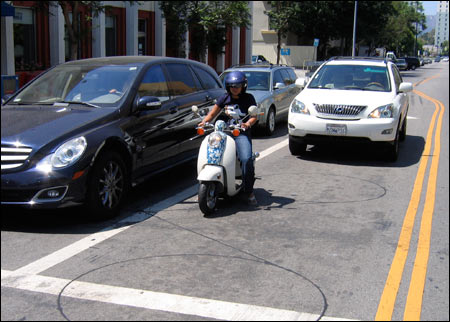 My scooter has a small engine, and when riding past people mowing their lawns, I can't help wonder whether or not the lawnmowers have more power than the machinery on which I'm sitting. My lack of horsepower apparently doesn't amuse car drivers as much as it does me. They tail me and pass me the first chance they get (usually only to sit longer at the red lights).
Los Angeles is no doubt a car-loving city. Despite the subway, the train, the buses, the bike lanes and even the sidewalks, despite the tree huggers and the environmentally conscious, and despite the fitness-minded and the health nuts, the majority of us still grab our car keys whenever we're headed past the mailbox. It's because above all the financial, environmental and health benefits of other modes of transportation, we're simply in a hurry. On the road, we'll tail, cut off, or maybe even clip or hit anything that putt-putts in our way or otherwise impedes our 50 mile-per-hour lifestyle. This puts those with small engines, or no engines at all, in near-constant danger.
But this should not be the case. I should be able to ride my scooter with little fear that I'll get flattened. I should be able to tell people I own a scooter and not have the first response inevitably be "Aren't you afraid to ride it?" I shouldn't have to always think "Yes, of course." I shouldn't have to put on a brave face and lie to keep up the young/happy/carefree façade.
This, however, is the reality faced by the scooter. As a result, my gas-guzzling sedan (well, it doesn't get bad gas mileage, but it does not sip as lightly as my scooter!) gets called to action more often than my scooter, even though there is also the added hassle of dealing with tandem parking in my apartment and the inevitable headache of finding parking in L.A.
My scooter spends most of its days chained to a pole in the garage. This is not the life I imagined it would have. It deserves more. I want it to romp around town without a genuine risk of being crumpled. Knowing that the quick pace of the city and thus drivers' attitudes are not likely to change, it is up to planners to make the roads more equitable and safe for my little scooter and other small or no engine vehicles that are on the road, too.
There need to be more options for transportation in our cities, especially in L.A. The fact that practically everyone in this city and many others see the car as the only realistic transportation option is really a crime of development. While rising gas prices are encouraging are people to seek out alternative forms of transportation, the lack of options is keeping many in the driver's seat. Demand will definitely respond to an increased supply. Cities just need to snap themselves out of their assumptions that it is too expensive to provide a transportation infrastructure that encourages multiple forms of getting around. I'm not holding my breath for that, but I think it will have to happen if our cities are going to be able to survive through the end of the 21st Century. Hopefully sometime before then I'll be able to ride with little fear, and my scooter will be put to use as often as it was intended.
---
Pam Diaz Pam is a web developer for Urban Insight, an Internet consulting and Web development firm based in Los Angeles. In addition to riding her scooter in traffic, Pam is also afraid of televangelists, telemarketers, and spontaneous combustion.
The Surprising Oil Tax in the Inflation Reduction Act
President Biden has made reducing gas prices paramount in his administration, so it was likely a surprise to hear a Republican senator last Sunday warn TV viewers that a revived and increased oil fee in the climate bill will increase their gas costs.
The Tide Has Turned Against Open Streets
Once a promising development for advocates pushing for a less car-centric future in cities, the open streets movement has ceded significant ground to cars since the height of the pandemic.
This six-course series explores essential urban design concepts using open source software and equips planners with the tools they need to participate fully in the urban design process.
This course aims to provide an introduction into Urban Design Sketching focused on how to hand draw master plans using a mix of colored markers.
View More