A Reminder to the City: Neighborhoods Are Building Blocks of Civic Life
Neighborhoods -- their habits, their participants, and their values -- are what create and define value in a city and in a home. Cities need to embrace this fact if they want to preserve values and retain residents.

On my way to the Metro this morning in a northern Virginia suburb, I took notice of some of the predictable habits of my community. Though small and ordinary, such habits provide much of the basis of the value in my home. In turn these habits have anchored my commitment to stay. To reinvest. And the signals I, myself send in the process of going about my own business, mingled with all the others, communicate clearly to resident and visitor alike: "this is a good neighborhood", "buy here if you're looking", "reinvesting here is wise". Together the signals say: Live here, participate here, for it makes sense to do so.
What I saw this morning - the mundane small bore details I see every morning - is a set of activities that are familiar, enduring, comforting, and tangible. I know that George and Celia are like clockwork, predictably pulling out of their driveway by 7 am. I know that Bill and Leigh are running late, as they are every morning, chasing after kids, trying to get Gordon and Ella out the door on time for school. Just as predictably, a taxi arrives to take Billy to work, the school bus makes a left turn down my street, pausing to negotiate the narrow pathway between all the SUVs, and Mitch smokes a cigarette furtively in his driveway.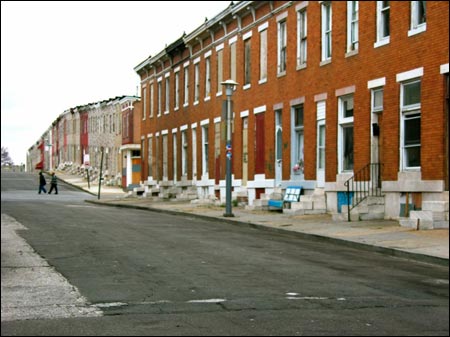 These are comforting routines, for they demonstrate a constancy and reliability amongst my neighbors that transcends disagreements about who is voting for which candidate, and other more abstract (if not mundane) but ultimately temporal issues.
What matters most is not that George is supporting a candidate I'm not, but that he mows his lawn. I can count on George to borrow a tool a few times a year. To wash his car at least once a month. To head off to work at the same time every day. I leave my house keys with him and never give it a second thought. George will lend me a dozen eggs he just bought today, knowing I will hit the grocery tomorrow. I take comfort in that he trims his hedges regularly.
I don't know much else about these people. But what I do know makes them reliable. What I suspect they know of my routines does this for them, as well. They know when I walk my dog. When they want advice about their bicycles they ask me, for they know I ride frequently. This reliability, and the mutual sets of expectations are very important parts of our lives. They anchor me to them, and them to me, in liberating but binding ways. For what these routines really do is impose on our street a sense of predictability stable enough to ground each of our individual decisions to stay here. To put down roots. To keep investing in our homes. These are tangible expectations, with equally tangible returns. They are the essence of value in the real estate market. More genuine than what an appraiser makes of recent sales. More dependable than the assessment that drives the city's finances. They are what convinces each of us, in subtle and profound ways repeated almost hourly, to be a contributing part of a community we have earlier chosen.
Small and Tangible Details
Such seemingly small bore details of everyday life are what cities - mayors and their staffs - really ought be paying attention to. They - and not interest rates and securitization schemes - constitute the mortar that holds in place appraisals, realtor perspectives, underwriting guidelines, and the sensibility of home equity loans. They - more so than zoning and design guidelines - are what should be the basis for how a city planning department actualizes housing and economic development strategies in a cohesive way. These are the details that matter, in real ways even more than traditional planning. What generates value is the aggregation of people who choose who they want to be with and under what circumstances. This is what should - and not always does - shape policy. This is unfortunate as it is these elements of commonwealth that tell us a great deal about markets -- perhaps even something about cultural preservation and the layered work of building community -- and the appropriate role for cities and even federal policy in such matters.
These interconnections ratify for us the sense that markets are as strong as confidence is present and confidence is as justified as patterns are dependable. These are what might be called our community moorings: anchored, tangible patterns. Can I see George wash his car? Isn't that Billy stepping into a taxi as he always does, each morning, on his way to work? The activity you can see, and touch, and influence, is the basis for the pattern being verifiable. And only then does confidence emerge about what may happen tomorrow. What's tangible then is the real basis for determining how real a market is.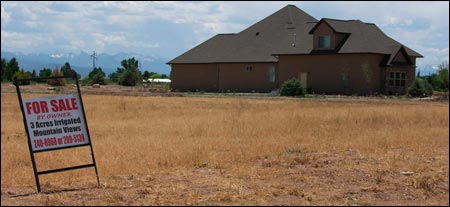 They also tell us a good deal about planning. Conventional planning these days seems engineered to ensure only one result: that the stakeholders in a community have adequate opportunity to provide input into planning efforts. Often these efforts are really more about guaranteeing that a potential obstruction is preemptively cleared than they are about anything else. This is unfortunate, because the sentiment a community has, for or against activities contemplated by a city or county, says a lot about who is there, what they value, and, embedded in those viewpoints, what about that community constitutes a pattern that, in turn, suggests dependability. Participation has trumped content, and the result is that more than ever our urban policies aren't hardwired to read the clues in each neighborhood that point the way to livability.
These clues - what people do on a daily basis, and how they react to change - are the very essence of what constitutes a community's DNA. In a very real sense, this is not much different from what constitutes a person's credit score. For in a person's credit score are aggregated bits of information that can have predictive value. In a neighborhood, a person who has been mowing their yard every Saturday is likely to do so this coming weekend. In a credit score, the person who has paid his or her VISA bill monthly for the last five years is probably going to make a payment on time next month, too. Together, a community whose core values include patronizing small locally-owned businesses whenever possible is not going to be idly quiet when a big box negotiates with the city for tax breaks to clear land that could result in the endangerment of their Main Street.
Which serves to remind us in these times of massive foreclosures that the act of lending is really the act of trusting. And backing up the worthiness of any loan agreement is the confidence in repayment likelihood, the meeting of a contractual obligation in large measure likely to occur in direct proportion to the confidence one has in the value of the collateral backing up the loan. It also serves to remind us that the due diligence not undertaken by the lending community was not for want of good data. It's all around us. But you have to look. And you have to know what you're looking for.
Neighborhood Connections and Values
As communities across America - from Saginaw to Maricopa - begin to wrestle with the domino effect of vacant property disposition and resulting loss of neighborhood confidence, we would all do well to put back into the crosshairs of urban policy the little things easily overlooked that genuinely ground us. It's the little things and the connections linking them that let you know if a community is rising in value, or not, stable, or not, threatened or not, capable of managing change or not. And it is these connections that are what drive choice, and consequently, demand and value. I am convinced the centerpiece of top notch planning begins with understanding choice and consequence as one neighborhood competes against another for strong households who can afford to be in either.
And I believe that these connections -- between what an investor expects and the choices he or she makes -- come together in important ways to define our neighborhoods and give shape to how we experience life in our communities. In turn, the way we come to define, and how we experience our neighborhoods, shape a range of consequential decisions -- large to small.
To stay in one's home and refinance for the purpose of putting on an addition. To wash the windows each spring and fall. To mow the grass regularly, or bring in the trash bins from the street. To paint the trim. To move. Not only do they shape a range of decisions by interconnected neighbors, they -- how we ourselves define and how we ourselves experience our neighborhoods -- form the basis for whether these places we call home hold their value.
For these reasons, the loss of home equity for many households is a neighborhood issue. The capacity of homeowners to borrow for home improvements is a neighborhood issue. The degree to which public and private mortgage markets facilitate first time homeownership opportunities is a neighborhood issue. Tending to the lawn, or not, is a neighborhood issue.
Perceptions and Indicators of Value
All the efforts now going into rescuing mortgagors may be needed. But that is not all we need when it comes to thinking through this mess at the scale where either all hell will break lose in a flood of devalued housing stocks that will disproportionately affect low income and minority households, or we'll hold it together to enable future generations to look to their home equity as a pivotal engine of upward mobility.
In crucial ways, all such activities are expressions that reflect three important stories:
The first is the degree of confidence a homeowner has that his or her efforts will have meaning. And for the homeowner that means they will be part of a daisy chain that makes sense; part of a feedback loop of activities and behaviors that reinforce a sense of what is required to maintain value in the home. Policies that are crafted without serious attention to these small activities are policies that are not likely to leverage value.
The second is the quality and accuracy of the information that inspires or undermines the homeowner's confidence that his or her efforts have meaning and are, or are not, worth continuing. Every day aspiring residents of any given neighborhood look for clues that will tell them whether what they think is true about this place is, in fact, true.
The third is the composition of the investor as a person. The tolerance for risk; appetite for return, willingness to absorb short term losses for long term gains. What comprises his or her DNA? How important is it to maintain his or her home in a high state of repair, no matter what the neighbors are doing?
We look to the condition of the property to tell us the marbled story of who owns it. Who is she? And we look down the street at each of the homes, and think about who is in them, and what kind of a neighborhood they make.
Of course any discussion of who lives in a place and its implications for whether others will live there too are powder kegs, unlit until one acknowledges the fact that race and class give complex texture to decisions and resulting settlement patterns.
Do I think I might like to live there? Is the value real? How would I know?
---
Charles Buki is principal of CZB, a Virginia-based neighborhood planning firm. He thinks the spit and tissue paper suburbs built on greenfields are signs of moral decay, but he also believes people lead genuinely happy lives in a cul de sac. His approach to community is entirely market-oriented, and focuses on helping neighborhoods compete. He was educated in Chapel Hill at the University of North Carolina and Cambridge at Harvard. He thinks the best living is probably in Santa Cruz or Boulder.