---
Design Week 2006, Mississippi State University -- Frank Barbour, landscape architecture student at Mississippi State University, reports on MSU's Design Week 2006, which grouped 150 students from a variety of disciplines -- including architects, engineers, business students, and ecologists -- in an intense charrette to devise creative solutions to post-Katrina problems on Mississippi's Gulf Coast.

Working Across Disciplines Toward Gulf Coast Solutions: Design Week 2006 -- Mississippi State University
Introduction and Conceptual Framework
During the week of January 23-27, 2006, representatives from Design Workshop, a landscape architecture and design firm with seven offices in the United States and one office in Brazil, came to Mississippi State University (two representatives came from the Aspen office and one came from the Denver office) to hold an intensive week-long design charrette to explore redevelopment and rebuilding solutions for the Mississippi Gulf Coast. Held at MSU's Landscape Architecturefacility, "Design Week" attracted the interest of students and faculty from a range of disciplines around campus, including architects, civil engineers, business students, and students of the natural sciences, giving participants the opportunity to work in conjunction with those outside their typical fields of study.
Design Workshop organizers divided the roughly 150 participating students into 24 teams, and assigned each team a parcel of land measuring six square miles ("tiles"), together representing all of Mississippi's coastal counties. Each team examined the significant environmental, economic, aesthetic, and community aspects that characterize the state of Mississippi, and ultimately each individual tile. Statewide study of these four categories comprised the "macro-scale analysis" portion of Design Week, followed by the "micro scale analysis" focusing on each tile. In this way, any design decisions made within a particular tile were informed by a large-scale contextual understanding of that tile's relationship to the coastal region and to the state of Mississippi as a whole.
Students work on the assembled tiles.
During the macro-scale analysis, students soon learned that Mississippi is a state rich in ecological resources. These resources largely characterize its statewide identity and provide undeniable recreation and conservation opportunities, if managed properly. Mississippi's primarily rural landscape, unique among the larger southeastern urban centers surrounding it, led to a common sentiment during Design Week that the state can be considered the "Central Park of the South". As a whole, the Gulf Coast region possesses ecologically significant systems of streams, marshlands, and estuaries, such as the Pascagoula River basin, that serve as settling points for almost all of the state's major watersheds. In the same way, participants considered Mississippi's Gulf Coast as the metaphorical settling point for many aspects of the environmental, economic, community, and aesthetic categories that framed Design Week's macro-scale / micro-scale planning process.
Proposed Solutions for Mississippi's Coastline
Building on this metaphor, participants decided that along the beachfront, the natural salt marsh ecology should be restored in many places and interspersed with smaller areas of beach, creating a series of parklands and open space stretching 75 miles wide and a half-mile deep. Such a plan would necessitate a major infrastructure change to move the current CSX heavy-rail freight line farther north, push the beachside Highway 90 farther inland, and replace the CSX heavy-rail bed with a commuter rail system that would serve the new beachfront. The plan also stipulates that future development along the beachfront be concentrated slightly inland, just north of the proposed commuter rail line. In planning for future storms, participants determined that half a mile of beachfront wetlands would be sufficient to buffer storm surges, as post-hurricane data provided by MSU's GeoResources Institute indicate that the current railroad levees contained most of the surge and minimized inland flooding.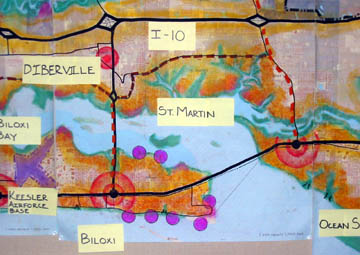 Coastline detail.
Students recognized that current property owners of beachfront parcels would not be willing to give them up readily, and proposed a solution that focuses on providing a transition into the new development pattern. As represented on the final plan produced by Design Week participants, this solution calls for inland growth centers intended to draw development away from the beachfront while providing transit stops along the commuter rail line every five or six miles. This transit network would be supplemented by loop roads extending south from the rail line corridor, providing access to the beachfront areas. In addition, a higher speed commuter rail-line with fewer stops would connect the coastal region from New Orleans to Mobile, Alabama. The students thought that a restored natural seascape of live oak systems and salt marshes would make Mississippi's coastline, which never had much of a reputation for elegant beaches, stand out among its neighboring coastal states.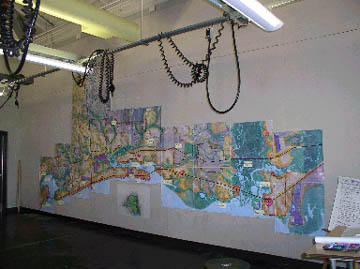 The completed plan.
Anticipating the inevitable growth boom that developers will instigate along Mississippi's coast following debris clean-up, Design Week participants sought to establish a framework that upholds the economic, transportation, and community needs of the area, yet does so in a way that is harmonious with the area's delicate ecological systems. The coastal region's natural resources offer potentially great opportunities for tourism and recreation but must offer protection from future storm surges as well.
Featured Speakers and the Final Design
Design Week featured an appearance by Brent Warr, mayor of Gulfport, Mississippi. Mayor Warr spent time with students at the drafting tables on Wednesday evening and Thursday morning, providing a welcome firsthand account of the reality of the coastal conditions. Mayor Warr offered insights into planning considerations and struck home the difficulty of coordinating 20 different mayors along Mississippi's coast within the overall Gulf Coast planning processes.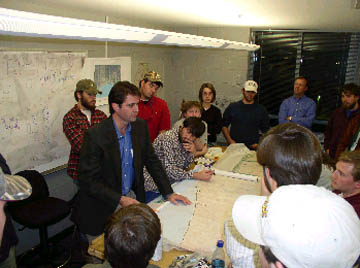 Brent Warr, mayor of Gulfport, Mississippi, addresses Design Week participants.
In addition to Mayor Warr's appearance, students were treated to a series of guest speakers. These included author and naturalist Janisse Ray, geologist Alan Lowrie, who specializes in coastal geology, and Leland Speed, Executive Director of the Mississippi Development Authority. Such external stimulation appeared to charge the emotions of participating students and prompt them into debates beneficial to the creative process. The heartfelt delivery and perceived radicalism of Janisse Ray's speech in particular challenged students' notions of human responsibility towards the environment. Strong and varied differences in opinion surfaced during Ray's question and answer session and fueled healthy discussions regarding the future of Mississippi's Gulf Coast and its potential for innovative and environmentally-responsible redevelopment solutions.
By the time Design Week 2006 came to a close, students had produced a final plan spanning 25 feet wide by 12 1/2 feet tall and rendered in pastel. Throughout the week, inconsistencies between tiles had become obvious during pin-up review sessions, so it was especially impressive to see a cohesive plan representing the entire Mississippi Gulf Coast hanging on the wall during the final review session. More impressive was the fact that the plan represented a massive coordination effort between such a large group of participants. Students had worked through confusion and exhaustion all week and were rewarded with a unifying symbol of their effort. Most important, though, is that the final plan represents a true concern for the betterment of the Mississippi Gulf Coast and the state as a whole.
According to Michael Seymour, assistant professor of Landscape Architecture at MSU, "The upside of a large disaster like hurricane Katrina is that it provides us with the impetus to re-examine our priorities. This will be seen as a pivotal moment in the history of our state." Indeed, Design Week at MSU proved to be a grueling and exhausting roller coaster ride of a charrette, but its ultimate success made it all worthwhile. It was an excellent opportunity for students to feel how their areas of study and their personal contributions could make a difference toward solving one of Mississippi's most prescient problems.
Frank Barbour is a graduate student in the Landscape Architecture department at Mississippi State University. He participated in Design Week.
Thanks to Miller Allen, graduate student in landscape architecture at MSU, and Blaine Frischhertz, senior landscape architecture student at MSU, for photographs.
The Right to Mobility
As we consider how to decarbonize transportation, preserving mobility, especially for lower- and middle-income people, must be a priority.
Where Pandemic Bike Improvements Won Out
While some cities are reverting back to pre-pandemic street configurations, others are taking advantage of the momentum for bike and pedestrian infrastructure to make pandemic-era projects permanent.
This six-course series explores essential urban design concepts using open source software and equips planners with the tools they need to participate fully in the urban design process.
Learn the tools for implementing Universal Design in planning regulations.
View More