Resilience planning requires communities to think of a well planned and maintained tree canopy as a public utility system with multiple benefits.
---
The Center for Urban Restoration Ecology in 2016 stated that the past decade marked humanity's transformation into an urban species. More people now live in developed areas (i.e., cities and suburbs) than rural areas. Unfortunately, this shift comes with consequences. Humans require a tangible relationship with the natural world, but urbanism disrupts that relationship.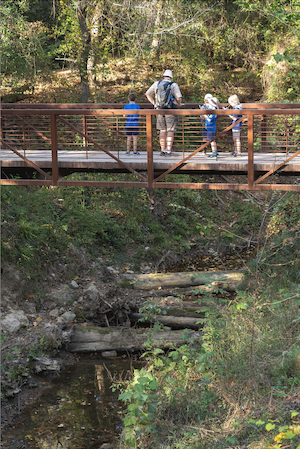 Where biophilic associations lack, individuals (especially youth) display psychological impediments and physiological hindrances. The built environment also interrupts natural hydrological systems and distorts atmospheric temperatures. Aging infrastructure continuously exposes communities to the devastation of severe weather events.
Why blue-green infrastructure matters.
Many municipalities, especially those along the Gulf Coast, are struggling to adapt their infrastructure to the realities of climate change. The struggle elevates the significance of urban development innovations that incorporate existing gray infrastructure with new, sustainable, blue-green infrastructure—blue infrastructure to successfully manage stormwater runoff, and green infrastructure to improve air and water quality and integrate wildlife habitat and shade into the urban fabric. The blue and the green are equally important to the future of cities. Therefore, they must work in concert and endure.
Gulf Coast cities, like Houston and New Orleans, are improving stormwater management by retrofitting streets and green spaces to detain water. These blue facilities hold excess stormwater, which reduces localized flooding and provides municipal drainage systems more time to safely process and discharge storm runoff. These investments reduce repetitive property damage and decrease flood insurance claims. Vegetation, the green component of blue-green infrastructure, is often used solely to improve water quality. However, vegetation, especially trees, can provide a greater benefit to the built environment than that narrow perspective allows.
The urban forest is central to the critical connection between urban life, nature, climate change, and public health. Cities must begin to develop a holistic approach to blue-green infrastructure that not only focuses on water but also applies urban forestry to address air pollution and the urban heat island effect. Cities must also ensure a lasting equitable relationship with their urban forest to keep residents well connected to nature.
Urban forests are a public utility service.
As cities in the Southern United States continue to retrofit streetscapes and redevelop green spaces to effectively manage stormwater, they must develop an approach for planning and implementing a functional, prosperous urban forest utility system.
Cornell Law defines a public utility as an entity that provides goods or services to the general public. How would an urban forest utility system look and function? In an urban forest, both publicly and privately owned trees will contribute to the system. Equating urban forests to electrical systems, a forested park would serve as a substation and canopy covered parkways would serve as mainlines.
The growth of southern cities places their existing, robust urban forests at risk. Aerial imagery indicates that the tree canopies of most southern U.S. cities are declining. More trees are dying or being removed than are being planted, and new trees cannot match the benefits provided by mature trees.
Urban soil issues (that lead to tree stress, which invites pests) are the most notorious causes of tree decline and death in cities. This explanation is also the most preventable, as it is directly related to human actions that cause soil contamination and compaction. Moreover, as demand for profitable urban space increases, southern cities develop and expand without saving space for roots. And in the current development market, a parking space has more value than a tree. Finally, municipalities and developers often label older trees for removal due to liability concerns.
With so many threats facing the existing tree canopy of southern cities, replacement trees continuously fail to reach maturity. According to the tree cultivation professionals at Select Trees in Athens, Georgia, an urban tree must grow for at least 50 years to reach a size capable of producing maximum ecological services. Unfortunately, the average length of survival of a new street tree is seven years. The short life span means these trees do not grow large enough to effectively clean the air or provide enough shade to reduce urban temperatures. The older a tree becomes, the better it will absorb carbon from the atmosphere. Large mature trees consume nearly 50 pounds of carbon dioxide and other greenhouse gases annually. Large trees have more stored carbon within their biomass, and they provide shade that lower the temperature of the surrounding area.
To the detriment of society, mature urban trees are an endangered species. How will cities ensure the long-term survival of their trees and capture the needed public health and infrastructure benefits?
Landscape architects design urban forests, and tree advocacy groups are replanting urban forests. Seldom do either group think of the urban forest as an extensive utility grid, nor do they consider tree maturation and its benefits when specifying trees for planting. They must. When designing green infrastructure, landscape architects should calculate the immediate and anticipated benefits of trees and design spaces suitable for trees to grow to mature sizes. When planting green infrastructure, advocates should prepare a vision plan that increases the biodiversity and resilience of the entire urban forest.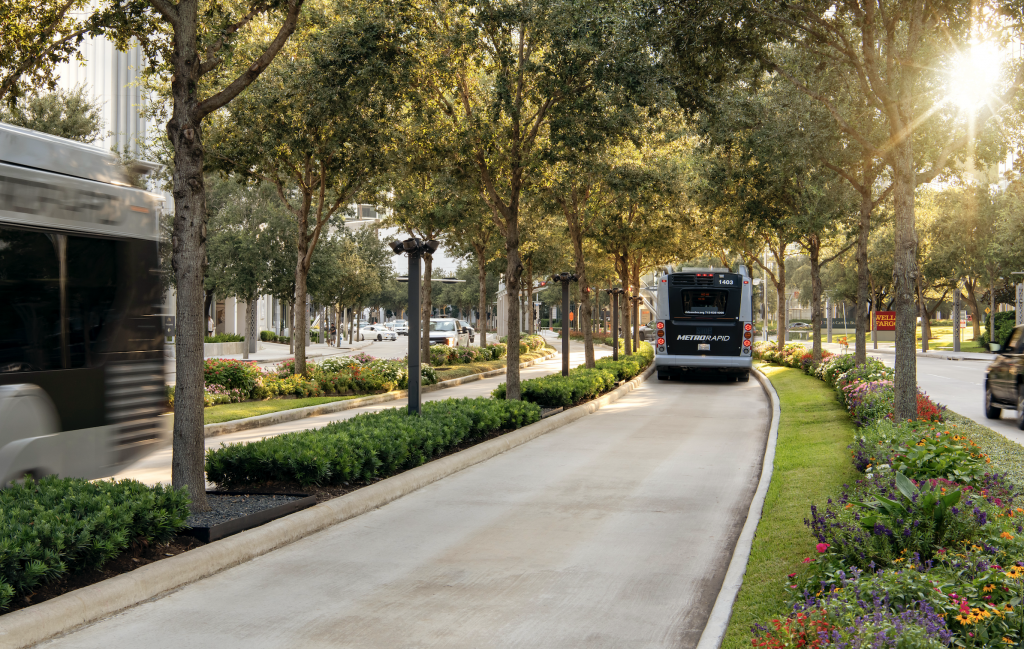 Why resilience is the key to success.
Resilience is the ability to endure as well as bounce back from adversity, and it is a critical success factor for the future of cities. In the Gulf South, cities that invest in blue-green infrastructure as a front-line defense against climate change will reap the benefits of resilience.
Holistic urban forestry plans will be a key tool for planning and developing blue-green infrastructure. As green infrastructure becomes more common place within the urban fabric, the concept and image of the street tree needs to evolve in future forestry plans.
A holistic urban forestry plan will recognize the correlation between species diversity and tree resilience. According to best practice methods, a resilient urban forest should consist of no more than 10 percent of the same species, 20 percent of the same genera, and 30 percent of the same taxonomic family. Furthermore, foresters recommend that genera known to be susceptible to a certain pest or disease, such as Fraxinus (ash), should comprise less than 10 percent of an urban forest. Applying this ratio at a city scale takes vision and coordination, and it will safeguard the utility system by reducing the potential for high percentage losses in the tree canopy.
Southern cities should also reimagine how trees look within a streetscape. Street trees are currently only grown well-spaced to maximize their canopies, but these large trees with shallow roots are most susceptible to damage and failure during (now frequent) high winds. Urban trees no longer need to look like giant lollipops. Street trees could resemble the taller, leaner tree clusters found in a typical forest. Trees are stronger and more beneficial in clusters than standing in solitude. When designed correctly, closely grouped trees can provide more shade, better wildlife habitat, and stronger resistance to wind.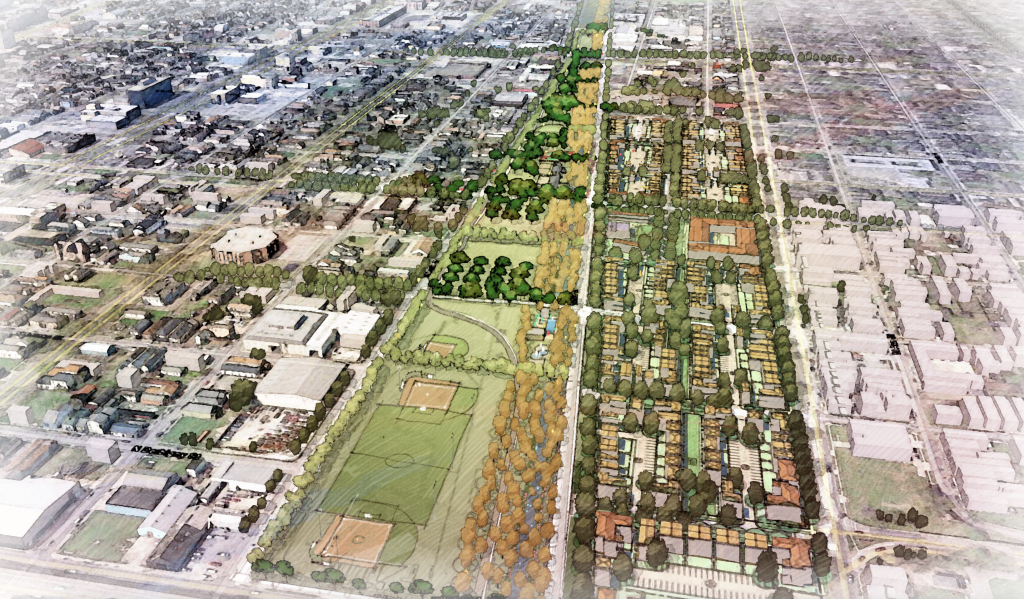 Landscape architects must understand tree metrics.
The burden of solving these dilemmas falls to designers. Landscape architects must specify the requisite tree species and planting locations to ensure maturity, and they must design by calculating and achieving maximum landscape performance benefits. The metrics that determine the performance of the existing and newly planted trees can be obtained by applying the allometric equations embedded within urban tree utilization, planning, and design tools and software. By understanding the metrics, a designer can then ascertain the potential benefits of plantings as well as how it will enhance the entire urban forest. Once landscape architects develop a better understanding of the relationships between tree species and benefits, tree size and benefits, and tree counts and accumulated benefits, cities can design true green infrastructure that includes a service-oriented tree network—an urban forest utility system.
Gaylan Williams is a Houston-based landscape architect with Design Workshop. With a balance of theoretical knowledge and practical experience, he is adept across the board in landscape architecture, planning, urban design, and urban forestry. He has worked extensively on high-profile projects in the public realm, from visioning and conceptual design through construction documentation and observation. As a LEED® subject matter expert, Gaylan is fluent in the technical aspects of sustainable site design. Gaylan is a charismatic speaker with over 15 years of experience. He is currently pursuing a Doctor of Philosophy in Urban Forestry from Southern University in Baton Rouge.  
Green Alleys: A New Paradigm for Stormwater Management
Rather than shuttling stormwater away from the city and into the ocean as quickly as possible, Los Angeles is now—slowly—moving toward a 'city-as-sponge' approach that would capture and reclaim more water to recharge crucial reservoirs.
This six-course series explores essential urban design concepts using open source software and equips planners with the tools they need to participate fully in the urban design process.
Learn the tools for implementing Universal Design in planning regulations.
View More