Could cities harness the power of play to build more healthy, resilient, and equitable communities, if only we had the words for it?
---
When planners and community stakeholders are hashing out asset inventories and needs assessments to figure out the state of neighborhood amenities, a few things are sure to almost always make the list: more access to green space, safer crosswalks, more parking in business districts, gateways, and wayfinding signage. When planners design communities to be safer, healthier, more sustainable, and more walkable, how often do those efforts make a community more playful?
Play is powerful. In the sphere of early childhood education, experts recognize the unparalleled importance of play in learning and development. In business, play is seen as a gateway to greater creativity, collaboration, and breakthrough innovation. In society, communities that play together stay together. 
Isn't it time we embraced playfulness as a quality worth designing into our urban spaces? Perhaps the trouble is that the word itself seems just too playful to be taken seriously. We need more words for play.
The Finnish language has no shortage of words for play. For Finns, playing a game is different from playing a sport, which is different from playing music. There are distinct Finnish words for children's play and the play that adults engage in. There's even a Finnish word that means both "work" and "play." This rich vocabulary shows that in Finland, play is a valued part of life that isn't confined just to kids' stuff.
Where else would we see play show up in our plans, if only we had the words for it?
What would we call the kind of play that brings strangers together?
What would we call playing around with ideas and possibilities?
It's questions like these that motivated a coalition of public and private sector partners to start the Playful Pittsburgh Collaborative and organize a citywide movement to expand the presence of play in every community. As a mid-size, post-industrial city in the midst of dramatic changes spurred in large part by new development, we see a mandate to build greater public demand for play as an integral part of the city's future.
Since 2013, members of the Playful Pittsburgh Collaborative have been working together to find and remove the barriers holding communities back from experiencing the social benefits of play. These efforts have brought together leaders and representatives from the city's parks and museums, human services and municipal agencies, arts and sustainability nonprofits, and community development groups. Along the way, we've encountered distinct manifestations of play that we really wish had their own name.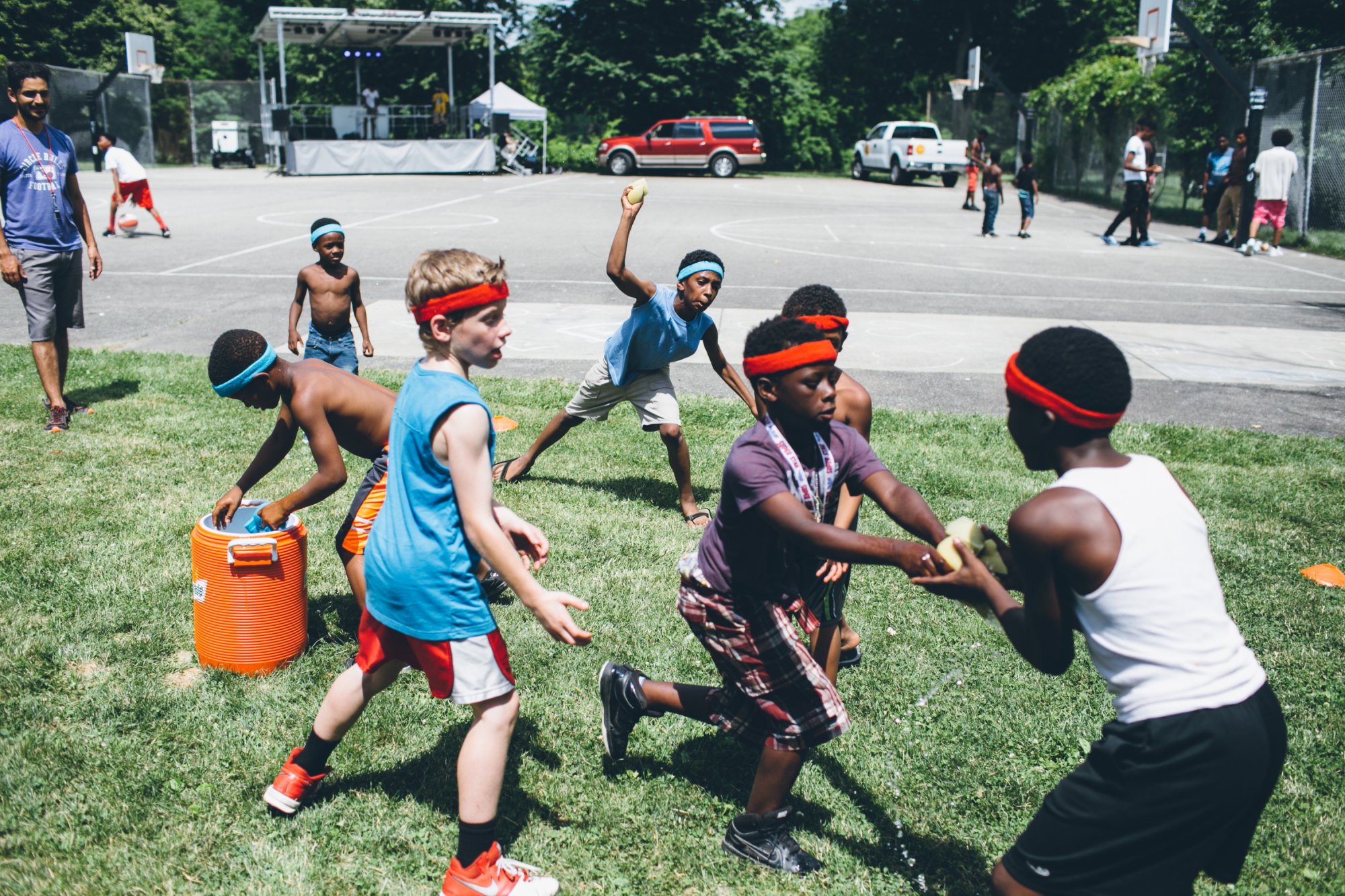 In the Northview Heights neighborhood of Pittsburgh, the residential council partners with City of Play to bring games to the annual community cookout. (Image by Ben Filio for The Sprout Fund. Attribution-NonCommercial-ShareAlike 4.0 International (CC BY-NC-SA 4.0))
When play means time
Play is an experience of time that's different from all others. Setting aside time for play creates a unique set of conditions for joy, discovery, and learning. We do have a word for this intentional time for play: in the world of school, we call it recess. But recess is under threat: as many as 20% of U.S. school districts have reduced recess time since 2001. Through our research and advocacy work around recess, we have found overwhelming support among parents and educators for unstructured play as integral to academic success, a view supported by the American Academy of Pediatrics.
One way cities can be made more playful is by creating intentional times to play, like the annual Ultimate Play Day events the Playful Pittsburgh Collaborative hosts each spring. These free and open festivals take over a public space to create intentional time for all ages to play. To keep play alive through the winter months, pop-up play events activate shared spaces where communities gather indoors.
Taking a cue from the global Open Streets Project that has created temporary car-free zones in more than 800 cities worldwide, planners could design time for play into their plans for the community, such as times of day when neighborhood streets convert into pedestrian zones for unstructured play.
When play means place
This is the kind of play that describes how much possibility can be found in a place. In cities where play is part of the plan, the playground isn't the only place for play. Inspired by Mike Lanza's idea of the "Playborhood," we set out to blur the lines between playground and the rest of the neighborhood.
In Hazelwood, an urban Pittsburgh neighborhood in transition, the Playful Pittsburgh Collaborative is working with community members to develop the Hazelwood Play Trail, a framework for linking existing, new, and planned play assets from one end of the neighborhood to the other. Rather than making play a destination, the Hazelwood Play Trail planners are building "play-on-the-way" opportunities that intersect with the normal patterns of everyday life in the community.
Planners can incorporate this kind of everyday play into designs for what at first glance appear waystations or side dishes to the main attraction of a neighborhood. With chalk, barriers can become surfaces for visual creativity. Crosswalks can become impromptu hopscotch. Transit shelters can incorporate interactive puzzles that engage bus riders young and old as they wait. Building play into urban design becomes as natural as building in benches.
In downtown Pittsburgh's Market Square, the public plaza is filled with giant board games to bring opportunities to play within reach during the workday. (Image by Renee Rosensteel)
When play means mindset
In the words of neurobiologist and scholar of play Peter Gray, play is characterized by "an alert, active, but relatively unstressed frame of mind." True play has no object or goal, it exists and people pursue it for its own sake. This is one of the ways play is different than work, and while that distinction is important, most people could stand to blur the boundaries and infuse the mindset of play into our working lives. When people adopt the mindset of play, ordinary experiences become extraordinary moments of joy, discovery, and meaning—the stuff that breakthroughs are made of.
This kind of play relies more on shifting culture than it does on shifting soil, making it a precursor to the ability to find and elevate the more tangible kinds of play in everyday life. As advocates and organizers, we convene diverse and unlikely groups to enter the play mindset and catalyze the ideas for play that result. In October 2018, Trying Together, a founding member of the Playful Pittsburgh Collaborative, brought together more than 100 people for the first-ever Play for Change Unconference, where multi-stakeholder teams generated ideas for using play to cause positive change in their communities. Through the Play for Change microgrants offered by the Playful Pittsburgh Collaborative, these ideas have become actionable projects happening now in communities across the city and region, bringing thousands more into the play mindset.
Among the projects supported by this grant opportunity:
Autism Urban Connections, Inc. and Art Excursions Unlimited are partnering to evaluate play sites across the city to determine how accessible they are for children on the autism spectrum.
In Pittsburgh's Squirrel Hill neighborhood, where an antisemitic mass shooting left 11 people dead in October 2018, the Yeshiva School Early Learning Center is using a Play for Change grant to convert an empty lot into a garden and an outdoor play area as a focal point for community healing.
At nearby West Liberty University, educators and designers are using a Play for Change grant to create the Topper Play Trail that will link indoor and outdoor play activities found across the campus, making them more visible and accessible to students, faculty, and campus visitors.
By instigating playful thinking and supporting stakeholders to embrace the play mindset, play becomes a tool for turning things upside down and approaching complex problems in new and unexpected ways. When planners grasp this tool, design questions take on a new dimension. While the aesthetics of a park might be a natural consideration in community development, how often are planners thinking about the aesthetics of bus stops? Could we consider how sidewalks can bring more joy, in addition to more safety and accessibility, into urban mobility? What regulatory reforms would facilitate infusing playful experiences into public spaces?
Making play part of the plan
Life in urban communities holds the potential for each of these kinds of play and more. Play happens on playgrounds and in parklets, of course, but also in sidewalk chalk designs and bus stop games, in the social settings of barber shops and cafes. Not every community has the same access to the assets and amenities that make play possible, let alone transformative.
By making play part of the plan, communities build resilience, and places for everyone to seek joy and fellowship in their neighborhood.
Cara Ciminillo is the executive director at Trying Together, the voice for early childhood in southwest Pennsylvania. Marijke Hecht is currently a PhD student in the University of Pittsburgh's Learning Research and Development Center and formerly director of education at the Pittsburgh Parks Conservancy. Marilyn Russell is curator of education at Carnegie Museum of Art. Together, they founded the Playful Pittsburgh Collaborative.
Sarah Siplak is the Director of the Playful Pittsburgh Collaborative, a group of organizations dedicated to advancing the importance of play in the lives of children, families and communities in the Pittsburgh region.
Planning for Congestion Relief
The third and final installment of Planetizen's examination of the role of the planning profession in both perpetuating and solving traffic congestion.
Urban Design, Transport, and Health
The Lancet medical journal published a series of articles that explore how to evaluate and guide urban planning decisions to create healthy and sustainable cities. Live long and prosper!
This six-course series explores essential urban design concepts using open source software and equips planners with the tools they need to participate fully in the urban design process.
This course aims to provide an introduction into Urban Design Sketching focused on how to hand draw master plans using a mix of colored markers.
View More