The second edition list of the best urban planning costume ideas.
---
It's almost Halloween, and that means it's time to celebrate America's most important holiday by dressing up in a silly costume. But what's that? Tired of culturally relevant costumes? Don't want the general public to have any idea what you are? Prefer a drawn-out, interest-losing explanation of an obscure and wonky costume concept? Then you're in luck, because I happily present the second edition list of the best urban planning costume ideas.
Cities
One way to celebrate Halloween is to dress up like a city. This costume could rely heavily on stereotypes, but can also be influenced by current affairs. For example, get yourself a black eye and put your arm in a sling, and bam, you're Detroit. Or block some traffic and set up lawn chairs on a local street and you're New York City. Or you could get Brad Pitt to follow you around and be New Orleans' Lower Ninth Ward.
Foreclosures
This may be the most relevant costume idea this year.Just get some cardboard and build yourself inside four walls and a roof – and don't forget to board up you doors and windows. For added effect, go with a group of people in foreclosed home costumes and some dark eye makeup and you're a zombie subdivision. Scary!
LEED Certified
Do you care about the environment? Do you want strangers to know you care about the environment? If you answered yes and yes, the perfect Halloween costume for you is a LEED Certification. Simply pick a certification level (silver, gold or platinum), and color-code yourself accordingly. But don't get your platinum certification mistaken for a silver; make sure to tell people about your double-paned windows and graywater reuse plans.
Walkable Neighborhood
Simply paint a bunch of footprints all over your clothes to show how easy it is to get around you on foot. Walkscore of you: 100!
Carbon Footprint
Or just paint one big black foot and be a carbon footprint (Note: size of footprint varies by region and lifestyle).
Charrette
This costume requires two things: white clothing and lots of markers. Ask your fellow community members to write down their advice and suggestions.
Urban Garden
Be on the cutting edge of urban trends with this urban garden costume. Just attach a few vegetables to your shirt (your personal front yard), and you're instantly a local food advocate and a hero in the fight against the 2,000 mile salad. In your face, globalized food market. Extra points if you have a chicken.
Zoning
This one's easy. Just pick your favorite color, wear it from head to toe, and label yourself with your favorite zoning classification. Go mainstream with an R-1, or get fringe with a C-7A.
Floor-Area Ratio (Wonk Alert)
This costume illustrates the concept of floor area ratio over the course of the night. At first the ratio is low, as you'll likely be standing and dispersing yourself over a relatively small land area. But by the end of the night when you're passed out on the floor after the party, you'll be taking up much more land area and will therefore represent a much higher FAR. Another planning concept made easy, all in the name of fun. Make sure to have "FAR" written on your chest to educate those around you. (Also a great way to meet the ladies.)
If these don't do it for you, check out last year's suggestions, including blight, historic preservation, and bike lane, as displayed below (along with some equally nerdy/awesome transportation-themed costumes).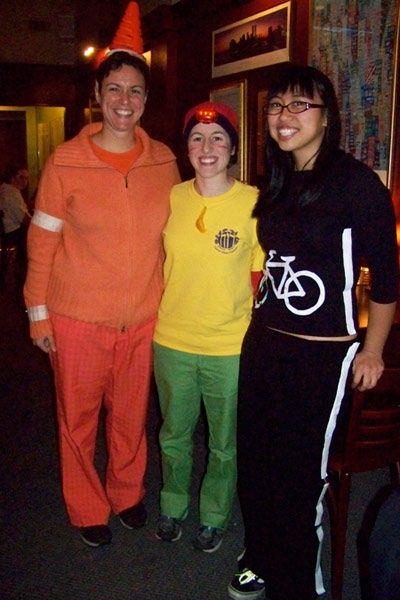 A traffic cone, a traffic light, and a bike lane celebrating Halloween, urban planning style!
---
How Sharrows Became Cycling's Most Hated Symbol
Originally designed as a low-cost way to encourage safer road sharing between bikes and cars, the sharrow has become a symbol of the lack of commitment to protected bike infrastructure in many cities.
Sports Stadiums Bring Few Economic Benefits
While their developers often tout jobs and local economic development as benefits of major stadium projects, research shows these venues often make little impact on local economies.
This six-course series explores essential urban design concepts using open source software and equips planners with the tools they need to participate fully in the urban design process.
This course aims to provide an introduction into Urban Design Sketching focused on how to hand draw master plans using a mix of colored markers.
View More