The human memory is so powerful that a place on pavement suddenly can trigger a stream of imagery from the distant past, or a meaningful story of something that once happened there. We should champion such keys to the context of a place.
---
When discussing the appearance of a city, particular urban issues, or profiling a specific place, the variations in individual perception and understanding should not be lost. Differences in place experience are based on a variety of focal points, including landscapes, icons, emblems, symbols, and context clues within ready perception. In sum, they explain why a place looks and feels to us like it does today.
Those same signs may point to what we might now miss but can be revived, along with arrival stories of familiarity—"this reminds me of." In my new book Sustaining a City's Culture and Character, I relate Paris-based artist Cadine Navarro's powerful familiarity-based method for how to paint an urban place. Stakeholders, too, can fasten on feelings of familiarity and analyze how things they have seen before look and feel in a different place. The comfort of familiarity can win votes and sell books, art, or dwellings.
With this form of the multifaceted city in mind, stakeholders should seek stories of origin and evolution that recognize changing sociopolitical realities but leave the physical structure in place. Diligent attention to the book's comprehensive method I call LEARN (Look, Engage, Assess, Review, and Negotiate), will unmask this reality; customized approaches can assist with ideas of welcoming, discovering, and finding connection. Experiencing one's life story does not depend on the trappings of out-of-context placemaking, without ties to the history and traditions of a place; rather, intrinsic meaning comes from placemaking that is sensitive to the local stories waiting to be told.
Such contextual inquiry is appropriate for public spaces, where rights to shared access may be greater than, say, Apple's commercially motivated "town square" experiences (with checkered histories discussed at some length in the book). Much of the creative placemaking movement is driven by those who may have been denied expression in public spaces in their childhoods. Now the opportunity for free expression, enhanced by digital connectivity, knows few bounds, and a search for common ground initially may disregard the special histories of certain streets and squares.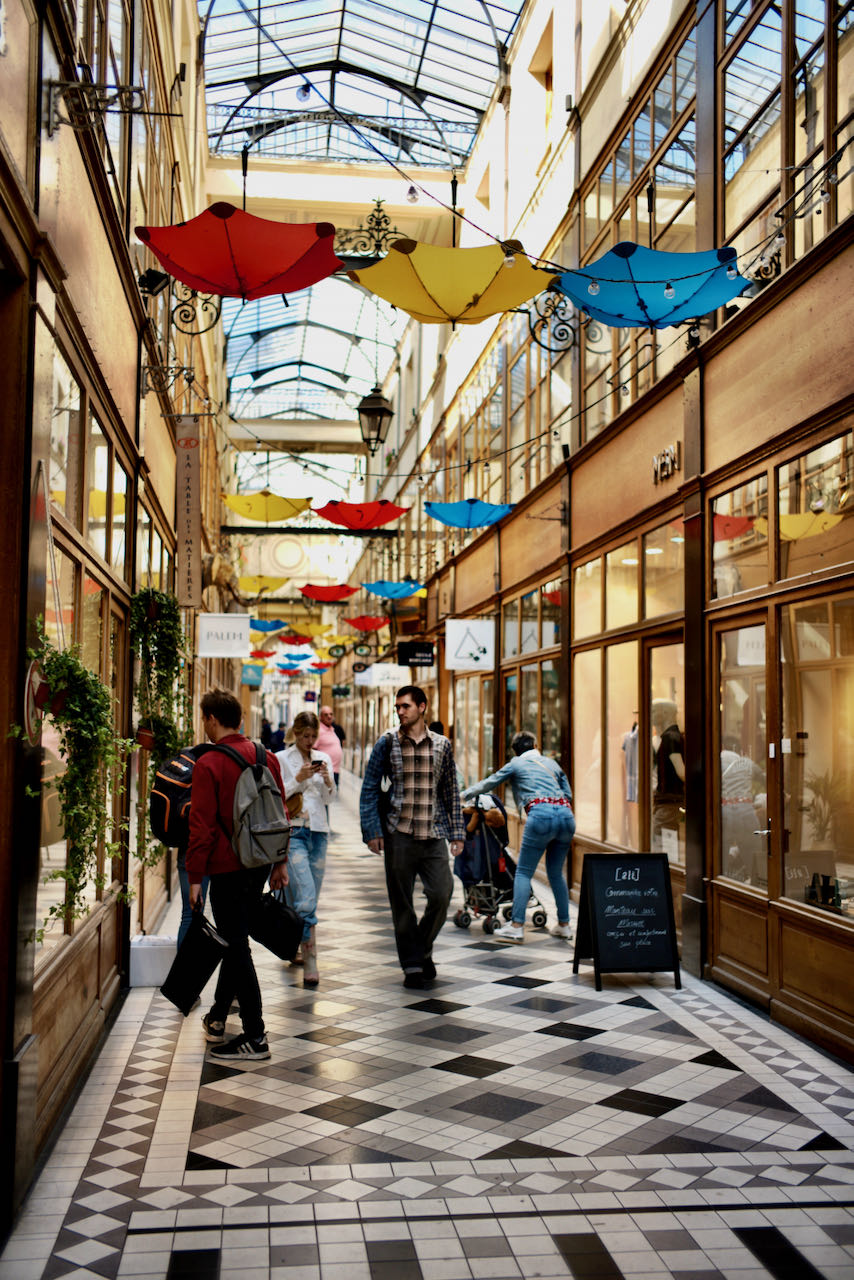 A cooperative, multinational network of placemakers—driven by international coordinating body PlacemakingX—is establishing conferences and festivals around the world. Outcomes are often reminiscent of the "Umbrella Sky Project" first seen in Portugal, and the recent Paris urban forest strategy: trendy spatial enhancements intended to foster characteristics of livability and community. Business improvement districts and developers have embraced such approaches for market reasons, which sends a powerful message of what makes for successful cities in these times.
Nothing is wrong with these strategies: my plea is simply to reference and honor local context. If the local business or French bakery faces extinction, one context key is to be sure that it appears in the nouveau—or reclaimed—street market of the placemaker. This is the type of blending I recommend wholeheartedly.
Some advocate for more objective planning solutions to moderate the impact of change, with goals, regulations, and design review that require staff consultations before moving to a final stage of development. Typically, these approaches rationalize the considerations of human perception and impose congruity upon a situation where it otherwise is at risk. They essentially are forms of free-market intervention to assure that environmental and heritage issues—either district-wide or for individual buildings—are assured adequate consideration and discussion as a city evolves.
The impact of tall buildings is a prime example. They create the basis for radical disruptions in scale and architectural type, as well as dislocation and potential environmental and climate change impacts (see example at the top of this article). Besides purely rationalized efforts, stakeholders in a city or urban place undergoing rapid change also must address inevitable concerns with disruption or loss and endeavor to blend the consequences of a market economy on the signature characteristics of a locale.
The context issues central to how culture and character might be sustained are so grounded in human nature that they are hard to isolate or describe in a rational way. To cast perceptions as simply nostalgia or melancholy is both disrespectful and inadequate. In order to embrace these issues properly, we need to be able to accept the bittersweet. In Portuguese, this is known as Saudade—a "profound melancholic longing for an absent something or someone that one cares for and/or loves . . . [The] object of longing might never return."
Adapted from Charles R. Wolfe with Tigran Haas, Sustaining a City's Culture and Character: Principles and Best Practices, (Rowman and Littlefield, February 22, 2021).
---
The Surprising Oil Tax in the Inflation Reduction Act
President Biden has made reducing gas prices paramount in his administration, so it was likely a surprise to hear a Republican senator last Sunday warn TV viewers that a revived and increased oil fee in the climate bill will increase their gas costs.
The Tide Has Turned Against Open Streets
Once a promising development for advocates pushing for a less car-centric future in cities, the open streets movement has ceded significant ground to cars since the height of the pandemic.
This six-course series explores essential urban design concepts using open source software and equips planners with the tools they need to participate fully in the urban design process.
This course aims to provide an introduction into Urban Design Sketching focused on how to hand draw master plans using a mix of colored markers.
View More