tools
Los Angeles' public transit authority has joined those of other major U.S. cities in providing a real-time tool for checking to see how soon buses will arrive at specific stops.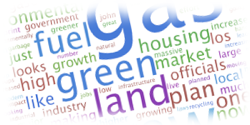 Is it possible to condense two weeks of soaring rhetoric by politicians into a single graphic? Let's find out.

In my last post I covered free online tools for creating information graphics.  Here is a look at another free online tool that can be used to easily create sophisticated visualizations and information graphics.



An introduction to free tools for creating interactive information graphics.
As professionals shaping the built and natural environment, we have to process and communicate complicated concepts and data to peers and the public. We often use visuals such as maps, charts, graphs, and diagrams to illustrate a concept or explore data.  Such visual representations are called information graphics or infographics.