<p> <img src="/files/u2/20080827-clip.png" align="right" />Is it possible to condense two weeks of soaring rhetoric by politicians into a single graphic? Let&#39;s find out.<br /> <br /> In my last post I covered free online tools for <a href="/node/34623">creating information graphics</a>.  Here is a look at another free online tool that can be used to easily create sophisticated visualizations and information graphics. <br /> <br />
---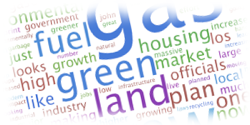 Is it possible to condense
two weeks of soaring rhetoric by politicians
into a single graphic? Let's find out.
In my last post I covered free online tools for creating
information graphics.  Here is a look at another
free online tool that can be used to easily create sophisticated
visualizations and information graphics.
Is it possible to condense two weeks of soaring rhetoric by politicians
into a single graphic?  The New York Times did just that in an
efficient
visualization of the speeches made during the Democratic and Republican
conventions.  Titled "The
Words They Used", 
the graphic highlights and compares the themes that speakers both
parties chose to focus on. The technique used in the NYT
graphic is similar to visual technique popular on
websites today known as a  "word cloud" or a
"tag cloud". A word cloud is a visual
representation of the frequency of words used in a body of text.
(Some examples: Tagclouds at the social bookmarking site Delicious
and on Planetizen Radar.)
Wouldn't it be useful if we could use this same technique to analyze
other texts that we often encounter such as articles, reports,
policies, plans,
and websites? 
Let's start with
Planetizen's news coverage. Here is a word cloud of
Planetizen's news
stories for the first half of this year: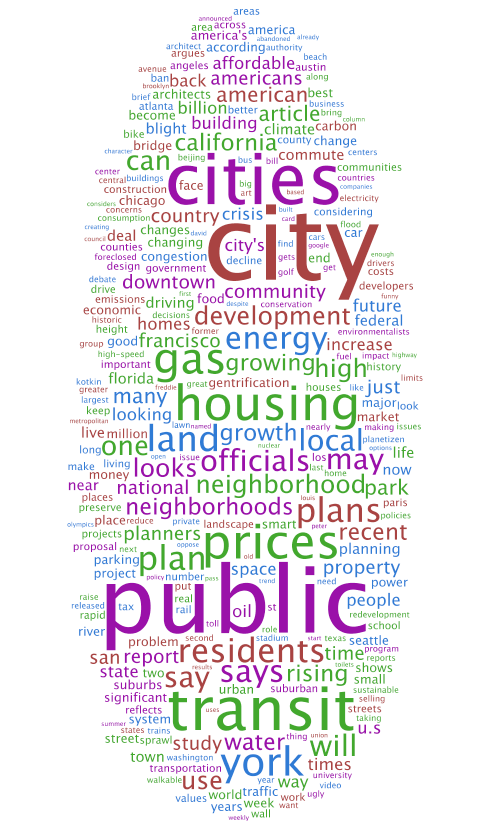 I created this graphic using a free online tool called Wordle
created by Jonathan Feinberg.  Creating
word clouds couldn't
be simpler using Wordle. Copy and paste some text and then
click "go" to create
your own word clouds.
Here is a word cloud of Planetizen news for the same time period filed
under "environment" and "energy".


Now, let's use word clouds to look at John McCain's and
Barack Obama's policy statements on energy, climate change, and the
environment. Both candidates have published statements on
their
respective websites about their position on climate change, the
environment, and energy.
To create word clouds of these
statements, I used a similar web application developed by
IBM's  research and development labs called "ManyEyes".
More about Many Eyes later in this post. First,
let's look at the word clouds.
(Click on the visualization graphic to see the interactive
version.)

1. John McCain on Energy  

[ Source
| Visualization
]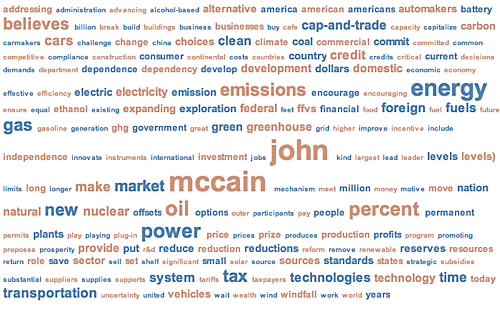 2. John McCain on Climate
Change
[ Source
| Visualization
]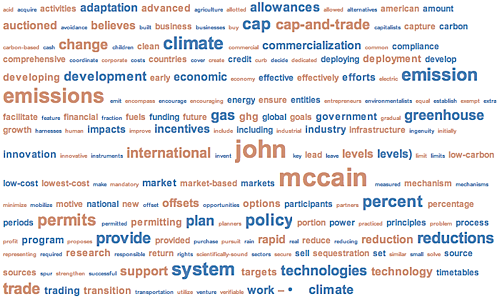 3. Barack Obama on Energy
& Environment
[ Source
| Visualization
]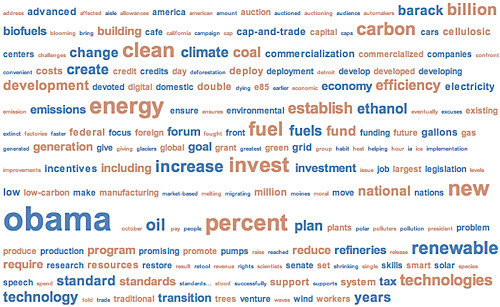 And now, a comparative word cloud.
4. McCain on Energy
& Climate Change vs. Obama on Energy &
Environment
[Sources same as above |  Visualization
]
The following visualization is called an "interleaved tag cloud".
McCain's words are in brown and Obama's words are in blue.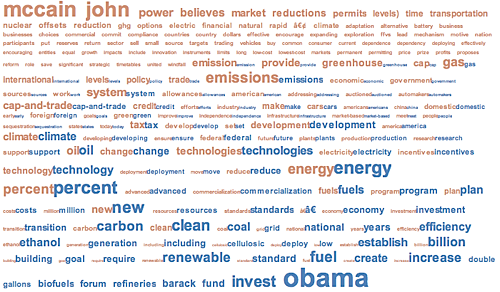 [Note: The John McCain website has two separate statements on energy
and
climate change. The Barack Obama website has one statement on
both
environment and energy.  For the purposes of
this
demonstration, I combined the two McCain statements. Also, the source text on the two candidates websites may have changed since I created the visualizations.]
Barack Obama has also published an Urban Policy Plan. I could not find
McCain's plan on the topic. Here are some visualizations of Obama's
plan:

ManyEyes
ManyEyes was
created by Martin
Wattenberg and Fernanda
B.Viégas of the Visual
Communication Lab at IBM's Watson Research Center.
Here is a video of Dr. Viegas explaining what you can do with
Many Eyes.
Visualization
tool: ManyEyes Interviewed by JD
Lasica on Vimeo.
To summarize, you can upload your own data to Many Eyes. The
data can be text as we did in the above examples. ManyEyes can handle the data you have sitting around in spreadsheets and databases too. You can upload
numerical data in a specific format.
You can
then create visualizations from your data. Many Eyes offers 16
different types of visualizations
at this time including maps, graphs, charts, histograms. treemaps,
scatter plots, network diagrams, word clouds, and word trees.
Browse through the over 2100
visualizations already created at ManyEyes.  To learn how to create your own see Richard Heog's  tutorial.
ManyEyes aims to bring visualization
tools within reach of more people by taking away the need for special
computer software or skills. It is indeed easy to upload data and
create visualizations that can
help  analyze data and spotting trends or
patterns. (It is also
possible to create meaningless visualizations easily.)
This is where ManyEyes does something interesting.  By uploading data to ManyEyes users agree to share their data. So you can create
visualizations from data uploaded by other users. Many Eyes also
features "topic hubs"
where users organize datasets and visualizations on a particular topic
and get together to share insights.  This is similar to how
websites such as Flickr and
YouTube work --
by encouraging and make
it easy for anyone to upload,  categorize, share, and comment
on their digital content.  By letting "many eyes" look at and
work with your data and visualizations,  there is the possibility
of others spotting something that you haven't. 
We know this collaborative approach works for open source software, political blogs, and wikis. Will it work for data analysis and visualization?
[Also see Part 1 -- Infographics for the rest of us ]
---
San Francisco Just Ended Single-Family Zoning
The San Francisco Board of Supervisors voted to Tuesday to eliminate single-family zoning, but pro-development advocates say additional changes are needed to unleash a wave of construction.
This six-course series explores essential urban design concepts using open source software and equips planners with the tools they need to participate fully in the urban design process.
This course aims to provide an introduction into Urban Design Sketching focused on how to hand draw master plans using a mix of colored markers.
View More