Dowell Myers reflects on an article from the Journal of Planning Education and Research in light of the recent presidential election.
---
Guest Blogger: Dowell Myers of the University of Southern California Sol Price School of Public Policy
Among the harsh lessons of the stunning 2016 presidential election, the most widely recognized is that the white voting majority should not be neglected. Exit polls by CNN, sampling 24,558 voters, cast a cold light. Clinton's failure to secure white voters may have centered on white working class men (i.e., white men lacking a college degree) (23% for Clinton, 71% for Trump), but weakness extended to white women without college (34%/61%) and even white college-educated men (39%/53%). Surprisingly, white women who are college-educated only supported Clinton by 51%/44%. Meanwhile, voters over age 45 were much less likely to support Clinton (44%/52%) than were those under that age (53%/39%). Her strongest backers by far were voters of color (74%/21%), but this diverse group accounted for only 29% of the electorate.
A second lesson may be that it is risky and not healthy in our democracy to operate with such a large disparity in racial voting preferences. The white majority in the electorate will persist for decades to come, because they are older and turn out more reliably. The 71% white share of the 2016 electorate closely matched projections in my article "Mutual Benefits and Equity Amid Racial Diversity" that appeared last fall in the Journal of Planning Education and Research. I found that non-Hispanic whites would maintain a likely majority of presidential voters until 2060, long past the 2044 date when whites are expected to lose their population majority. (The white majority in minor elections for local bond issues is even larger and would persist longer.)
The key question for us is how future candidates can span the racial divide with appeals to shared interests. Demography is slowly shifting, but rather than wait until the old majority simply "terms out" in some distant decade, goals of greater racial equality and inclusion can be achieved more rapidly if they can also speak to the interests of white voters. Political leaders and project planners need to learn how to earn the enthusiasm of older whites for creating a better future that includes diverse residents. 
The age imbalance holds the key to correcting the racial divide. My proposed remedy for curbing polarization is that older whites should be engaged in dialogue about their need to rely on a younger generation that is greatly undersized to support expected entitlement benefits for older people, especially when massive numbers of aging Baby Boomers flood those ranks. This was a non-issue before 2010, but now the ratio of seniors (ages 65 and older) to working age residents (25 to 64) is rising sharply in the United States and in every state, as illustrated in the figure below. 
When the Baby Boomers themselves entered the working ages they had only a small-sized generation of seniors to support on their shoulders. All that reverses once the Baby Boomers become the seniors. That places far greater weight on the younger generation than we have seen in the past, whether they are operating as individual workers and consumers in the private market or via their role as principal funders of government programs through tax payments. Either way, success for the older generation in the future will require the Millennials and those that follow to carry out their adult responsibilities with much greater productivity than preceding generations. The generational size imbalance creates a true all-hands-on-deck emergency.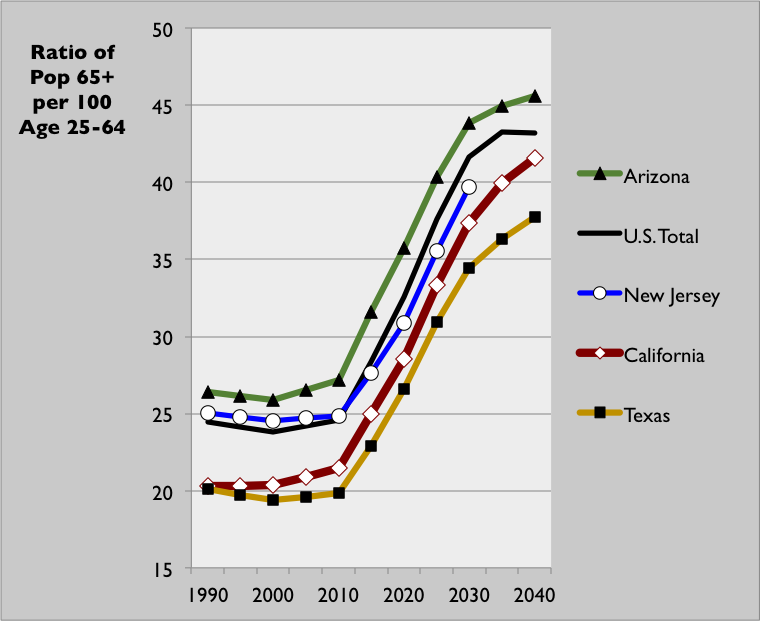 It bears attention that nearly half of today's young are children of color who often may be from disadvantaged backgrounds, as are more than a few whites, and without greater access to key childhood resources they cannot grow into their strongest possible contributions. Thus the retirement benefits, house values (the young buy homes from the old), and health of the economy all depend on cultivating the full potential of our future workers and taxpayers-to-be. Greater equity in access to education, health care, housing, and employment is a crucial investment in a greater future for America. We must inspire older white voters to feel these benefits as something crucial to their own self-interest in a successful future. 
This is the argument for building consensus based on mutual benefits, an approach inspired by Getting to Yes, the negotiation classic on redefining conflicts by inventing options for mutual gain. "Mutual Benefits" linking generations across racial divides is an anti-polarization strategy badly needed today. 
Open Access Until December 31, 2016
Myers, Dowell., 2015. Mutual Benefits and Equity amid Racial Diversity A Generational Strategy for Growing a Broader Base of Support for Social Equity. Journal of Planning Education and Research, 35(3), pp.369-375.
---
This six-course series explores essential urban design concepts using open source software and equips planners with the tools they need to participate fully in the urban design process.
Learn the tools for implementing Universal Design in planning regulations.
View More