Kelcie Ralph guest blogs about a new article in the Journal of Planning Education and Research.
---
Guest Blogger: Kelcie Ralph of the Bloustein School of Planning and Public Policy at Rutgers University
Interest about the travel patterns of Millennials increased in the 2000s as rates of driving and licensing declined among young people. As I describe in my recent article in the Journal of Planning Education and Research, two shortcomings in the existing travel behavior research may mask some important policy considerations about Millennial travel patterns. Specifically, our reliance on averages prevents us from recognizing how widely travel patterns vary across the population and our focus on a single aspect of travel (often vehicle miles traveled) overlooks other aspects of travel such as trip-making and use of alternative modes.
Without this multifaceted understanding, it is difficult to know how to interpret recent travel trends. If young people can maintain high levels of trip-making without an automobile, policymakers may celebrate the recent decline in driving among young adults. On the other hand, if declines in automobility have not been offset by increases in other modes, young people are likely stuck in place—unable to afford a car and too far from potential destinations to walk, bike, or use public transit.
This article moves beyond averages and incorporates multiple facets of travel at once. Using latent profile analysis, a statistical approach for identifying relatively homogenous groups, I classified young people (ages 16 to 36) in the United States into four distinct travel types. To begin, I selected seven travel variables from the National Household Travel Survey (NHTS) to serve as inputs in the latent profile analysis. Together these variables describe trip-making, mobility, automobile access, travel by alternative modes, and day-to-day variation in travel patterns.
Individuals in each of the resulting four traveler types share distinct travel patterns. "Drivers" make essentially all of their trips by automobile. "Long-Distance Trekkers" are similar to Drivers, but travel many more miles each day to complete the same number of trips. "Multimodals" make half of their trips by walking, biking, or riding transit, but they make more trips than Drivers. Finally, "Car-less" young adults travel exclusively by non-automobile modes and have very limited mobility and trip making.
In 2009 the vast majority of young adults were Drivers (79.4%) and along with the Long-Distance Trekkers (3.2%), well over eight in ten young adults used an automobile for nearly every trip. After the Drivers, "Car-less" young people were the next most prevalent type (13.8%). Finally, young adults who used a variety of modes—the Multimodals—were relatively rare; they comprised just 3.6 percent of the population.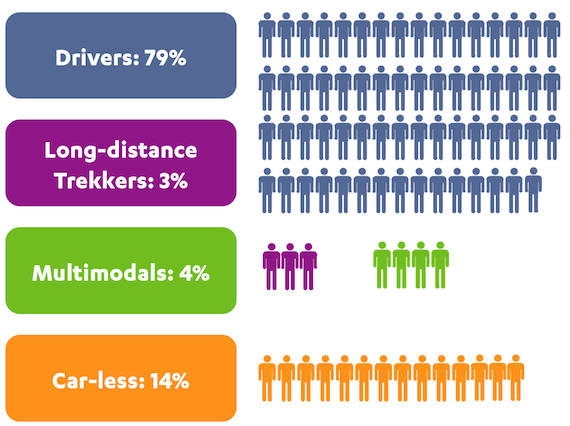 When it comes to demographics, there were stark differences between Car-less young people and Drivers. Car-less young people had more limited educational attainment, lower household incomes, and were more likely to be a racial or ethnic minority. What is more, relative to Drivers, far fewer Car-less young people were employed and relatively fewer had taken on adult roles, particularly marriage. Although importantly, causality between travel patterns and life circumstances runs in both directions.
Policy Implications
Transportation disadvantage encompasses the many ways in which someone may have limited access to safe, reliable, and convenient transportation. Many Car-less young people, particularly the majority of them who live at relatively low densities, suffer from transportation disadvantage. Many Long-Distance Trekkers likely also suffer from transportation disadvantage because they travel vastly further than Drivers (leaving them vulnerable to fluctuations in fuel prices) but take part in the same number of trips.
The traveler types can also help practitioners conceptualize efforts to change travel behavior. Very few Drivers will willingly go cold turkey and stop driving altogether, in part because travel habits are hard to break (Aarts and Dijksterhuis 2000, Gärling and Axhausen 2003, Verplanken, Walker et al. 2008) and in part because the built environment in much of the United States makes living without a car incredibly difficult (Grengs 2010). It may be possible to convince Drivers to drive slightly less or to make some trips by other modes (become Multimodal). While these shifts are difficult, small changes in Drivers' travel patterns will have a large contribution to aggregate travel trends because so many young people are Drivers.
Open Access Until November 14, 2016
Ralph, K.M., 2016. "Multimodal Millennials? The Four Traveler Types of Young People in the United States in 2009." Journal of Planning Education and Research.
Aarts, H. and Dijksterhuis, A.P., 2000. "The automatic activation of goal-directed behaviour: The case of travel habit." Journal of Environmental Psychology. 20(1), pp.75-82.
Gärling, T. and Axhausen, K.W., 2003. "Introduction: Habitual travel choice." Transportation, 30(1), pp.1-11.
Grengs, J., 2010. "Job accessibility and the modal mismatch in Detroit." Journal of Transport Geography, 18(1), pp.42-54.
Verplanken, B., Walker, I., Davis, A. and Jurasek, M., 2008. "Context change and travel mode choice: Combining the habit discontinuity and self-activation hypotheses." Journal of Environmental Psychology, 28(2), pp.121-127.
---
How Urban Trees Save Lives
New research shows a strong connection between a healthy urban tree canopy and lowered mortality rates.
This six-course series explores essential urban design concepts using open source software and equips planners with the tools they need to participate fully in the urban design process.
Learn the tools for implementing Universal Design in planning regulations.
View More