Many architects would kill to get a building on Architectural Record's list of 125 Top Buildings. But big cities can learn a few things from the landscapes of small-town America too.
---
Two pieces of land-use clickbait crossed my feed this week. Facebook knows me too well.
The first was "40 American Towns You Haven't Heard of But Should Visit ASAP'" from noted authority on urban planning Country Living Magazine. The concept of the article is basically, "here's a bunch of cute towns that our interns found on Flickr." They probably could have posted 40 or 80 or 400 other towns with the same effect. But whatever. Cute is cute.
(The next article is "5 Crazy Things that Happened at the CMA Music Festival." I have nothing to say about that.)
Famous or not, the great thing about Country Living's list is that 40 towns is a pretty big sample size from which to draw inferences about what makes places appealing. Some of the photos have nothing to do with towns. They're of fields or bridges or cows. But among those that faithfully display Main Street in real America, it's fun to notice the (entirely predictable) features that make these places so adorable: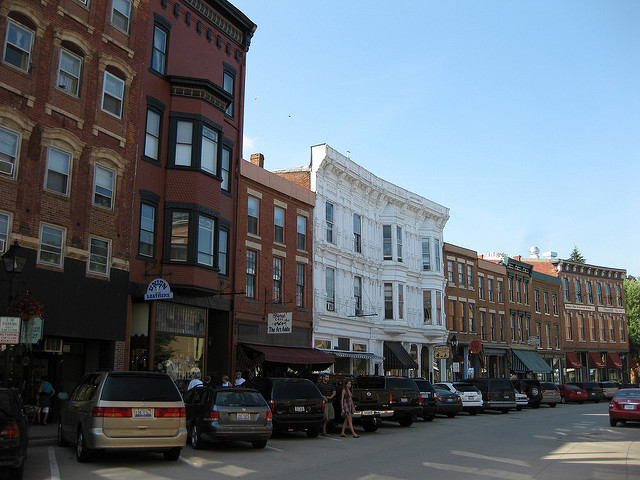 If those are the towns you haven't heard of, imagine the town you have heard of. There's a lot of cute in our great nation. Unfortunately, these design features are rare in big cities and are almost entirely absent from places built after World War II.
The amazing thing about all of these attributes is that none of them is complicated. These towns were built 100 years ago, and the appeal is obvious. This stuff is not rocket science. Really, it's not even architecture.
One of my first posts for Planetizen was a critique of the American Institute of Architects list of 150 greatest buildings in 2007. My response then, and now: who cares about buildings? Anyone with enough cash can commission a life-size sculpture, plop it down on a vacant lot, and call it great architecture. Truly great architecture—as opposed to great "design"— is that which responds to and enhances its context. Some of that architecture is avant grade, and some is as anonymous as you and me.
The fixation on architecture-as-object persists, most recently, and predictably, in Architectural Record's Top 125 Buildings. The list celebrates AR's 125th anniversary. In other words, it celebrates the 125 years in which AR has encouraged the type of heroic individualism that has created some neat baubles but, at least from 1930s onward, done so with near disdain for cityscapes at large. These structures don't lend themselves to a list of virtues in large part because they are each so aggressively unique. You won't see many awnings in AR.
AR lists the usual suspects: early innovators, the CIAM crowd and other high Modernists, a few postmodernists, some Brutalists, and contemporary starchitects. Many of their structures will make you numb with their visual beauty, or at least their visual complexity. Indeed, many of them look like they were made to sell magazines. They look amazing in photographs; what goes on beyond the edge of the frames is often anyone's guess.
The trouble is, no one teaches cute in architecture school. I suppose the New Urbanists have tried. Everyone else is too busy teaching phenomenology, parametrics, and deconstructivism, which is, to be honest, a pretty terrifying theory on which to base a building.
I get it. Not every place can can look like an LL Bean catalog. Humanity must progress, creativity must be unleashed, and if we can't have local vernacular, we can at least have something different even if it's overwrought. The world needs structures that delight and structures that challenge. But too many places look a lot worse than small town America and too many buildings—in or out of context—don't look like architecture much less starchitecture.
If one building out of ten thousand gets to compete for AR's 150-year list, then the other 9,999 need to look elsewhere for inspiration. Galena, Franklin, and Corning aren't bad places to start.
---
The Right to Mobility
As we consider how to decarbonize transportation, preserving mobility, especially for lower- and middle-income people, must be a priority.
Early Sharrow Booster: 'I Was Wrong'
The lane marking was meant to raise awareness and instill shared respect among drivers and cyclists. But their inefficiency has led supporters to denounce sharrows, pushing instead for more robust bike infrastructure that truly protects riders.
This six-course series explores essential urban design concepts using open source software and equips planners with the tools they need to participate fully in the urban design process.
Learn the tools for implementing Universal Design in planning regulations.
View More