Anaheim's packing house signals a new trend with deep roots.
---
A city famous for its theme park resort and big-league sports is getting another economic boost with a new, grass-roots dining district. Anaheim's 1919 Packing House—which originally packaged oranges for transport to the rest of the United States—is now a popular food hall. The Packing House is reminiscent of the grand public markets of Europe and South America, and is fast becoming a West Coast destination along the lines of Los Angeles' Grand Central Market, San Francisco's Ferry Building, and Seattle's Pike Place Market.
But the Packing House offers an authentically Anaheim urbanism, growing organically with independent vendors and helping to attract hundreds of new residents. It is the center of a one-square-mile "foodie district," and the evolution of this area may be a model for revitalizing downtowns.
The Packing House's 28 gourmet food and beverage vendors and merchants are curated by LAB Holding, which has had huge retail success elsewhere in Orange County (at The Lab Anti-mall and the Camp in Costa Mesa). The two-level structure features a large central atrium with communal dining surrounded by cafes and kiosks. It includes outdoor picnic gardens, a dining porch looking over the Farmers' Park outdoor marketplace, and live entertainment. The building is nominated for National Register of Historic Places designation. 
The grand opening of the Packing House took place on May 31, 2014. [Image courtesy of LAB Holding]
Before landing on the present use, the city recognized the Packing House as an architectural cornerstone for its 25-year downtown guide for development. Residences were crucial to our goal of achieving street life after 5 p.m. There was even thought of converting the Packing House to condominium use.
Searching for solutions, the city worked closely with the Greater Los Angeles division of Brookfield Residential to shore-up the building. We studied places such as the Ferry Building and New York's Chelsea Market.
Other pieces of the puzzle emerged. On the opposite end of the block from The Packing House, the city had redeveloped its 1925 Mission Revival-style Packard Building into a new home for Anaheim Brewery and Umami Burger. We needed a link between these two end-pieces. Again housing was considered, then a community garden. What we arrived at cements this 2.5-acre site as the Packing District: It is Farmers Park—the location of downtown's Sunday farmers market and other outdoor events. Farmers Park is a natural gathering place with unique, built-in infrastructure specifically for outdoor vendors, including designated stalls, shade structures, power outlets, and welcoming features including oversized chairs, a bocce court, ping pong table, and a garden.
This vision for The Packing District emerged over more than a decade, with the city navigating several planning and approval steps along the way. Assembly of land parcels ran from 2000 to 2004. In 2004, a mayor's community charrette identified the Packing House as an architectural icon. In 2007 the city adopted the Greater Downtown of Anaheim Guide for Development—key components being to create a walkable downtown environment and establish a series of linkages between history areas and development areas.
From 2010 to the present we assembled the development team, restored the Packing House, and leased it—an astonishingly short period of time when you consider the dramatic changes. This period included new zoning and entitlements for the district, securing over 45 building permits, at least 28 business licenses, and 14 alcohol licenses. As the opening of The Packing House drew near, a business-assistance program processed permits and expedited plan checks and approvals for the many retail tenants. This included appointing a Business Solutions Specialist just for this project.
The Packing House debuted on May 31, 2014 and was an immediate hit, attracting thousands of visitors daily from Southern California. Almost simultaneously, another crucial puzzle piece opened directly across the street. Brookfield Residential welcomed its first move-ins to The Domain, a new community of stacked flats and townhomes, whose residents now use the Packing House, Farmers Market, and the rest of center of the city as huge, utterly unique amenities.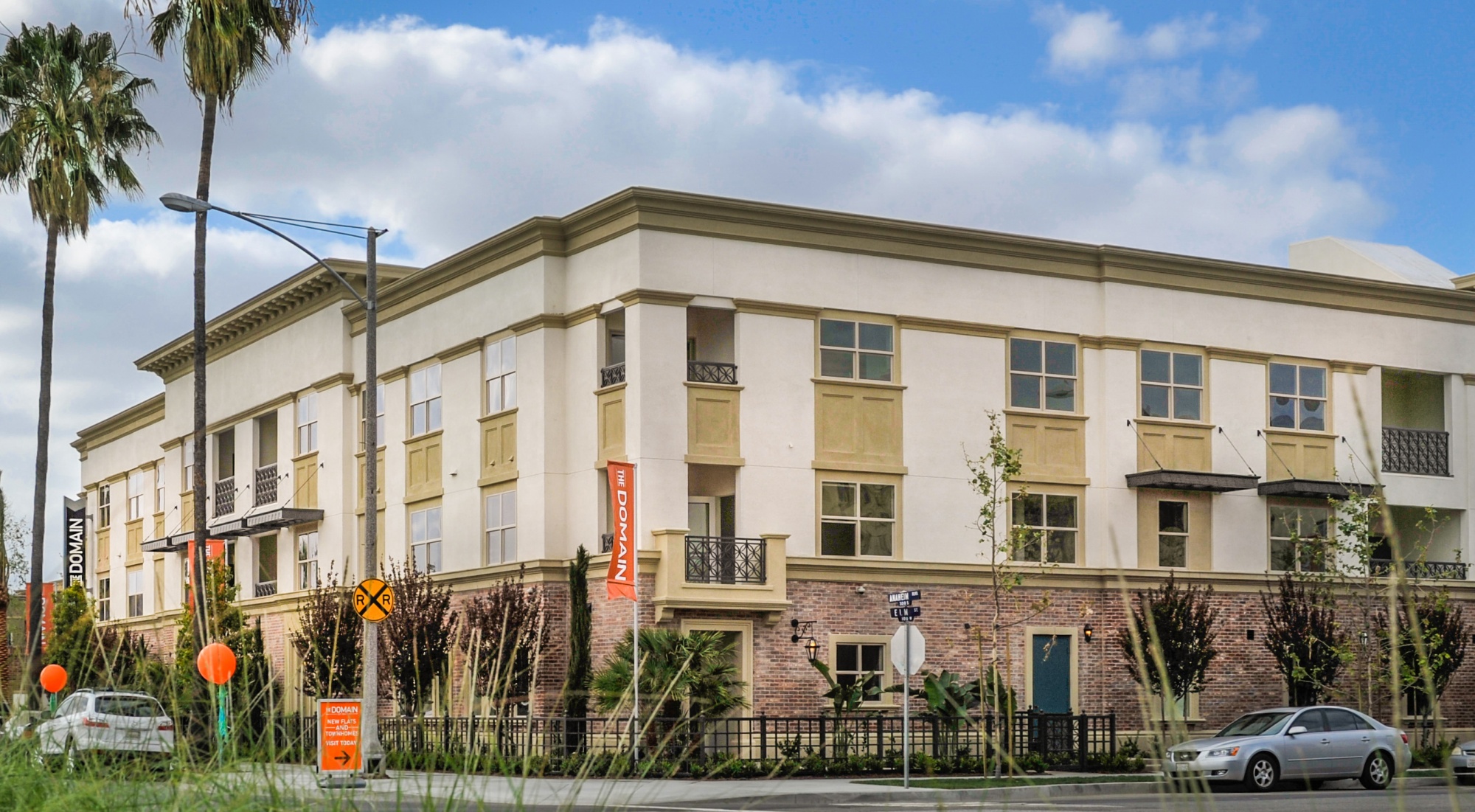 The Domain raises to approximately 1,500 the number of new homes in Downtown Anaheim. This population also supports the Center Street retail two blocks north—also curated by Lab Holding and also offering independent, artisanal vendors. Like The Packing House, The Domain has been a tremendous success, and Brookfield actively incorporates the Packing District into its marketing.
As the Packing District connects to surrounding neighborhoods such as The Colony District, more housing and more independent retail are falling into place. Most recently, a hefty 200,000-square-foot commercial office lease was signed, which will bring an additional 800 employees to Downtown Anaheim and validate the vision of a "foodie district" that also attracts a wide variety of uses.
Of course, a vibrant new district needs good, long-range planning, and we invested approximately $200 million in infrastructural support. We calmed traffic, made streets pedestrian-friendly, installed public art, and utilized existing parking structures. The city will soon unveil a marketing and signage campaign—along with a new name, CTR CITY—to firmly establish this vibrant new place.
In a sense, what's new is what was already here: Anaheim was founded by German immigrants who planted grapes, made wine, and built businesses and lives here. Today, that historic place is thriving again with new merchants, dining establishments, neighborhoods, and energy. It's a place with authentic soul and historic roots.
John Woodhead is the director of Community & Economic Development for the city of Anaheim.
Making Healthy Places
The editors of the book "Making Healthy Places," recently published in a second edition by Island Press, discuss the intersections of public health and planning, including key concepts such as green gentrification, health impact assessments, and AI.
The Great American Exodus: A Conservative's Perspective
During his keynote speech on September 11 at the National Conservatism Conference in Miami, Florida Governor Ron DeSantis describes the demographic shifts in America since he became governor in 2019 in what he calls the 'Great American Exodus.'
This six-course series explores essential urban design concepts using open source software and equips planners with the tools they need to participate fully in the urban design process.
This course aims to provide an introduction into Urban Design Sketching focused on how to hand draw master plans using a mix of colored markers.
View More