Markets are important commercial and cultural spaces throughout South America, in small villages and big cities. The market landscape in South America is diverse, but thriving markets share a number of common characteristics across the continent.
---
After a period of decline in the 20th century, central markets are experiencing a true renaissance in the North America: farmers' markets, flea markets, and food truck rallies are now popular destinations for eating and shopping.
As markets once again become important social and commercial spaces in our communities, there is value in examining the market landscape in parts of the world where central markets have endured and thrived for decades.
As part of a new report called Mercado: Lessons from 20 Markets Across South America, I explored 20 markets in five countries, observing and gathering data about what makes these diverse and vibrant commercial centers thrive. This research project was undertaken in partnership with The Street Plans Collaborative—a consulting firm, but also a platform for open source research and advocacy. The Street Plans Collaborative has explored and given shape to a variety of emerging topics (Street Seats, Open Streets, Tactical Urbanism), often returning to the conclusion that a city's dynamism is created by the unplanned collision of people, and the resulting exchange of goods, skills, and ideas. In our opinion, few urban spaces represent the power of serendipitous collisions more than markets.
The markets I visited for this research project vary in size, configuration, merchandise category, and degree of formality. They operate in different cities with different regulatory frameworks and market landscapes. Nevertheless, they share a number of common characteristics that contribute to their vibrancy and importance as commercial and social centers:
1. Full-Day Hours of Operation
Most markets observed for this project are open all day. Some slow down in the afternoon, but none of the markets studied observed the "half-day" hours often seen in weekend farmers' markets in the United States. Longer hours make the markets more accessible for shoppers, but what about vendors? Are the sales really high enough to merit the longer hours? If there is balance in the market landscape, the answer should be yes. That is to say, if there are too many markets in an area, vendors and shoppers will be spread thin. But, with the right number of centrally located markets, vendors found a commercial benefit to remaining open for the entire day.
Neighborhood context is also an important factor in the viability of full-day markets. Most of the daily markets in this report are located in dense, walkable, and mixed-use neighborhoods, with plenty of foot traffic from morning until night. The markets are located near housing, transportation hubs, public spaces, convenient stores, and restaurants. In this context, they are well positioned to make sales throughout the day and evening, all week long.
2. Accessible and Central Location
All of the markets visited were easily accessible by public transit or private vehicle, and most were located in a city or neighborhood center. Their accessible location provided vendors and shoppers with convenient options for moving goods in and out.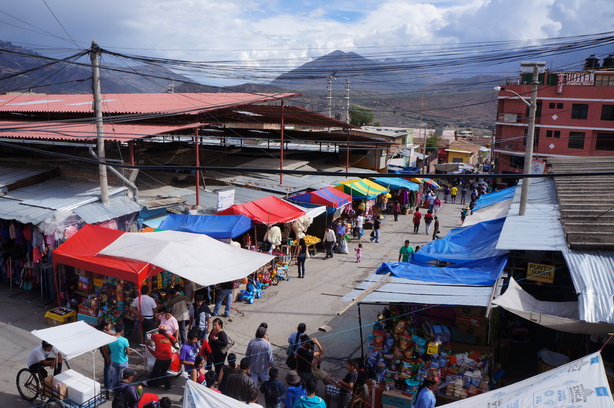 Mercado Central; Caraz, Peru [Image by Julie Flynn]
3. Protection from the Elements
Most markets provided protection from the elements. Many were located in buildings or under simple but permanent roof structures. Vendors at outdoor markets nearly always assembled cloth or tarp coverings across the aisles, making the market a viable destination on hot and rainy days alike.
4. Navigable Aisles
Markets displayed varying degrees of aisle navigability, and those with navigable aisles were decidedly more pleasant to visit. The best market aisles allow enough room for shoppers to stop and purchase items at a stall, while still leaving room for others to pass by and move along. Appropriate lighting, ventilation, and way-finding also contribute to navigability. While the equation for navigable aisles varies, it is an important consideration for shopper comfort and vendor success.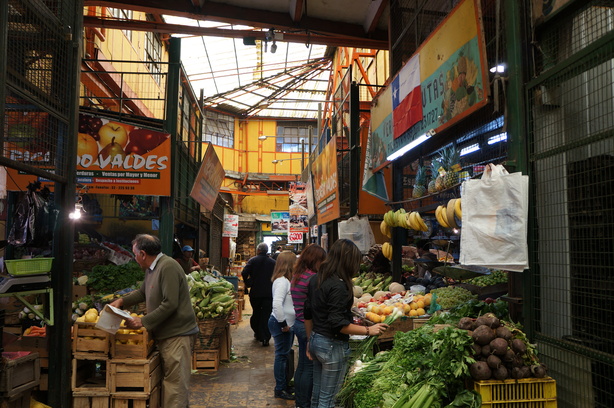 Mercado Cardonal; Valparaiso, Chile [Image by Julie Flynn] 
5. Broad Selection of Goods
With the exclusion of specialty markets devoted to one item (such as fish, for example), the markets studied offered incredible variety within each goods category and, in most cases, a high number of goods categories too. In other words, there was a vast array of fruit and vegetables types on display, but there were also vendors selling kitchen goods, paper products, clothes, and school supplies. The market was a one-stop-shop. In a market landscape full of options for the consumer, markets must offer a good selection across a variety of goods categories to be competitive.
6. Affordability
In most of the markets studied here, merchandise was cheaper than at supermarkets. An affordable market is accessible to all, and thus becomes an important space for commercial and social activities. While exceptions do exist, the overall culture of market as public space, affordable to all, remains dominant. This is an interesting contrast to the cultural conception of today's farmers' markets in the United States, which have often been associated with high quality and, therefore, high cost.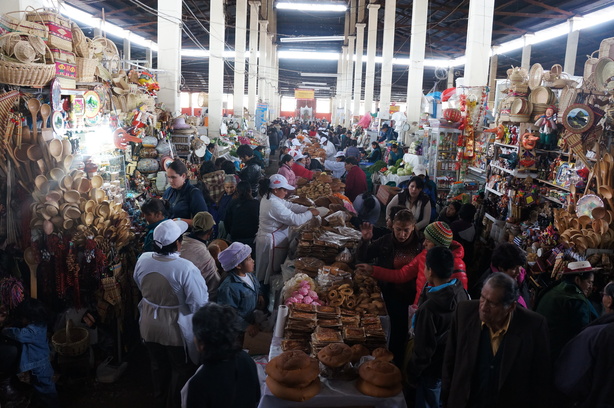 Mercado San Pedro; Cusco, Peru [Image by Julie Flynn]
7. Safety
Most markets are bustling, crowded places, where people from all walks of life mix together. There is a lot of activity, and money is constantly changing hands. While the markets surveyed generally felt safe, some safety issues remain challenging. Pick pocketing is a common concern. In response, many markets have uniformed security guards on watch. There is also the concern that some degree of "cheating" may occur around transactions, since markets are typically less regulated than a supermarket or formalized store. To combat malfeasance, markets are often equipped with public scales, intended to allow customers to weigh their purchases and verify that the vendor has not shorted them.
The majority of markets studied here displayed concrete efforts to keep the market a safe place to shop.
8. Prepared Food and Seating
Many of the markets visited for this study incorporated the sale of prepared food.
Almost without exception, seating for diners was located right in front or to the side of the stall where the food was prepared and sold. In some cases, the market architecture incorporated counters and stools as part of each prepared food vendor's stall. But, it was also quite common to see prepared food vendors creating their own seating areas. They used chairs, wooden benches, milk crates, and even the tops of coolers for seating. They placed tents or simple tarps overhead to provide protection from the elements. Markets allowed vendors to make sure their customers had a comfortable place to sit, and customers lingered and shared space with each other for a while in a pleasant social space. This practice is quite different from what we see at most farmers' markets or food truck markets in the United States today, where customers buy food at a stall in one location and then either walk off to a seating area somewhere else, sit on a curb, or give up on seating and chow down while standing up. Allowing vendors to provide a small amount of seating near their stall is a preferable option for customer comfort and the social atmosphere in the market.
9. Multi-Level Vending
Every market included in this report incorporated vendors of varying degrees of formalization: there are vendors with established stalls, side by side with those setting up shop on the floor and selling their wares on foot. This variety creates a rich experience for the customer, adding to the excitement of the market atmosphere and providing more options in terms of variety and price of goods. Multi-level vending also lowers barriers of entry for informal entrepreneurs because it allows vendors to participate in the market and sell their goods, even if they cannot afford to rent a formal stall.
But, are these vendors really allowed to sell on foot? And, if so, is it safe to buy from them? In the markets studied here, ambulatory vendors are likely participating without formal permission or regulation. They likely do not pay anything to access the commercial opportunities the market provides, nor are they subject to any oversight in terms of product quality or safety. And, they are always in danger of being caught and penalized for selling illegally. This scenario can be problematic for established vendors, who pay to participate in the market, and for customers, who may get sick from food they buy from an unregulated mobile vendor. An ideal solution would be to structure market participation in tiers, subjecting vendors to an appropriate degree of oversight with an appropriate fee for participation at each level for formalization. A tiered vending structure preserves the vibrancy and variety that multi-level vending affords, without the risks and frustrations to vendors and customers.
10. Integration of Public Space and/or Pedestrian Streets
A significant number of markets studied for this report incorporate either a pedestrian street or small plaza near the market, and some include both. The inclusion of pedestrian streets and open public spaces around the market improves walkability and provides space for socializing and "street appropriation"—the use of street or public space for activities other than permanent commerce, such as outdoor eating and street-vending. These areas establish the market as a community gathering space and encourage customers to linger—a goal worth pursuing in any city, no matter the context!
As markets continue to gain popularity and commercial and social importance in our communities, there is great value in learning from countries that have preserved a strong market culture throughout the last century. In these places, markets have remained central parts of people's lives—they are the space in the city where culture and commerce invariably intersect.
About the Street Plans Collaborative
The Street Plans Collaborative is an award winning urban planning, design, and research-advocacy firm based in Miami and New York City. The firm works internationally to create better streets, better places.
About the Author
Julie Flynn is a Project Manager at The Street Plans Collaborative, where her work focuses on research, public outreach, design and project management. Julie is a founding member of the Tactical Urbanism working group in New Haven, Connecticut. Prior to moving to New Haven, Julie worked as a Transportation Planner and Public Involvement Specialist at Howard/Stein-Hudson Associates in New York, NY. Julie received a B.A. in Urban Studies from Brown University.
The Surprising Oil Tax in the Inflation Reduction Act
President Biden has made reducing gas prices paramount in his administration, so it was likely a surprise to hear a Republican senator last Sunday warn TV viewers that a revived and increased oil fee in the climate bill will increase their gas costs.
The Tide Has Turned Against Open Streets
Once a promising development for advocates pushing for a less car-centric future in cities, the open streets movement has ceded significant ground to cars since the height of the pandemic.
This six-course series explores essential urban design concepts using open source software and equips planners with the tools they need to participate fully in the urban design process.
This course aims to provide an introduction into Urban Design Sketching focused on how to hand draw master plans using a mix of colored markers.
View More