Neil Roberts shares details of Melbourne's Yarra Trams, which has exceeded its service delivery and punctuality goals by the use of intelligent transit technology like sensors, the tramTRACKER app, and mobile work stations for employees.
---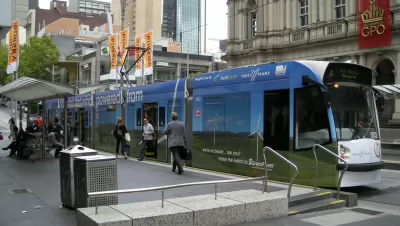 The evolution of technology has dramatically changed almost every facet of our lives, from the way we shop and communicate to how we travel and run our cities. The smallest startups to the largest governments are transforming the way we communicate information, track data and monitor our operations to not only drive efficiency, but also to provide better services and products.
Technology can do the same for transportation: shaping the quality of how we commute and move around our communities to boost passenger usability and confidence. By enabling customers to travel around Melbourne quickly, safely and efficiently, we can build a more sustainable, better operating community.
Yarra Trams, the operating name for KDR Victoria (a partnership between public transit company Keolis and Australia's oldest rail company, Downer), has been serving the citizens of Melbourne for over 100 years. Continuing our commitment to a more sustainable Melbourne, we've been working with IBM to use technology to improve day-to-day tram operations and overall passenger experience.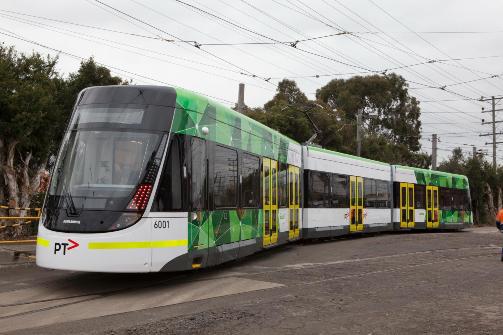 As the world's largest operating tram network, we are responsible for 492 trams, operating on 29 different routes on 250 kilometers of double track. Here are a few areas where we are using technology to evolve our century-old business into a new global model of smarter transportation:
Accurate Scheduling
Much of our tram network shares the same streets and roadways with Melbourne's motor vehicles and pedestrians. In fact, 80 percent of our tracks share road space with other vehicles. With a population of more than four million people, shared roadways come with a host of potential disruptions: from traffic to construction to detours caused by special events and weather.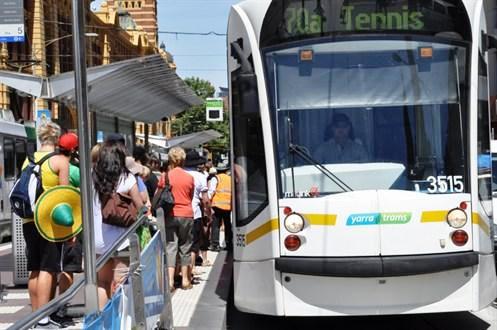 Image credit: Yarra Trams
Despite the fact that these situations can form quickly and are outside of our direct control, passengers expect our trams to be on time. To make sure trams are in the right place at the right moment, we've equipped them with data-collecting sensors. From the oldest tram–clocking in at over 70 years old–to the newest, each tram feeds real-time information about its location to the Yarra Trams Operations Center. From this center, we have an accurate view of what exactly is happening on all of our routes and with each of our trams, allowing us to rearrange schedules, dispatch additional trams and keep customers informed of potential delays and the best alternate routes via tramTRACKER®—our real-time data analytics and mobile app allowing us to communicate directly with passengers via smartphone, our website, display screens at major stops and screens at shopping centres and sporting complexes.
Sensors collect data from some of our 91,000 pieces of infrastructure: trams, inlaid tracks, overhead power wires, power substations and passenger platforms. Using data analytics, employees in different parts of the business, such as infrastructure (track and overhead power wires) and rolling stock (trams), examine each significant data point, searching for patterns and unusual activity.
Take hugely complex and high profile events, such as the Australian Open tennis tournament held here in Melbourne. For the duration of the competition, we use the information streaming in from around our network to determine where heavy passenger traffic will occur and allocate our trams accordingly, as well as alerting passengers about service changes via tramTRACKER®.
Though our network has generated this data for over a century, the fact that we can now capture it–and listen to it–is enormously valuable. In October 2013, our service delivery was at 99.23 percent and tram punctuality was at 84.00 percent, exceeding our respective targets of 98 and 77 percent, respectively. Punctuality had its best September since KDR Victoria took over the franchise in 2009, following from our best ever July and August results.
Sensors, analytics and asset management help keep our trams on schedule, meaning not only that our passengers feel more confident in choosing to travel by tram, but they also arrive to work on time, increasing productivity in Melbourne itself.
Predictive Maintenance
Keeping a 100-year-old system running smoothly is not an easy task. Our trams' vast range in ages means each tram has various maintenance needs, with overlapping and conflicting schedules. Though this means careful planning is required to meet the challenging maintenance schedule, it doesn't change the fact that we need to know where, when, why and if a problem has occurred or will occur. Most importantly, if there is a problem, we need to be able to respond rapidly.
A stalled tram is quite different from a broken down car; though other motorists can simply swerve around a stopped vehicle, we have to stay on the tracks, and there are sometimes nine routes sharing a single stretch of track. Not to mention the tremendous downtime and money it can cost to fix a major malfunction, which are made more frustrating when easily avoided by earlier detection.
We're better preventing such system delays through sensors and asset management software, analyzing equipment data to figure out where and when maintenance is required. Centralizing and aggregating this information allows us to analyze patterns, identify potential issues, alert appropriate personnel and dispatch a work crew to make the necessary repair before the disruption happens.
To put it more tangibly, let's look at how we respond to a potential wheel wear.
An automated wheel measurement machine detects the condition of tram wheels as the tram drives over a sensor embedded next to the tracks. The rolling stock maintenance team uses the data to determine which wheels need attention and then create a work order. Because the maintenance crew receives the work order on a mobile device, they also log information about the repair on this same device, enabling comparisons to previous repair logs and allowing for scheduled preventative maintenance.
The ability to predict repairs, versus simply reacting to them, means a fleet can run at its intended capacity, is repaired and serviced during off-peak hours and has a minimal chance of breakdowns when a city's workforce needs to commute.
As with any transit system, these preventative measures don't mean that external forces won't cause problems. Melbourne has an annual rainfall of more than 24 inches, and it's very common for streets and tram tracks to flood. Thanks to our data analysis, we can now identify which areas are particularly prone to flooding, and our crews can now take extra precautions when the forecast calls for rain.
What if tracks flood anyway? Our sensors and Operations Center quickly alert crews via mobile, who in turn can make quick decisions and respond to the flood and work to avoid service delays.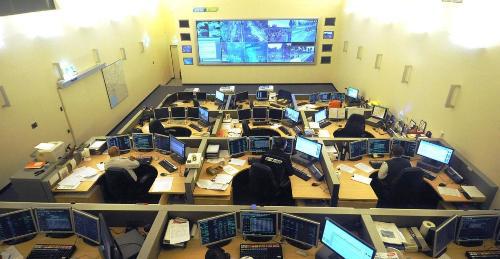 Image credit: Yarra Trams

Enabling a Mobile Workforce
What's equally as important to optimal maintenance and reduced downtime is real-time information from each of our workers in the field.
However, communicating with each worker over more than 250 kilometers of double track is no easy task. To make this easier, we've equipped each worker with a mobile device to remotely access work orders and receive up-to-date information on track and tram functionality. Through the devices, workers on any part of our network can access crucial data on equipment status, failure locations, traffic delays and bad weather—as well as alerting other employees of these types of situations in their areas.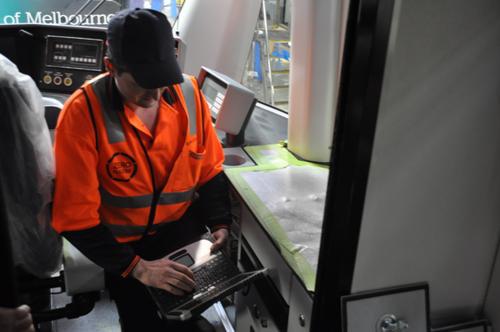 Image credit: Yarra Trams
Once one project is finished, engineers can log onto the system via their mobile device and document how long the repair took, as well as sharing additional mobile work orders to reduce response time to the next project. This is a far superior process to using printed documents from the office, which then need to be updated by returning to the office after the job is complete.
Customer Engagement
In addition to improving service reliability, analytics, mobile and asset management technologies are helping us update passengers when scheduling issues occur. Our mobile app, tramTRACKER®, analyzes real-time information collected from equipment data points to identify tram arrival times and display this information to passengers. It receives more than one million hits per day from passengers wanting to know when their tram is coming.
With the app, a passenger can pull up arrival times of the next three trams that will pass through their nearest stop, helping to avoid missing the next tram or finish their coffee knowing when the next tram is coming. The effect of disruptions is managed via passenger information officers based at the Operations Centre, who can broadcast specific information to tramTRACKER. That information equips passengers with the knowledge to make informed, quick decisions to get to work or home on schedule.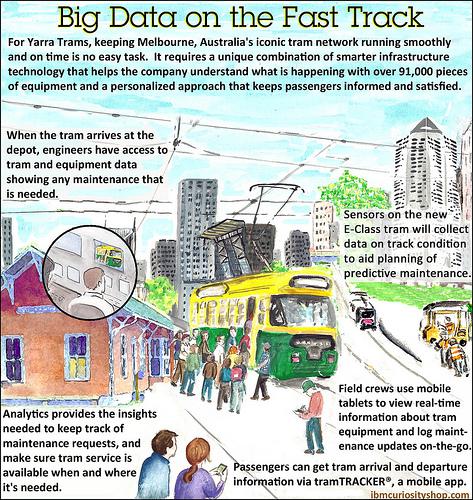 What's Next?
Incorporating technology into our infrastructure has successfully evolved our model of smarter transportation, but the implementation of sensors, analytics and asset management technology is just the start. With the recent introduction of our new E-Class trams, we are introducing additional sensors and using WiFi to download maintenance and passenger counting data and uploading onboard passenger information at tram depots, taking passenger communication, efficiency, predictive maintenance and punctuality to even greater levels.
Whether it's mobile apps or the analysis of millions of data points, we are always searching for new and unique ways to provide a more intelligent and efficient tram network for Melbourne. The technology we've implemented with the help of IBM is just one step in our journey, and we look forward to exploring new ways to apply technology for generations to come.
Biography
With 25 years of ICT experience, Neil Roberts' strong program and project management skills have helped to transform vision into reality in business environments including engineering, logistics, banking/finance and risk management.
Neil successfully managed the complex transition of all ICT systems to the new franchise and has applied his experience to significantly improve the ICT systems that maintain, operate and enhance the passenger experience and the operational effectiveness of Melbourne's iconic tram network.
Neil Roberts is the Director of ICT at Yarra Trams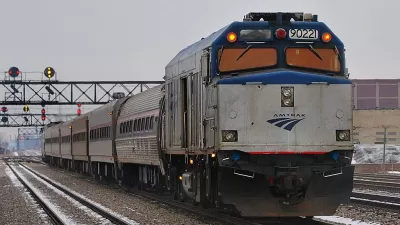 Amtrak Ramping Up Infrastructure Projects
Thanks to federal funding from the 2021 infrastructure act, the agency plans to triple its investment in infrastructure improvements and new routes in the next two years.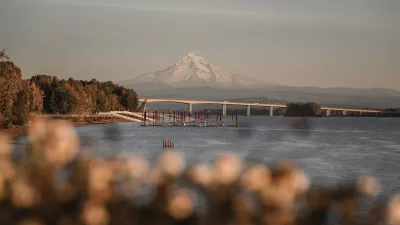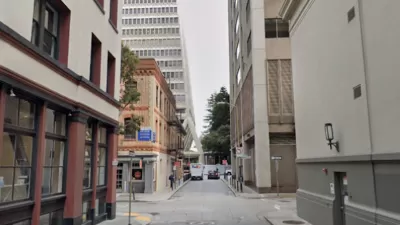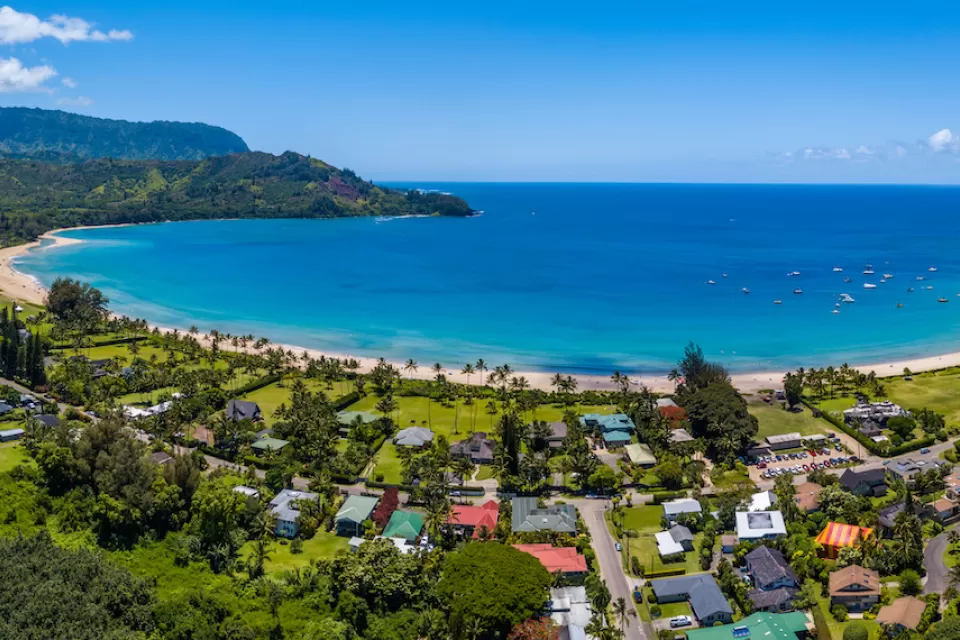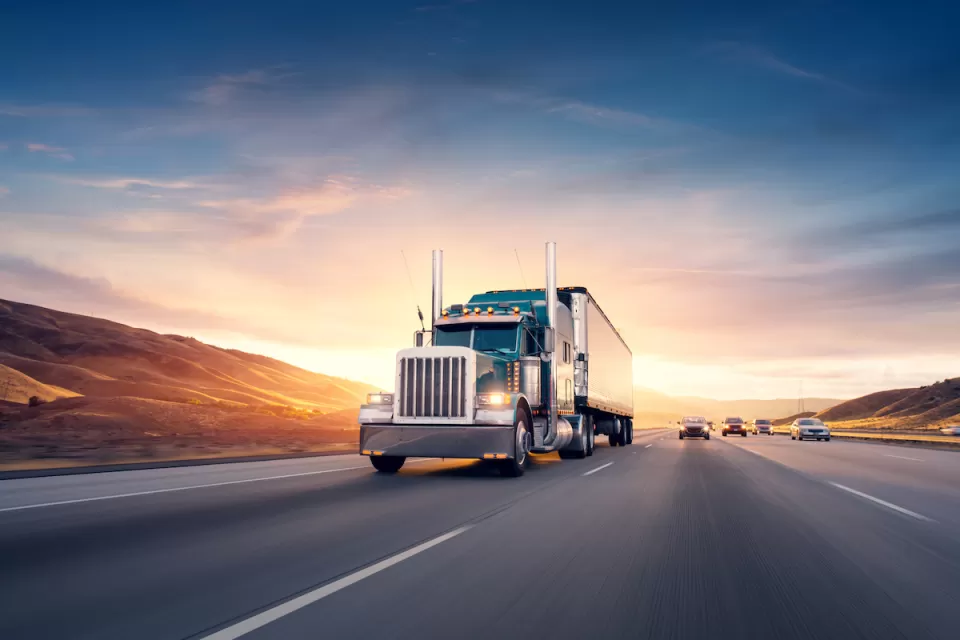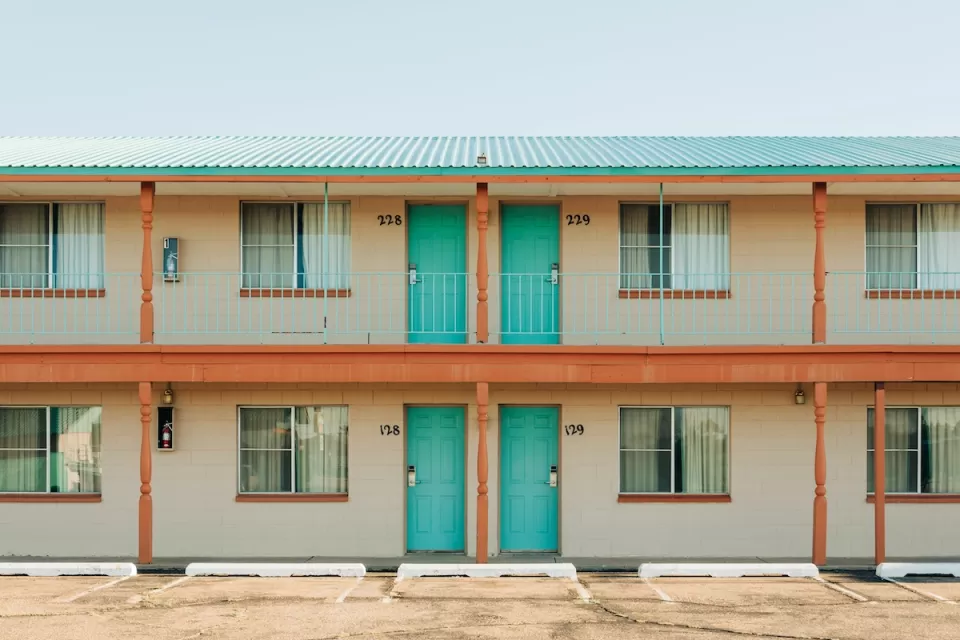 This six-course series explores essential urban design concepts using open source software and equips planners with the tools they need to participate fully in the urban design process.
Learn the tools for implementing Universal Design in planning regulations.
View More