Perhaps the only greater injustice than the existence of food deserts is a willing and unfeeling action to re-create them.
---
On November 1, Congress allowed a provision of the American Recovery and Reinvestment Act to sunset, immediately reducing the monthly food stamp (or SNAP) benefit by $36 for an average household of four.  We've heard stories of SNAP participants' strategies for coping with less: diverting already-scarce money from other expenditures (if possible), turning to friends, family, or charitable organizations, or simply eating less to bridge the gap.  We've also heard about the probable effects on businesses: store owners who accept SNAP are likely to see decreased sales.  Amid attention to the households and businesses affected by the SNAP cut, we have yet to discuss the effect on place.  By stripping low-income neighborhoods of buying power - specifically food dollars - the federal government stands to thwart its own efforts to address the nation's food desert problem.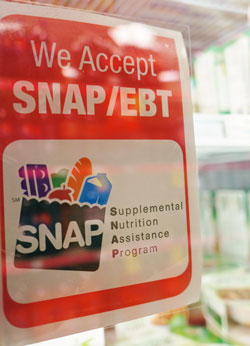 To understand how food stamps - an inherently "people-based" policy - could create strong place-based effects, we should first consider a few facts about how benefits are redeemed.  First, SNAP dollars largely flow through supermarkets: the most recent government reports [PDF] say over 80 percent of benefits are spent at supermarkets and supercenters.  Numerous studies show low-income consumers bypass small stores for most food shopping, even when supermarkets aren't close to home or personal vehicles easily accessible.  To get to supermarkets, residents of food deserts have been documented catching rides with friends and neighbors, taking public transit, or hiring cabs.  Though promising initiatives exist, such as efforts to encourage SNAP spending at healthy corner stores and farmers' markets, these retailers still represent only a tiny share of total purchasing.  The bundle of goods and services offered by supermarkets is a strong pull, especially for individuals and families with constraints on time and money. 
Though we've documented food desert residents traveling great distances for stores, we also know that proximity can matter, but only as part of a larger set of choices that involves considerations of affordability, value, and culture.  When a new supermarket opens in a food desert, residents can see a preferred venue to spend and stretch limited SNAP dollars, and the store owner can find a reliable source of revenue through dedicated shoppers.  Yet this is hardly a simple equation: grocers in low-income neighborhoods must know how to operate in a SNAP-supported environment, where sales track closely with allocation schedules and taper off strongly toward the end of the month as benefits run out.  This means retailers count on SNAP dollars - sometimes over 30% of total sales, according to some grocers - to stay profitable in a slim-margin marketplace.  It also means retailers have to "fit" their neighborhood, convincing customers of both economic and social value, or else they risk being passed over as unaffordable or unattractive. 
Even if a store owner can design a well-fitting store for a low-income neighborhood, other challenges often prevent them from doing so, giving way to systematically overlooked communities.  While there's no single cause for a food desert, we know the actual or perceived buying power of disadvantaged areas is typically too small to attract big food retailers or conventional sources of financing.  To many in the grocery industry, where margins are small and volume is king, poor neighborhoods appear to be a risky investment.  However, recent gains in healthy food access have been won through public-private partnerships and innovative local, state, and federal redevelopment efforts.  When it comes to SNAP, new supermarkets in food deserts give residents a way to keep the economic benefit of food dollars circulating locally, rather than traveling to redeem their allocations somewhere outside their neighborhood.  By focusing on this untapped buying power, economic development innovators have reduced the risk of opening in food deserts and created opportunities for new retailers.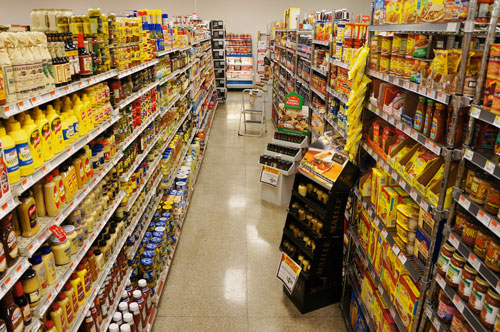 The Reinvestment Fund, a Philadelphia-based community development financial institution (CDFI), created a new measure of buying power in low-access areas [PDF], redefining market opportunities and paving the way for development lenders to evaluate new projects.  Another Philadelphia group, The Food Trust, has brought community advocates and grocers together to show potential retailers an eager market exists for their business.  By revealing market opportunities and leveraging local, state, and federal incentives for start-up financing, these groups have changed the profit equation for fresh food retail.  In partnership with numerous other stakeholders, their model has worked in over 100 fresh food projects in Pennsylvania, has been replicated by other local and state governments, and now serves as the basis for the Obama Administration's Healthy Food Financing Initiative.  Despite these innovative investments in healthy food retailing, an undeniably delicate financial balance remains in many former food deserts. 
To be clear, cuts to SNAP will not yield a one-for-one sales reduction for grocery owners in low-income areas.  Despite program cuts, individuals and families must eat, and so they will develop coping strategies.  Coping might look like cutting back on other expenses, like prescription medications, to maintain a steady food budget.  It's also possible coping might come through increased reliance on friends, family members, and charitable organizations.  And, as suggested by The Atlantic's Philip Bump, we might even see low-income shoppers relying on Walmart more than ever, despite any challenges in getting there.  Even if all of these scenarios are partially true, we cannot deny the most likely - and tragic - outcome, where individuals and families cut back on the amount of food purchased.  With reduced buying power in the communities they serve, supermarkets in low-income areas, including former food deserts, must expect reduced sales. 
Projected food budget gaps already serve as a warning signal to food bank operators.  These officials fear a SNAP-generated "Armageddon" (to borrow a term from a regional food bank official), where demand for already-insufficient supplies of emergency food dramatically increase.  Similarly, the grocery industry is a strong advocate for SNAP, and has lobbied against the most recent round of cuts.  These food budget gaps should also be a red flag for healthy food access advocates - individuals and groups who believe that place-based access is inherently part of healthier communities - yet the outcry is almost nonexistent from these circles.  The equation is simple, and profound: When SNAP is cut, food budgets are cut; smaller budgets mean smaller sales, disrupting the delicate balance struck through efforts to rectify unequal access to healthy foods.  Whether or not retailers can survive the cuts remains to be seen, though economic challenges are unavoidable. 
The immediate tragedy of SNAP cuts is in the choices 22 million households - the majority actively working and with children - will face with leaner allocations.  Yet the economic harm done to communities with high concentrations of SNAP beneficiaries will be manifest in struggling food retailers, large and small.  In the long-run, we may leave these communities with even fewer food options.  Believers in place-based interventions, whether for equity, redevelopment, or health, must realize the challenges ahead should the cuts continue or deepen.  This sudden and policy-driven food spending vacuum stands to upend years of public, private, and philanthropic investment in healthy food access.  Perhaps the only greater injustice than the existence of food deserts is a willing and unfeeling action to re-create them.
---
Ben Chrisinger is a doctoral student in City & Regional Planning at the University of Pennsylvania, and a fellow with the Leonard Davis Institute of Health Economics.  His dissertation research focuses on the economic development, food access, and community health outcomes of new supermarkets in underserved communities.
The Hyperloop's Prospects Dim
The media is coming around to the idea that the hyperloop is not a near-term solution for the country's transportation woes. It's too little, too obvious, too late.
The Great American Exodus: A Conservative's Perspective
During his keynote speech on September 11 at the National Conservatism Conference in Miami, Florida Governor Ron DeSantis describes the demographic shifts in America since he became governor in 2019 in what he calls the 'Great American Exodus.'
The Resilience of Bikeshare
The inherent simplicity of bikes makes shared mobility systems a crucial transportation option during natural disasters.
This six-course series explores essential urban design concepts using open source software and equips planners with the tools they need to participate fully in the urban design process.
This course aims to provide an introduction into Urban Design Sketching focused on how to hand draw master plans using a mix of colored markers.
View More