Land use disputes are increasingly taking up our time and producing unsatisfying results. A new approach to resolving conflict based on mutual gains may provide a better way to manage the most challenging situations.
---
Why do some decisions about land use go smoothly, while others generate multiple lawsuits, ruin relationships, and waste community resources? Political polarization, efforts to increase density through infill redevelopment, and tensions over property rights in the wake of natural disasters are just some of the elements that have complicated the public process. Land use disputes are taking up our time and often producing unsatisfying results.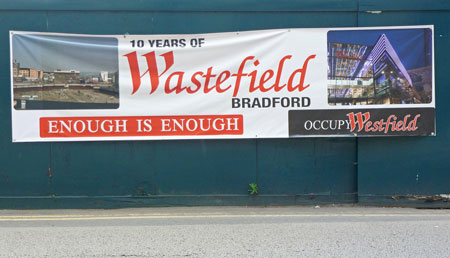 Image from flickr user Tim Green
Through our years of experience, and drawing from conflict theory in other fields, we have developed an approach to minimize the destructive nature of many significant local land use conflicts. This approach, detailed in Land in Conflict: Managing and Resolving Land Use Disputes, just published by the Lincoln Institute of Land Policy, encourages parties to focus on mutual interests and strive to achieve mutual gains.
Although there are often implications at the state and national level, involving state and federal agencies accordingly, disputes over zoning, planning, and development decisions most often play out at the local level. However, communities may feel hemmed in because decisions about land use must follow specific procedures codified in state and local laws. This basic framework tends to stifle creativity and promote differences. Most state planning statutes do little to promote effective dialogue and better citizen involvement in comprehensive planning, and only a few states — Florida, Maine, Washington, Oregon, and the District of Columbia—have adopted statutes that encourage more dialogue and collaboration in planning decisions.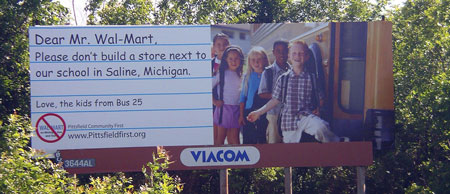 Image from flickr user Brave New Films
The mutual gains approach has its origins in the collaborative practices used by mediators, and offers a better way to manage the most challenging situations. This approach is guided by core principles, follows a set of clear action steps, and is useful at different stages of land use decision making. It is different from, though not incompatible with, the required land use procedures. The mutual gains approach:
is based on all stakeholder interests as well as the necessary technical information;

involves stakeholders along with appointed and elected decision makers;

generates information relevant and salient to stakeholders such as abutters, community leaders, and others;

requires strong community and public engagement skills along with strong technical planning skills; and

engages the public above and beyond sharing information and views.
The mutual gains approach to preventing and resolving land use disputes is not a single process or technique. It draws from the fields of negotiation, consensus building, collaborative problem solving, alternative dispute resolution, public participation, and public administration. The result is a more public, collaborative process designed to tease out the range of interests and criteria, compare various alternatives, and determine which of those alternatives meet the most interests.
Where the new approach has been tried, the results have been positive – even in situations that look like a stalemate. When a major gravel mining company, J.P. Carrara & Sons, proposed an expansion near a residential neighborhood in East Middlebury, Vermont, the first meeting on the subject was confrontational. Then a mediator stepped forward to set the agenda, establish ground rules, manage communications among the parties, design a joint fact-finding process, and followed the stages of the mutual-gains approach. After months of meetings that went late into the night, a new relationship of mutual understanding emerged between the mine and the residents; the expansion of operations went forward under a set of conditions.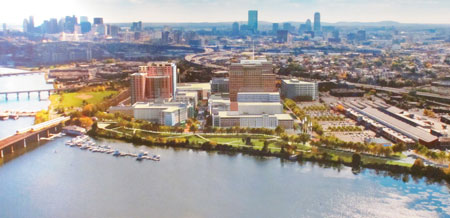 Rendering of Assembly Row project. Image from flickr user Todd Van Hoosear
Similarly, a three-way standoff involving developers of the Assembly Square redevelopment site in Somerville, Mass., residents of the adjacent Ten Hills neighborhood, and smart growth advocates had gone on for years. A mediated agreement focused on what all parties could live with. A planned IKEA store was moved to allow better access and landscaping on the banks of the Mystic River. All sides pushed each other towards making the area – a former plant for manufacturing Edsels just north of Boston, now called Assembly Row -- more transit-oriented.
It can be a grinding process to move from all-or-nothing. Former Interior Secretary Bruce Babbitt recalls in his foreword to the book that one of his first acts, adding the California gnatcatcher to the Endangered Species list, put thousands of acres from Los Angeles to the Mexico border off-limits to development. A negotiation framework involving varied stakeholders broadened the discussion from zero-sum confines into more innovative solutions, such as the transfer of development rights.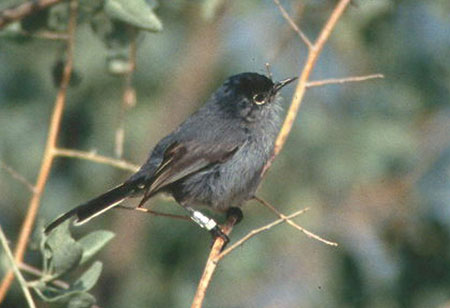 California Gnatcatcher, Polioptila californica, Image from U.S. Fish and Wildlife Service
In our travels, we have seen that many local communities are hesitant to supplement or modify the minimal land use decision-making process. They worry that adding more steps to already lengthy processes will create more work, take more time, and cause more delays. We advise an honest review of how existing processes have worked in controversial land use decisions. Was the result satisfying to a range of stakeholders? Was the process rewarding? Were relationships improved? Did participants share valuable information about the community? Did the process contribute to the growth of the community? Chances are that few people were happy with the results, the process was long and expensive, long-standing relationships were stressed, the information shared was incomplete, and the sense of community was compromised.
If citizens and government acknowledge that the existing process can be adversarial and stifle creativity, they are more likely to seek out and participate in more constructive approaches. State and county governments can help local governments transition to a new approach by providing training and education for local boards. Some regional planning commissions, bar associations, state and federal agencies, and civic groups already provide this kind of training for local leaders. The Land Use Leadership Alliance in the Hudson River Valley and the Alberta Municipal Assistance Program in Canada are examples of regionally funded land use dispute resolution and education programs. In addition, groups like the American Planning Association, the Urban Land Institute, and the Lincoln Institute of Land Policy have programs and materials to help raise awareness among local officials. The Urban Land Institute's book, Breaking the Development Log jam: New Strategies for Building Community Support (Porter 2006) explains how to enhance citizen participation and collaborative decision making.
In Land in Conflict: Managing and Resolving Land Use Disputes, we also provide a model ordinance provision to allow aggrieved parties to mediate instead of filing a legal appeal, and further guidance for nonjudicial mediation and for the review of decisions.
The website of the American Planning Association lists the "ability to function as a mediator or facilitator when community interests conflict" as one of the skills of successful planners. In addition, the APA's guidebook on planning, Growing Smart, notes the importance of collaborative decision making in the context of planning and development approvals. Yet there remains little in the way of guidance for planners and civic leaders to live up to those standards. It's time to equip our local communities with the tools and techniques to move from contention to consensus, and from standoff to solutions.
---
Sean Nolon is associate professor of law and the director of the Dispute Resolution Program at Vermont Law School.
Ona Ferguson is senior associate at Consensus Building Institute, where she designs and facilitates meetings on environmental and public policy, and on organizational and strategic planning.
Patrick Field is managing director at CBI, associate director of the MIT-Harvard Public Disputes Program, and senior fellow at the University of Montana Center for Natural Resources and Environmental Policy.
This six-course series explores essential urban design concepts using open source software and equips planners with the tools they need to participate fully in the urban design process.
Learn the tools for implementing Universal Design in planning regulations.
View More