Crowdsourcing is a great tool for locating potholes and taking surveys – but can it inspire an underdeveloped neighborhood to come together as a community? A developer in Salt Lake City is motivating residents to use DIY techniques in placemaking.
---
The era of build-it-and-they-will-come is, if not over, waning. The era of easy financing is dead. And the reaction by developers and planners is, to say the least, mixed. Everyone, it seems, is taking the news a little differently.
The Kentlands Initiative in Salt Lake City is taking a unique approach to the problem by not just polling their community to find out what they want, but actually engaging them in making it happen. "We just call it crowdsourced development," says executive director James Alfandre.
The Kentlands Initiative is a non-profit spin-off of The Kentlands Company, developers of the heralded New Urbanist community in Gaithersburg, Maryland. The development was highly successful in terms of design and popularity, but met many challenges in terms of politics and financing. Establishing a Salt Lake City office almost four years ago represented a new direction for the developer and a new mission through the Kentlands Initiative, using crowdsourcing to bring the sometimes contentious groups involved in planning together for a common vision. Shortly after setting up shop, they began work in their first project area, The Granary District, a waning rail and warehouse district immediately adjacent to Salt Lake City's born-again Downtown.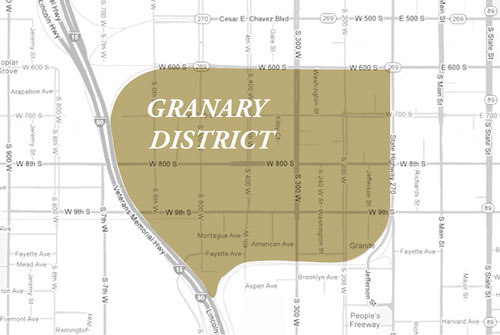 The Granary District is a diverse neighborhood in this more-diverse-than-you-might-expect city. It's both out of the way and in the middle of it all. 600 South sits on its north side, West Temple its east, and I-15 is to its west and south. The City's lifeblood courses around and through it — binding it together and setting it apart, all the while connecting it to Downtown and the gray and green patchwork of residential and commercial neighborhoods to its west and south. 
It's a hardworking neighborhood that grew up around the railroad — light and heavy industry, warehouses and silos — but as the railroad moved west, many of the businesses moved with it. Thus the neighborhood has a heritage of warehouse and industrial spaces begging to be renewed, says Alfandre. Today, the businesses and residents that stayed are rubbing elbows with the artists, restaurateurs, entrepreneurs, and pioneering young families who've flocked to fill in the spaces.
"We'd been working with a couple property owners in the District — helping them to get a better sense of what they could be doing with their land — when I started hearing a bit of a buzz about the area. A possible streetcar, a 10-acre parcel that the City owned and was looking to redevelop. Those sorts of things. But a lot of the conversations about the District were treating it like it was a blank slate. And while we'd only been in the area for a few months, I could see that there were people who lived, worked, and played there — and that it was absolutely, positively, not a blank slate. So we decided to step up."
The first thing on their plate was a neighborhood block party — funded in part through Kickstarter.
"Folks lived next to each other and businesses rubbed shoulders — but no one really considered the area a neighborhood," explains initiative partner Christian Harrison. "Nothing could happen until folks saw this area as an actual neighborhood. The City and its redevelopment agency had an administrative area called 'The Granary District', that roughly aligned to the neighborhood's boundaries — but no one outside the City used it."
Some 1,200 people showed up, including Salt Lake City mayor Ralph Becker, and several news outlets covered the event. By all accounts, it was a huge success. The Kentlands Initiative followed-up the block party with a few other outdoor events — a movie night held behind a pickle factory, and a beet burger BBQ held in a burned-out warehouse. When the cold weather settled in, they launched a series of coffee klatches to discuss neighborhood concerns.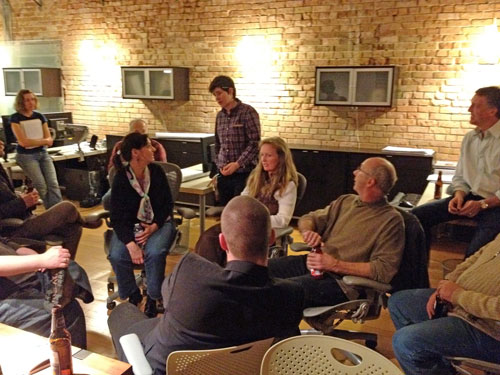 "We like to throw parties. But we're not party planners. These events are part of a larger effort — to bring people together and to grow a nexus of engaged stakeholders. We believe the best development starts there — with a project's prospective tenants and neighbors." James continues. "Energize this nexus and you awaken something powerful. When development is done poorly — when it's top-down — this nexus becomes the angry crowd that developers dismiss with the term 'NIMBYs'. But when development is done well — when it's crowdsourced — these folks are your inspiration and your allies."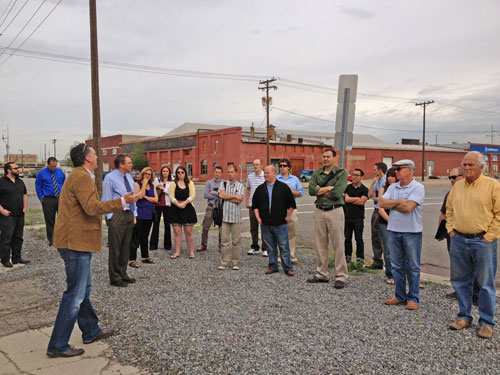 In addition to the parties and the coffee klatches, The Kentlands Initiative interviewed local businesses and residents and hosted a few informal focus groups. "It's rare that a neighborhood wants to remake itself," says Christian. "Most neighborhoods just want to become thriving versions of their best selves. We wanted to understand how the neighborhood saw itself so we could help the Granary District thrive."
The first work-product to come from this effort was a descriptive narrative that aimed to "describe the neighborhood in a way that reflects the best view we have of ourselves and our future", with a goal that "[r]esidents, local businesses, and allies should read [it] and see themselves in what's written." In addition to the narrative, The Kentlands Initiative worked with the neighborhood to develop a visual brand that reflected the narrative's spirit, in order to use it to communicate that spirit to the public.

The social engagement built up to a seven-day charrette in May of 2012. About 500 people attended, and from the week of discussions, The Kentlands Initiative produced a 56-page charrette book [PDF].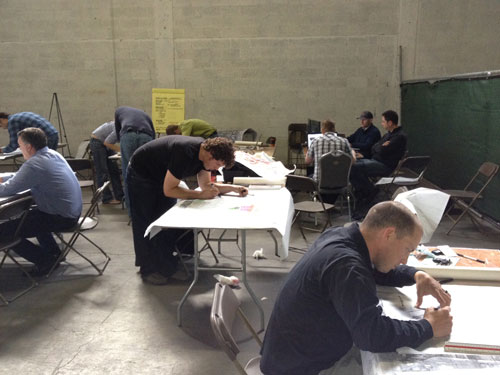 "We've been successful in growing and nurturing an active crowd, but until we had a holistic vision for the neighborhood — one that accurately reflected the crowd's goals — we couldn't compete for interest or resources against larger interests who saw the neighborhood as a blank slate," says James. "The charrette book, for lack of a better term, is a business plan. In it, we describe 20, 30 years worth of work — including a short list of projects that the neighborhood prioritized."
Today, a year later, The Kentlands Initiative is getting ready to launch Granary Row — a festival village that reclaims 19,000 square feet of City right-of-way for a summer of arts, music, food, and retail; and to host a second charrette, focusing on the daunting task of breaking-up (or "right-sizing") Salt Lake City's mammoth 10-acre blocks.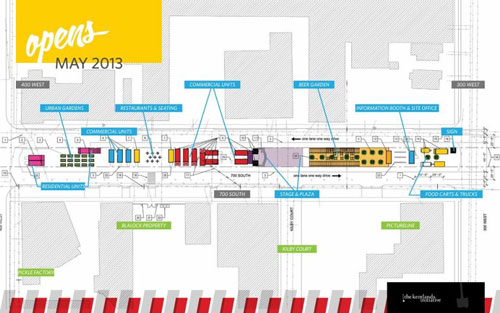 "When the housing bubble burst, everyone got soaked," says Alfandre. "Cities, neighborhoods, investors, and loaning institutions. By working with prospective tenants and neighbors from the very beginning, developers and community advocates are able to marshal neighborhood interest in favor of fine-grained, sustainable development; and to match tenants and projects in a way that soothes investor and bank concerns about viability, while cashing in on earned goodwill to facilitate relationships with policy makers and permitting agencies. It's a win-win-win that comes from honoring the people who already live, work, and play in your neighborhood."
---
Tim Halbur is communications director for the Congress for the New Urbanism.
Hear more from James Alfandre of The Kentlands Initiative and take a tour of The Granary District at CNU 21, the 21st annual Congress for the New Urbanism, in Salt Lake City May 29th through June 1st. Speakers include Andrés Duany, Richard Louv, Elizabeth Plater-Zyberk, Scott Bernstein, Ellen Dunham-Jones, and many more cutting-edge thinkers, planners, architects and urban designers.
Register now at cnu21.org.
The Right to Mobility
As we consider how to decarbonize transportation, preserving mobility, especially for lower- and middle-income people, must be a priority.
Early Sharrow Booster: 'I Was Wrong'
The lane marking was meant to raise awareness and instill shared respect among drivers and cyclists. But their inefficiency has led supporters to denounce sharrows, pushing instead for more robust bike infrastructure that truly protects riders.
This six-course series explores essential urban design concepts using open source software and equips planners with the tools they need to participate fully in the urban design process.
Learn the tools for implementing Universal Design in planning regulations.
View More