In excerpts from an interview with Planetizen contributor Sean Varsolona, Denise Scott Brown of Venturi, Scott Brown and Associates offers insights and provocations on sustainability, New Urbanism, and the social awareness of today's young urbanists.
---
An architect, planner, and educator, Scott Brown was raised in South Africa and studied at Witwatersrand University, the Architectural Association, London, and the University of Pennsylvania. As a "circus horse rider" between her two professions, she considers herself adept at "applying what I learned in planning to what I knew in architecture."
Her book, Learning from Las Vegas (LLV) 1972, was co-authored with Robert Venturi and Steven Izenour. It is acclaimed as a study of Las Vegas signs that reasserts the role of communication in architecture. But it is equally important as an analysis of the 1960s auto city, and its approach is derived, inter alia, from social planning movements of the 1960s. Scott Brown's work reflects her commitment to a social ethic; to understanding how social and physical realities interplay in urbanism; and to drawing urban and architectural beauty from hard reality.
In the last decade she has returned to writing. In Architecture as Signs and Systems (2004) she and Venturi trace their thought across the span of their careers. Speaking to architects, Denise considers how societies and economies settle on the land and how social forces become physical form, illustrating by her projects how planning disciplines can help designers go toward an "active socioplastics." Eventually, she takes urbanism indoors, applying land use and transportation planning principles inside buildings.
The interview was conducted in Philadelphia as part of Stuart Meck's course in History and Theory of Planning at the Bloustein School for Urban Planning at Rutgers University.
Planetizen: In this era of sustainability, smart growth is at the forefront. How has your firm's approach to architecture and planning changed to meet these demands?
Denise Scott Brown: In the early 1960s I audited Ian McHarg's first course on "Man (sic) and the Environment," but from my experience in South Africa I was already familiar with issues of soil conservation, water management, and weather protection. I was considering sustainability when architects here were saying "we solve those problems with air conditioning."
Natural determinants, particularly those for desert locations, were included as research topics in LLV, along with socio-economic and technological factors. We worked professionally with Andropogon, students of Ian and early practitioners of the discipline. Their expertise in water management and plant ecology and our shared interest in topography informed and enlivened our projects for a spa in Japan and a life sciences complex in Michigan.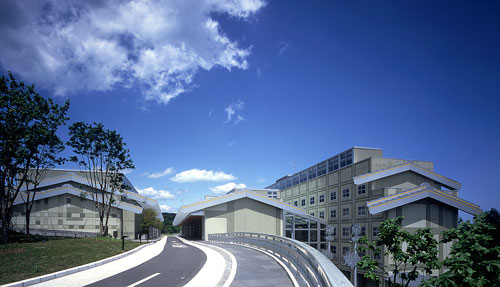 Today, the architecture profession offers "LEED" certification in sustainability. But because global certainties are hard to translate to local plans, sustainable design still poses questions. For example, one carpool making seven stops in town may use more gas and produce more pollution than seven drivers who each stop once. The energy balance may depend on length of journey and volume of traffic. And people who move from city to suburbs often find new employment near home and shorten rather than lengthen their journey to work. And even the most responsible LEED building may be sited where it generates excess traffic.
So a complex calculus must be made by planners and often without reliable measures. Yet this is no reason to give up. Scientific information now in development, traditional knowledge, and the experience of practice worldwide offer much to learn. But modesty is required. Some sustainability enthusiasts sound as arrogant as the 1950s architects who offered grand but pernicious visions of the future city.
Planetizen: Do you think the New Urbanism (NU) will have a major impact on urban form?
Denise Scott Brown: Planning journals seem to consider NU the only urban design game in town. They confound it with urban design. I respect NU for reaching wider markets and producing more affordable housing than architects have done. And some practitioners, like Andres Duany, have developed sophisticated urban processes to achieve NU aims. But physical planning is so much wider than their meager understanding. And the urban design offered in architecture schools is often worse. It teaches no more than large-scale architecture.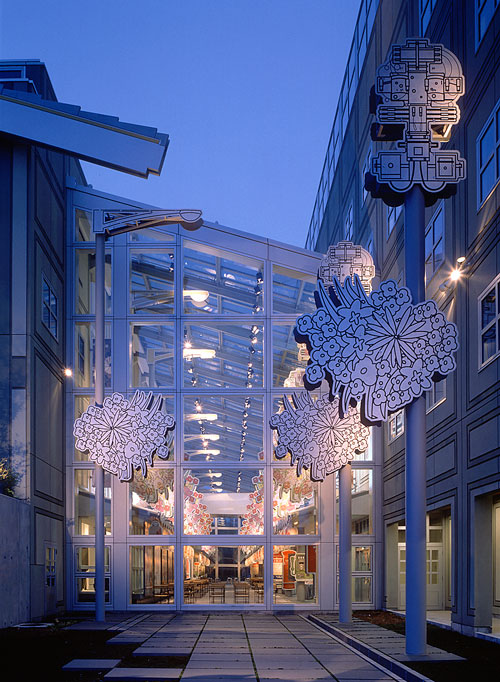 Planetizen: Are there any pieces of literature you feel all planners/designers should read?
Denise Scott Brown: Planetizen's Top 20 Urban Planning Books are appropriate but they won't satisfy the fascination that social ideas of the 1950s and 60s hold now for graduating planners and architects. My mentors should be the mentors for this generation – Herbert Gans, Paul Davidoff and David Crane, not Jane Jacobs and Alan Jacobs. And LLV, in print for 40 years, is under reappraisal now, partly because young architects value the wide window it opens onto architecture and understand its role as a social tract.
The bibliography in Architecture as Signs and Systems lists writings that guide my attempts to connect architecture and planning. I see myself as an architect and planner rather than an urban designer or physical planner, and in the book's second section I illustrate ways of combining thought from both disciplines in design. But few people read it. Planners regard it as architecture and architects run from the word "planning" in its title. Yet its broader scope is needed to fill gaps in planning and design today.
Planetizen: Is the central role of a planner to build community?
Denise Scott Brown: We can't build community but we can help; and that's certainly a central role. In a small community, I start by asking "How will you set up a process for democratic participation in decision making?" I describe Davidoff's methods saying, "Here's a way we like to work. What do you think of it?" and I advise them to include on the steering committee everyone who has a veto vote. But Davidoff's process is expensive and, although we can build consensus with those involved, if some major players stay away there will be little hope for the plan. And although the process pleases some clients for campus planning, if I try to transfer it to building projects I'm often told, "Mind your own business."
Planetizen: Would you like to highlight a project that you are particularly proud of?
Denise Scott Brown: In 1997 I began work on a campus plan for the University of Michigan (UM) and a concept design for its first built increment. Because UM's six campuses stalked across the greater Ann Arbor region, we used mapping to coordinate its many scales and inform our analysis. First we juxtaposed UM activity and movement systems on a regional map of land use and circulation. Then with Andropogon we mapped landscapes by type, showing contours, flood plains, bluffs, water-logged areas, swales, a fen, and the "Cathole," a dried up lake between the main and medical campuses. By bringing together carefully chosen variables our maps helped us understand urban and campus patterns and provided evocative heuristics for design. Our first combinations revealed important town and gown relationships, axes of movement and shared activity between campuses, and areas where topography would be a key variable.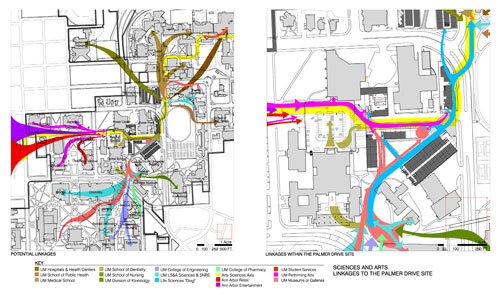 In sub-area planning, transportation analysis became our heuristic. We traced "desire lines" across the old lake and over an Interstate highway, connecting arts and sciences on the Main campus to the medical school and hospital. Desire lines derive from tracing individual connection needs directly, not via existing paths, and aggregating these into new routes. Although in transportation planning these studies are computerized, we shamelessly drew our lines intuitively, but I was pretty sure I had them right. Then we planned the lab complex and its walkways around them and designed a "Meeting of Minds" where the sciences and arts axes crossed. Building around desire lines can be destructive in existing cities, but it worked here because the Cathole lacked built pathways and was a barrier to movement. And people found "desire lines" romantic.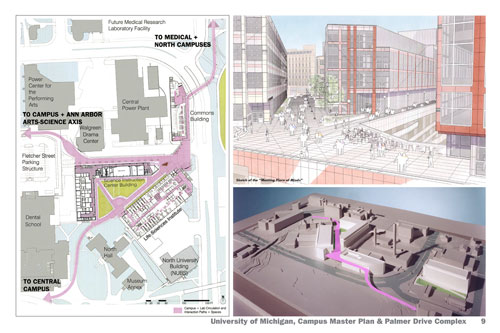 To support UM educational aims for interdisciplinary connection, the complex accommodated meeting points at many scales. Believing that seating should be revealed rather than demonstrated, we planned eddy spaces off the walkways near building entrances, with ledges, steps and parapets for sitting on in sun or shade. Between the Meeting of Minds, the Life Sciences lab entry and the stair down to the Interstate we placed a rostrum. At lunch hour people used these offerings as I hoped they would, mostly eating sandwiches there, but I hoped that, if a string quartet played or Julius Caesar were performed on the rostrum, an audience could gather around and centurions would march up the stair.
Indoors, corridors were planned to serve as streets and commons space. In the lab building, small coffee lounges were located at crossings between "main streets" (elevators and corridors). Here post docs rested and drank coffee away from expensive machines. You can't force people to meet but you can make it easy for them. The lounges were open and inviting from the corridor and their windows offered a change of view from the lab benches. Window seats, armchairs, a coffee maker, white boards, and a small conference room added to the convenience. While touring the completed building, I looked into each lounge. I had learned in museum design to search for small clues to use – for example, nose marks on display cases. Here it was writing on the white boards. Those on the lab floors were covered with formulae – researchers were obviously using them as we had hoped. On the administrative floor the board said, "This pot of coffee made at 7:30am." The commons building was similarly planned to encourage meeting between people walking from academic to medical sciences. The aim was to be able to ask, "Where was the Nobel Prize generated, at the lab bench or in the coffee shop?"
I have described how I link techniques of architecture and planning, aiming to achieve at least some "socioplastics." However I have covered only the initial phases -- general analysis and conceptual design -- in a planning and architecture project of size and complexity. If I left it there, changes in the allocation of activities to spaces, even choosing the wrong door hinges, could vitiate plans for meeting or keep coffee lounges out of use. "Socio" and "plastics" would both suffer. So I must stay on, engaging the intricacies of the project from first concepts to door hinges, for the sake of functionality and beauty.
Planetizen: What is the future for urban planners and architects in the United States?
Denise Scott Brown: The intensity Davidoff demanded and the collaborations I have described are what cities need, but I have little hope these will come about. Smart Growth and New Urbanism practitioners may take over what planners now do, but at great expense to cities. And in architecture, although the profession has a broad span, most of the work goes to large commercial firms have and most of the publicity to "signature" architects. When these groups turn to urbanism, we have a problem.
Most hopeful to me is the social awareness of today's young urbanists. Having lived through the 1960s, I see signs today of the opportunities they presented reappearing. How should we prepare for social planning to continue from where we left it in the 1970s?
The Hyperloop's Prospects Dim
The media is coming around to the idea that the hyperloop is not a near-term solution for the country's transportation woes. It's too little, too obvious, too late.
The Great American Exodus: A Conservative's Perspective
During his keynote speech on September 11 at the National Conservatism Conference in Miami, Florida Governor Ron DeSantis describes the demographic shifts in America since he became governor in 2019 in what he calls the 'Great American Exodus.'
The Resilience of Bikeshare
The inherent simplicity of bikes makes shared mobility systems a crucial transportation option during natural disasters.
This six-course series explores essential urban design concepts using open source software and equips planners with the tools they need to participate fully in the urban design process.
This course aims to provide an introduction into Urban Design Sketching focused on how to hand draw master plans using a mix of colored markers.
View More