---
Since at least Le Corbusier's Plan Voisin and the development of La Defense business district and the Tour Montparnasse, Paris has been subjected to the modernist redevelopment ideal of high-rise density. Charles Siegel looks just southwest of the capital to the town of Le Plessis-Robinson for a lesson in redevelopment based on an entirely different, yet historically consistent, model for smart growth.  
When former French President Nicolas Sarkozy invited ten "starchitects" - all international celebrities known for their avant-gardist high rises – to develop visions for Grand Paris in 2007, a plan to build rail around Paris and new development at the stations, it was clear that the capital city's plans for smart growth would follow the stale modernist model of La Defense.
Yet, Mr. Sarkozy need only to have turned his gaze a bit south from La Defense to find a better model for smart growth located within the Paris region.  Since 1989, Le Plessis-Robinson has demolished its modernist housing projects and replaced them with new neighborhoods in the traditional style of the Ile de la Cite region.
Le Plessis-Robinson's neo-traditional development is dense enough for smart growth: the Coeur de Ville neighborhood has a gross density of over 67 people per acre -- a higher density than the tower-in-a-park high-rise projects proposed in Paris, such as Paris Rive Gauche at 46 people per acre.  More significantly, this density is accommodated in a more attractive and livable environment than the typical modernist development.
History of Le Plessis-Robinson
When the twentieth century began, Le Plessis was a tiny village clustered around a Roman bell tower.  The adjacent town of Robinson was known for its guinguettes, cabarets with pleasure gardens where belle-epoque Parisians escaped from the city. In 1909, the two towns were united by presidential decree.
In 1912, soon after their union, the newly created Office of Affordable Housing acquired land in the town, which, in the 1920s became the site of a garden city, designed in the modernist style. In the 1930s, a second modernist garden city was built, denser than the first.
The Office of Affordable Housing could not find tenants for the second development, because a planned rail connection was never built, and instead, they contracted with the Gendarmerie to use it as a barracks. By 1939, Le Plessis-Robinson was a garrison town with 10,000 residents.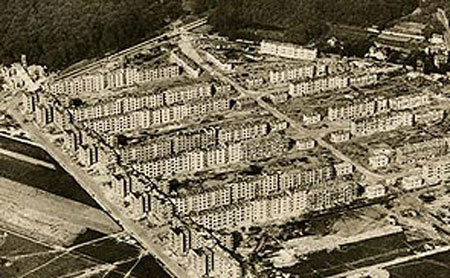 After World War II, the Communist party won control of the city government and built the sort of faceless public housing projects that became common on the outskirts of Paris during the post-war period.  
By the 1980s, Le Plessis-Robinson had 21,000 residents, with 75% living in public housing, an 80% commercial vacancy rate, and a city government that was near bankruptcy.
Philippe Pemezec Becomes Mayor
In 1989, 46 years of Communist government ended when 33-year-old Philippe Pemezec was elected mayor, based on a campaign promising to revitalize the town. When Pemezec's followers learned that they had won the tightly-contested run-off election, they marched into the room where ballots were being counted, waving the tricolor and singing the Marseillaise. To protest the victory, the communists disrupted the first council meeting where Pemezec presided by standing on their chairs and singing the Internationale.
Pemezec began his revitalization efforts with cosmetic improvements, such as cleaning graffiti, planting flowers, building fountains, and rehabilitating buildings, but the town also needed more radical changes. The dramatic shift in political control led to an even more dramatic shift in the character of the town, as Pemezec adopted plans to replace the modernist housing projects with neo-traditional development.
Coeur de Ville
Le Plessis-Robinson had been built as a suburb of housing projects, with no town center except for a few older public buildings and two restaurants.
In 1990, the new city government hired Francois Spoerry, architect of the well-known neo-traditional development Port Grimaud, to design the Coeur de Ville (heart of the city) neighborhood based on a traditional urbanism of streets, squares, and facades facing the sidewalk. But Le Plessis-Robinson had such a bad reputation that only one developer expressed any interest in the first five years after the plan was created.  The communists, who had recently lost their majority, also opposed the plan.
The town began marketing itself to attract developers. For example, it ran a yearly festival of guinguettes, featuring people in belle-epoque costumes, which drew 10,000 visitors the first year, 20,000 the second, and 30,000 ever since.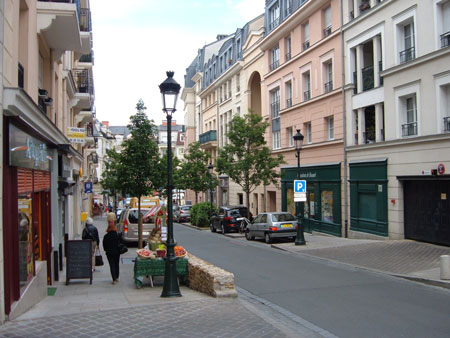 Pemezec won reelection by a two-thirds majority in 1995, blunting Communist opposition to the plan, and the city attracted enough developers to complete the Coeur de Ville by 2000.  
This new neighborhood is 12 hectares (almost 30 acres), and provides homes for 2,000 residents, 10% in social housing, a new administrative center, two schools, a day-care center, a gymnasium, a post-office, and a main square with many businesses and underground parking.
Cité-Jardins 1 and 2
The second attempt to rebuild Le Plessis-Robinson was less successful.  The city wanted to replace the dilapidated garden cities of the 1920s and 1930s, but because they were historic landmarks, plans had to be approved by the chief architect of Batiments de France, Joseph Belmont, a dogmatic modernist.
Belmont decided that the 1920s garden city would be rehabilitated rather than demolished, though this project was called "the most expensive rehabilitation in France."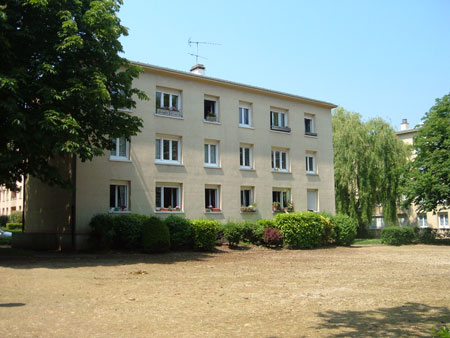 To replace the 1930s project, Belmont held a competition among three modernist architecture firms and chose the least bad of their proposals, a grim design by Alluin-Mauduit architects.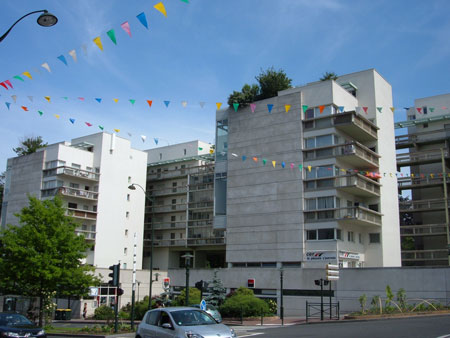 Fortunately, a financial difference between these architects and the housing office prevented them from going ahead with plans for reconstructing the post-war projects.
Bois des Vallées
In the early 1990s, demolition of Patterson College freed land where the city decided to build a neo-traditional neighborhood with a mix of market-rate rentals and social housing, designed by Mark and Nada Breitman.  Even a center for handicapped workers and the new barracks for the gendarmes were designed in the same traditional style as the market-rate housing.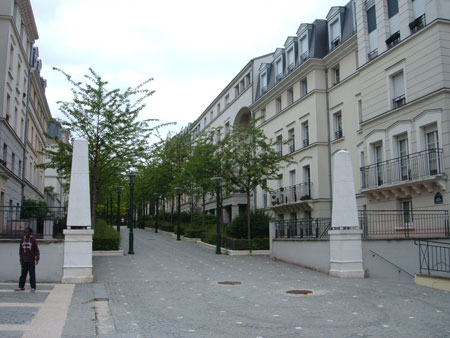 The project received financing from the department of Hauts-de-Seine and the housing office, as a pilot project for improving the suburbs, and was completed in 1996.
Cité-Jardins 3 and 4
In 2000, three years after Alluin-Mauduit left, the city hired Xavier Bohl as the architect to complete designs for the replacement of the remaining postwar housing projects.  
Bohl was chosen in a juried competition after promising to design a neighborhood in the spirit of Spoerry. At 21 hectares, the site was even larger than Coeur de Ville. The project is composed of 1,300 dwelling units, including 250 units of social housing, and 6,000 square meters of businesses and public uses.
The design features a system of streams and ponds, with pumps used to circulate water and rain water used to recharge the system, so there is no net water consumption.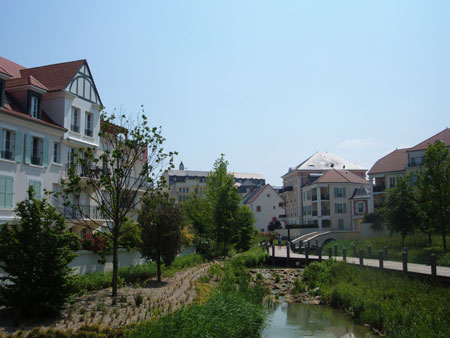 Because the reputation of Le Plessis-Robinson had changed, the city found developers for this project easily, and it was completed in 2009.
After twenty years of rebuilding, Le Plessis-Robinson now has two commercial centers, connected by continuous commercial uses along Avenue Charles de Gaulle and Grande Rue.  Employment in the town has increased by 50%, making it a model of how attractive architecture and urbanism can revitalize a city.
A Better Model for Smart Growth
It becomes very clear that Le Plessis-Robinson is a better model for smart growth, if we just compare the lively neo-traditional neighborhoods shown above with the bleak, sterile public spaces in Le Defense.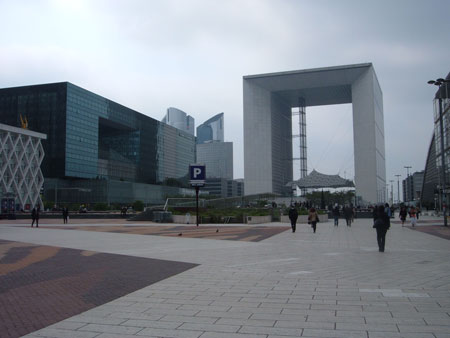 Stylist details are not as important as the scale of the buildings and the public spaces.  Modernist architects design their buildings as icons, meant to draw attention to themselves, like the grand arch at La Defense.  Neo-traditional architects do the much more important work of designing lively and attractive public places.
The history of Le Plessis-Robinson teaches us that nothing is as outdated as yesterday's avant-garde.  Its functionalist housing projects were cutting edge from the 1920s through the mid-century, and now we want to tear them down.  In fifty years, today's avant-gardist architecture will look just as outdated and even more grotesque; but traditional architecture and urbanism, designed at a human scale that has passed the test of time, will look as perennially attractive as ever.
Tourists come from all over the world just to enjoy Paris' traditional urbanism.  How many tourists come to La Defense to sit outside and enjoy its modernist urbanism?
In the United States, there have been many HOPE VI projects that replaced mid-century housing projects with neo-traditional urbanism, but few are as vital or as attractive as the neo-traditional neighborhoods of Le Plessis-Robinson.  The French are still the world's leaders in creating great urbanism.
In the nineteenth century, the boulevards and places of Haussmann's Paris were imitated around the world. France could be a model for the world once again, if it stopped importing starchitects who design look-at-me buildings to envision the future of Paris, and instead revived the French tradition of designing great urban places.
---
Charles Siegel is the author of many books, including An Architecture for Our Time: The New Classicism, and Unplanning: Livable Cities and Political Choices. 
For more information about the transformation of Le Plessis-Robinson, see Philippe Pemezec, Bonheur de Ville (Eyrolles, 2007), which is available only in French.
Freeway Removal Movement Slowly Gains Steam
Although the concept has recently received more national attention thanks in part to the federal Reconnecting Communities Act, cities have shown reluctance to support highway removal projects.
This six-course series explores essential urban design concepts using open source software and equips planners with the tools they need to participate fully in the urban design process.
This course aims to provide an introduction into Urban Design Sketching focused on how to hand draw master plans using a mix of colored markers.
View More