Three Lasting Impressions from a First-Time APA National Conference Attendee
After attending the April 2012 APA National Planning Conference for the first time, planning graduate student and Planetizen contributor Alesia Hsiao reflects on the frank discussions, practical advice, and enduring inspiration she discovered at this year's event.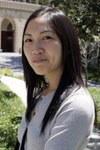 This year's APA National Planning Conference was oriented around reinvigorating our desire to make our communities great places to work, live and play.
During the conference, we were asked to remember our past and why we got into planning in the first place. We were given support as we looked towards the future, and shown how to roll with the challenges that will face us. We examined how cities have developed ways to resolve housing, transportation and environmental concerns to contribute to the community's quality of life.
Most importantly, for me, it was also a reminder of my very first impressions of planning. A decade ago, I was studying and traveling in Europe when I became inspired by a greater understanding of the communities and environments outside of my own backyard. This year, APA's National Conference, held in my current backyard of Los Angeles, left me with similarly indelible impressions.
Resiliency, progress and inspiration were the themes I encountered throughout the conference. Focused on providing attendees tools to stay relevant and adaptable in the face of a challenging economy, conference sessions I attended were organized around the impact of technology, the expanding network society, and lessons from disasters in planning. I left my first APA National Conference inspired by new ideas and impressions of planning.
These are the three key lessons I learned at this year's conference.
1. Career Advice on How to Stand Out from the Crowd
Many of my fellow peers have been advised to wait out the economic downturn by heading to graduate school or by gaining additional experience through an internship. Hungry for further guidance in career planning, numerous young planners-to-be headed to the professional development sessions at the conference. Comprised of workshops and resume clinics, these sessions engendered a mixed bag of reactions. Several students told me they enjoyed the one-on-one resume consultations and found them quite helpful. However, others said the lunchtime roundtable event called, "Working in the Firm, Working in the Agency" was not worth attending. With my lunch in hand, I decided to see for myself.
While my colleagues were at least partially right – there were in fact only a few representatives tangentially related to planning – it takes just one speaker that resonates with you to change your perspective. I joined a table with a growing crowd of twenty-five plus attendees, and immediately related to the ongoing discussion of the trials and tribulations of landing a planning job during these rough economic times.
Romeo Estrella from Caltrans offered several suggestions that hit home for me: "Have answers ready for any type of interview question even if you believe it has nothing to do with planning," he said. "Planning often involves conflict resolution and processing stakeholders' input that can frequently come into play in jobs relating to customer service and retail sales. Apply these skill sets and relate it back to planning," added Estrella.
With my previous job experience in the sales and research fields, I connected to what he was saying. I understood how important it was to identify and draw from those positions the valuable skill sets that would help in my career in planning.
Other breakout sessions were forthright about the reality of the highly competitive job market, and they provided suggestions for how to stand out from the competition. They offered ways to highlight what makes you different from the hundreds other applicants applying for the same job: volunteer with local organizations; get to know your local planning chapters and neighborhood associations; be present in your community.
2. Incorporating Technology into Planning
Information has never been as publicly accessible as it is today. New and innovative ways to communicate information through technology were prevalent among the exhibitor booths and break out sessions at the conference. Software companies like Granicus, Mindmixer, Placeways, Sire Technologies, and SoftResourcespromoted their web management platforms and media solution software to potential users in government agencies and planning firms. Attendees were shown demonstrations on using social media tools and emerging new technologies to gather citizen feedback and carry out crowdfunding campaigns. Common amongst these technologies was the goal of providing a gateway to allow the public to provide insight and fresh ideas and to get the community to be engaged and visible in the decision-making process.
Cities including San Francisco, New York and Washington, D.C. are leading the open government movement by pushing public data out in the open via the Internet and encouraging citizens to creatively explore that data. It can be easy to become enchanted with the potential for technology to bring ease and efficiency to planning processes, but is more technology the solution to bringing about meaningful, sustained conversations?
In the "Data Literacy for Planners" session, presenters addressed how the growth of information technology has made information exchange more transparent across social, political and cultural contexts. These accelerated changes allow residents to give insight, comment, and frame their environment through community mapping, interactive brainstorming and scenario planning tools. Such tools can help capture how the community feels about a place and can empower citizens as equal partners in planning. I believe Francis Herbert, from Open Plans, summed up the progression of technology in planning well when he said, "This can be embedded in the planning process to help plan in partnership."
"Although tools in technology are improving the liquidity of information flow, these tools cannot stand-alone in the planning process," he added.
3. Lessons Learned Through Planning Disasters
I was struck by the openness with which planners were willing to talk about the power and responsibility they hold in their positions. In bridging the gap between city council officials, interrelated public agencies, and the city's residents, planners must balance various stakeholders' interests, without succumbing to political and community pressures. To my surprise, I learned that every planner is susceptible to making the types of mistakes that could result in "planning disasters."
In "The Worst Planning Mistakes Ever Made" session, attendees were treated to stories of planning gone wrong. Dwight H. Merriam shared an anecdote from his time in Bethany, Connecticut, home to the third largest horse density in the New England region. Merriam noticed the abundance of animals in Bethany and asked how the city controls for animal units. Not knowing he had touched upon a hot button issue, he was advised not to mention animal and horse regulations again. Recounting the lesson learned from this experience, Merriam suggested attendees, "Know the territory and talk with the local residents on what issues they want to hear."
Planners affirmed that political issues abound and can often overwhelm them but, more importantly, they explained how we could overcome such challenges. Carol Barrett of the City of San Gabriel stated a simple reminder applicable to every level of the profession, "Always make sure you understand the question being asked of you before you give an answer or recommendation."
Other panelists shared their own personal "less than successful" outcomes and provided words of wisdom:
Do not use the "One Size Fits All" technique and believe that what works for one community can necessarily work for another.
Do not imagine yourself bulletproof and let power go to your head in making decisions.
Do not let external pressures prevent you from performing the appropriate technical analysis and making thoughtful planning choices.
Stay grounded.
Stay inspired to make the right decisions for the best community outcomes.
The APA National Planning Conference reminded us of the constant changes that surround the planning profession. Our future is impacted by a shifting economy, technology, and ever changing social and political forces. Inspired by what brought us here, we left the conference ready to work through these changes and plan a better tomorrow for our neighborhoods, communities and cities.
---
Alesia Hsiao is enrolled in the Master's Program in Urban and Regional Planning at the California State Polytechnic University (Cal Poly), Pomona. She is a former Editorial Intern at Planetizen.