Opening Access to Scenario Planning Tools
Anthony Flint describes ScenarioPlanningTools.org, an exciting new initiative being launched by the Lincoln Institute of Land Policy to contribute to, collaborate around, and stay on top of the rapidly changing world of planning visualization tools with an effort toward making them easier to understand and use, and more transparent in their applications and consumption of data.  

It is with a certain humility that those at the Regional Plan Association embark on a fourth Regional Plan for the New York, Connecticut and New Jersey metropolitan area. The first plan for the region was drawn up from the top down in 1929, and it served as a framework for Robert Moses to build a network of roads and bridges.
The second plan came in the 1960s and tried to engage the public much more; RPA presented research and data, and essentially said to the citizenry "what do you think?" recalls executive director Thomas Wright. But it was challenging to get residents to take it all in and offer opinions.
The third plan, published in 1996 under the title, "A Region at Risk," included hand-drawn future development scenarios and polled residents' satisfaction with their quality of life in the tri-state region compared with other parts of the country. Still, it seemed, something was missing. As the RPA embarks on its fourth Regional Plan, it is determined to use social media and technology for better civic engagement in planning the future of the region. But the question remains: is there really an app for that?
Planners have for many years used scenario planning software in "visioning" exercises to facilitate better citizen engagement in long-range planning for cities and regions. Notable examples include the tools developed for these "visioning" exercises by Fregonese Associates for Envision Utah and MetroQuest in the Chicago 2040 planning process. Typically the programs take different inputs such as density, mixed-use development, and transportation nodes, together with population estimates, and show different outcomes. It's all very visual, with three-dimensional animations making it easier to peek into the future.
The use of scenario planning and visioning tools will surely only increase in the future. Kevin DeSouza, director of the Metropolitan Institute at Virginia Tech, wrote at Planetizen recentlythat new technologies provide participatory platforms for residents to share ideas, interact with each other, and come up with collaborative solutions. Scenario planning is legislatively required in greenhouse gas emissions reduction planning in Oregon and California, and as part of US Department of Housing and Urban Development sustainability grants as well.
But planners everywhere are faced with a daunting task in the face of a dizzying array of visioning tools, and it's not easy to figure out which ones to use, or how to use them most effectively. To address this need, a team convened by the Lincoln Institute of Land Policy and the Sonoran Institutehas been working on a way to make these tools more openly accessible on a common clearinghouse website, and open-source as well, to take advantage of ideas and innovations in technology going forward. The thinking was that by better packaging critical information about these tools, planners could make informed decisions about which tools to use and how to use them – a kind of Consumer Reports model for scenario planning software.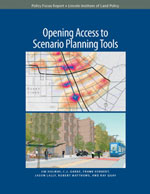 The result is Opening Access to Scenario Planning Tools, a report released April 13th at the American Planning Association's National Planning Conference in Los Angeles, and an online initiative, based in beta version, at the website www.ScenarioPlanningTools.org.
The establishment of this new online network is in its beginning stages. Initially, software developers and planners who have had experience using the tools will contribute ideas to advance interoperability and incorporate improvements. Ultimately, the site will offer an easy-to-use guide to the world of scenario planning tools for planners who want to plunge into the exercise of better involving residents in shaping their city or region's future.
Planning has become rather heated of late. Decisions about the future are increasingly controversial due to competing economic interests, different cultural values, and divergent views about property rights and the role of government, says Jim Holway, lead author of the report and director of Western Lands and Communities at the Sonoran Institute. Community participation has never been more important, to ensure support for decisions about development and public investments.
Nor is it enough to show "fly over" animations of different scenarios. Planners must still frame the context of visioning exercises, making it clear that they are opportunities for collaborative problem-solving -- recognizing that interrelated issues cannot be resolved by one organization alone. Planners must also maintain an open environment for information sharing and education.
Beyond the establishment of the new online platform to foster more collaboration in the development and application of scenario planning tools, the initiative seeks to develop a curriculum on scenario planning for the next generation of professional and citizen planners, and establish a model process for conducting scenario planning to show how it can be used with existing community planning processes. The website will ultimately allow users to walk through different uses of scenario planning tools in various stages of the planning process, and establish data standards to improve information sharing, starting with development and place types for land use patterns. And the tools themselves, in a sense, will never be a final product. They will constantly be updated and tailored to anticipate uncertainty and future challenges.
The other team members who have contributed to the initiative thus far include a number of leaders in the burgeoning field of visioning and visualization, and public participation: C.J. Gabbe, an urban planner with Fregonese Associates, Inc., in Portland, Oregon.; Frank Hebbert, director of civic works at OpenPlans in New York City; Jason Lally, director of the Decision Lab at PlaceMatters, a nonprofit organization based in Denver; Robert Matthews, project director for the Decision Commons initiative in Seattle, a joint project of the University of Washington's Runstad Center for Real Estate Studies and the Quality Growth Alliance; and Ray Quay, research professional at the Decision Center for a Desert City, a National Science Foundation–funded Decision Making Under Uncertainty Center within the Global Institute of Sustainability at Arizona State University.
Computer-based planning tools have been around for many decades, notes Gregory K. Ingram, president of the Lincoln Institute. The difference today is both in an explosion of availability of key data and advances in presentation, starting with geographical information systems (GIS). Programmers are making the formats more and more user-friendly. Yet it still can be daunting. With more open access and a common platform, planners may soon be using state-of-the-art scenario planning tools as a standard practice in public meetings, making them as familiar as setting up a microphone.
---
Anthony Flint is a fellow and director of public affairs at the Lincoln Institute of Land Policy, a think tank in Cambridge, Mass.