The World's 10 Most Impressive Modern Churches
The tradition of celebrating Christmas in church has not changed, but the buildings have. Architects are redefining our urban landscape and not stopping short at sacred buildings.
Churches traditionally feature a steeple, nave and cross. But these new churches are breaking away from this cliché. The appearance of our society's places of worship is changing rapidly. Emporis and The UK's Architects' Journal put together a holiday slide show if its ten most spectacular modern churches.
One such building incorporating revolutionary craftsmanship is the Martin Luther Church in Hainburg, Austria. Special shipbuilding technology was used for the roof and bell tower. The roof, made of curved steel plates weighing 23 tones, was assembled at a wharf on the Baltic Sea.
From the Holy Rosary Catholic Church in Louisiana (USA) designed by Trahan Architects, APAC to to Farewell Chapel in Krasnja, Slovenia by OFIS Architects (pictured here), the top 10 most spectacular modern churches worldwide were chosen by a committee of building experts from Emporis.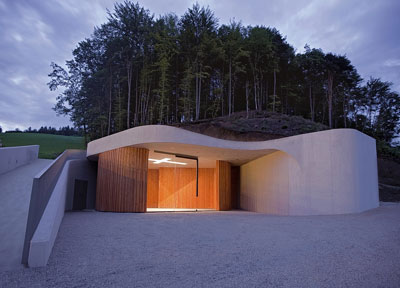 Source: Tomaz Gregoric/ OFIS Architects, via The Architects' Journal
Thanks to ArchNewsNow
Published on Monday, December 19, 2011
in