NYC's Answer to Silicon Valley
Joining Yelp, Net-A-Porter, and Apple, tech companies find a new hub in Union Square (aka "Silicon Square").
"The emergence of Union Square as a destination for technology firms got its start several years ago. But the neighborhood's tech community received a boost this year with the arrival of household names such as computer giant Apple Inc. and the impending arrival of user-review site Yelp," explains Joseph de Avila of The Wall Street Journal.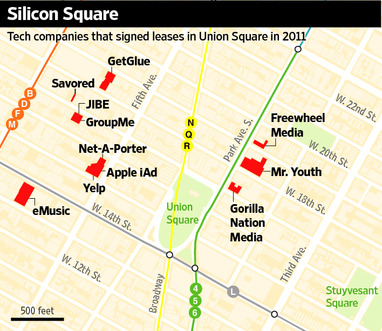 According to de Avila, the underlying factors that make Union Square more appealing than other neighborhoods are: (1) presence of other tech firms; (2) aversion of the vibe in Midtown and Financial District; (3) access to subway and PATH train; (4) number of restaurants and bars nearby; and (5) building layouts.
Topics