Expanding the Panama Canal On Time and Under Budget
Completed in 1914, the project was the most ambitious undertaking by the U.S. Army Corps of Engineers in its time. Today, the $5.25 billion upgrade is in the works.
The Panama Canal is a 51-mile shortcut that connects the Atlantic and Pacific at the Isthmus of Panama. Without it, the logistics of global trade would be vastly different on all fronts as cargo ships and container vessels have to make their ways around South America, wasting both time and fuels.
The existing infrastructure has two sets of locks that allow "Panamax" ships (106' x 965') to pass through. Due for completion in 2014, the expansion will neither truncate the time nor distance for ships that travel in either direction, but it will increase the number of daily passages from 35 to 50 ships and establish a "New Panamax" that is 50% wider and 25% longer, doubling the amount of cargo capacity.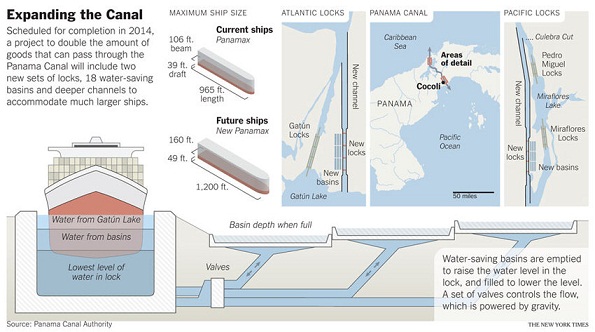 "The expansion is being financed with loans from development banks to be repaid through tolls that currently reach several hundred thousand dollars for large ships. The project is huge by Panama's standards; among other things, the country's largest rock-crushing plant has sprung up, almost overnight, to turn the mountain of excavated rubble into sand and stone for the concrete," writes Henry Fountain of The New York Times.
Topics