"Phonehenge West" Relegated to the Dustheap of History
In Antelope Valley, Calif., Alan Kimble Fahey's 70-foot tower - aka "the highlight of his life's labor" - was eviscerated on Friday along with the rest of his 20,000-square-foot quirky concoction. The court found it in violation of local codes.
The labyrinthine, interconnected structure made of steel beams, wood, utility poles, and other recycled materials took three decades to assemble.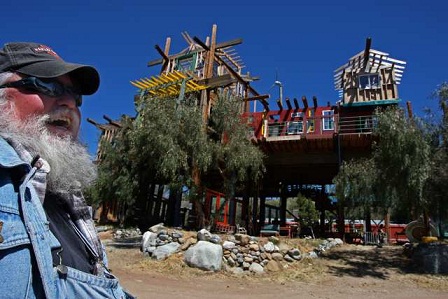 Fahey "was convicted in June on a dozen building code violations because he did not obtain the proper permits," reports Ann Simmons for The Los Angeles Times. Out on $75,000 bail and waiting to be sentenced next month, the 59-year-old retired phone company technician/attempted architect said he would do it all over again.
"Even better. They haven't broken me," he says in the article.
Published on Friday, August 5, 2011
in