Bicycle Usage Jumps 14% in NYC
According to Mayor Bloomberg's latest press release, nearly 19,000 cyclists populate the streets of NYC on a daily basis - that's 2,300 more than last spring. The growing popularity makes the soon to be unveiled bike-sharing system looks promising.
Andrea Bernstein reports:
"New York City says cycling is up by 262 percent since 2000, while, it says, the average risk of serious injury to cyclists declined 72 percent from 2000 to 2010. But the data shows an uptick in serious injuries between 2009 and 2010, from 100 to 113. In the last decade, the city has added nearly 400 miles of bike lanes."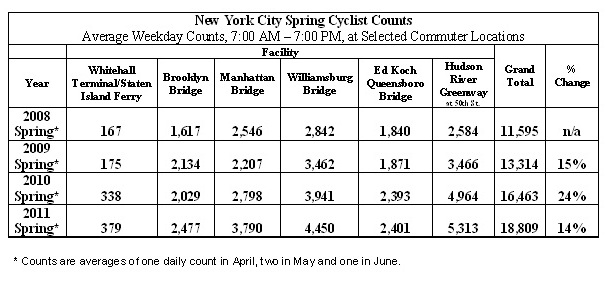 It is noteworthy that NYC uses its own bike count methodology instead of relying on Census information like other cities. Bernstein explains, "New York City began counting cyclists at six heavily biked locations in 1985, when 3,440 cyclists per day were recorded. The locations are: the Manhattan sides of the Brooklyn Bridge, Ed Koch Queensboro Bridge, Manhattan Bridge and the Williamsburg Bridge; at the Whitehall Ferry Terminal and on the Hudson River Greenway at 50th Street."
Published on Thursday, July 28, 2011
in
Topics