Shutting down the Interstate 405 corridor for two days on July 16 and 17 is akin to clipping L.A.'s mobility wings. Commuters and residents in the region are making contingency plans to circumvent heavy traffic congestion next weekend.
"If you think the 405 is gridlocked during the week, you haven't seen anything yet. My message is to stay home. Or go on vacation. Walk. Go on a bike. But do not get in your car and go anywhere near the West Side. It's going to be a mess," warns Mayor Antonio Villaraigosa in a phone interview with The New York Times.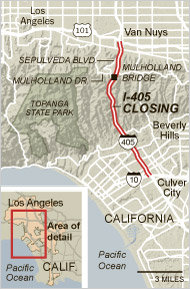 Treating the situation as a regional disaster, city officials and transit agencies are taking measures to mitigate every foreseeable and anticipated scenario they can imagine. "Preparations for this potential traffic catastrophe have been plentiful. Hospitals are lining up hotel and dormitory rooms for employees. The Los Angeles Emergency Operations Center, a high-tech command post built to manage during a natural disaster, will be in full operation," Adam Nagourney reports.
Even Lady Gaga is in on this. Per LAPD's request, she warns her 11.4 million followers on Twitter about the imminent traffic nightmare.
The $1 billion I-405 expansion project will take 53 hours to complete.
Published on Wednesday, July 6, 2011
in