Clean-Fuel Zone Widened Per Navy's Request
Known for its puritanical environmental laws, California's shipping pollution standards just got tougher. The California Air Resource Board voted unanimously to expand the 2009 clean-fuel zone, which mandates ships to use less-polluting fuels.
Margot Roosevelt of The Los Angeles Times reports: "Since the clean-fuel zone took effect, the number of ship transits through Navy waters jumped from an average of two a day to as many as 15 a day." That these commercial ships trespassed into restricted areas greatly interfered with the day-to-day operations of the Navy and thus "jeopardizing successful completion of vital Department of Defense testing and training missions."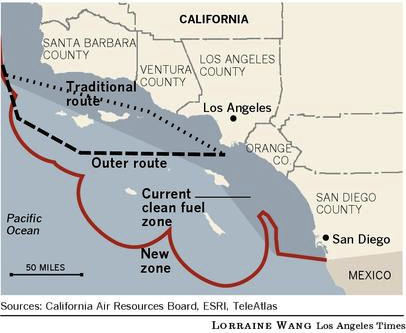 Ports of Los Angeles and Long Beach account for nearly half the import/export activities in the U.S.
Published on Friday, June 24, 2011
in