Hoboken Challenges Residents to "Surrender" Their Permits (Read: Cars)
Over the past year, we've been guiding the City of Hoboken, NJ towards providing sufficient alternative modes of transportation such that owning a car for a large number of residents becomes more than unattractive, it's simply not necessary.  The goal is not to tell residents that they can't own a car, but to make life without a car so easy that every single family in Hoboken can freely choose whether owning a car is what they want to spend their money on.  For those who decide that a daily commute by car is most practical, my job is to make it possible to find a parking space and travel in and out of town without too much friction.  However, for the overwhelming majority of Hobokenites who commute daily on foot, bicycle, or via transit, life without a car should be as
Over the past year, we've been guiding the City of Hoboken, NJ towards providing sufficient alternative modes of transportation such that owning a car for a large number of residents becomes more than unattractive, it's simply not necessary.  The goal is not to tell residents that they can't own a car, but to make life without a car so easy that every single family in Hoboken can freely choose whether owning a car is what they want to spend their money on.  For those who decide that a daily commute by car is most practical, my job is to make it possible to find a parking space and travel in and out of town without too much friction.  However, for the overwhelming majority of Hobokenites who commute daily on foot, bicycle, or via transit, life without a car should be as easy as handing in your permit.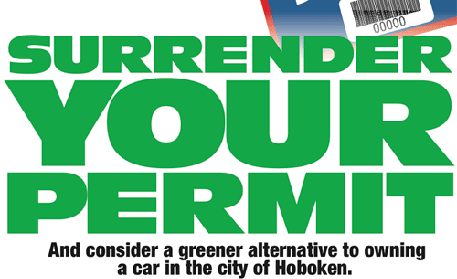 Hoboken's "Surrender Your Permit" Program Makes Car Ownership an Option
How do we do this?  It's a matter of making all the other ways of getting around as attractive as possible, and constantly working to improve and perfect the attractiveness of these alternative modes.  Pedestrian safety, bicycle friendliness, city-wide shuttle bus coverage, strong modal integration, and of course, our coveted "Corner Cars" on-street car-sharing program.
Yesterday, we were confident enough in the past year's efforts improving upon all these other modes that we announced our umbrella program to put car-free living into perspective.  It's called "Surrender Your Permit", and the idea is to offer a package of transportation-themed incentives as "rewards" to residents who take the plunge into a car-free life.  In Hoboken, surrendering a parking permit is the indirect way of saying "surrender your car".  This is an aggressive challenge that allows all Residents to make the introspective evaluation of whether car ownership is really a necessity for their life in Hoboken.  It's taking the auto-free conversation to the streets; a mailer that reaches every Resident parking permit-holder's mailbox today takes it to their front door.
From yesterday's announcement, the benefits of the Surrender Your Permit program include:
Corner Cars $100 driving credit (the first 40 resident to participate will receive $140) plus two years free membership from Hertz Connect: $240/$200 value
Free Specialized commuter bike helmet (courtesy of Flo On Wheels, 1222 Washington St): $50 value
Fleet Feet eco-friendly shopping bag, free pair of technical running socks, free timex pedometer to track distance walked/run, steps taken, calories burned & $20 coupon for a pair of shoes (courtesy of Fleet Feet Sports, 604 Washington St): $50 value
Free 6-month Unlimited Hop shuttle pass: $180 value
Premium membership discounts provided by Enterprise and Hertz rental car agencies
Free bike commuter training session, riding safety lights, and reflective straps (courtesy of Hudson County TMA)
Free Temporary parking permit placard with special endorsement stamp (allows parking on resident side) for rental vehicles
Free SmartLink card wallet and other PATH gifts (courtesy of Port Authority of NY and NJ)
"The Hop" community shuttle bus map and schedules
Hoboken bike lane and bike rack locations map
Note: A special mention of sincere gratitude is due all the outside agencies and private businesses who have generously participated in this program to make Hoboken a more enjoyable, safer, better city; thank you!