<p> The parking "epidemic" in Hoboken is so bad that no parking garage conceivable by man can contain our demand.  So this week, Hoboken ventures where no city has gone before; we are <a href="http://www.hobokennj.org/news/hoboken-and-hertz-launch-first-city-wide-car-sharing-service-in-america/">rolling out</a> the nation's first city-wide on-street car-sharing program as a public-private partnership between Hoboken and Connect by Hertz. </p> <p> <img src="/files/u20603/Corner_Car_5_Minute_Walk_Map.jpg" width="503" height="539" />  <img src="/files/u20603/cornercars_sign.jpg" width="415" height="531" /> </p>
---
The parking "epidemic" in Hoboken is so bad that no parking garage conceivable by man can contain our demand.  So this week, Hoboken ventures where no city has gone before; we are rolling out the nation's first city-wide on-street car-sharing program as a public-private partnership between Hoboken and Connect by Hertz.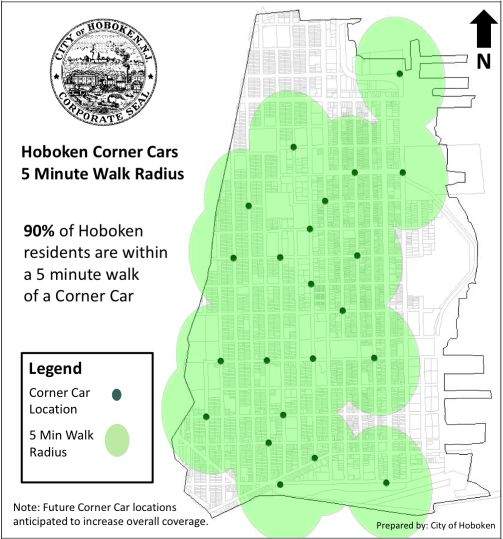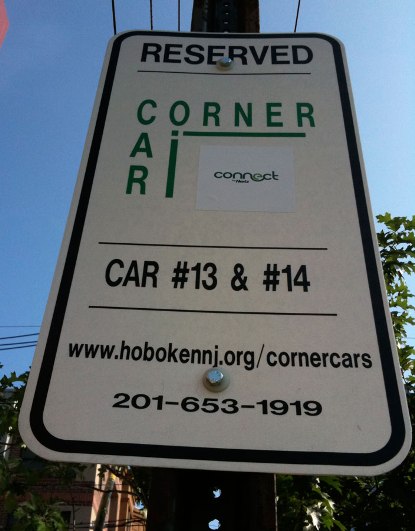 The program, called Hoboken Corner Cars, seeks to sprinkle car-sharing vehicles on-street throughout the entire city – complete with exclusive, reserved parking spaces - so that these vehicles are much more accessible and convenient than any personally owned car.  Existing car-sharing statistics in Hoboken justify this special treatment; for every one of these vehicles placed in the community, over 17 households will choose to give up their cars, taking cars off the street and culling the glut of "recreational" ownership for residents who commute daily via transit.  An additional 20 or more households say they postpone or stop considering buying a car because car-sharing vehicles are available.  The cherry on the sundae is a potential savings per household of $3,000 to $5,000 over vehicle ownership.
Hoboken hopes to not only convince current residents that owning a car is much more hassle than it's worth, but to also "sell" the car-sharing alternative concept to the constant flow of suburban-flight newcomers who have no idea that it is possible to live their lives sans auto.
On environmental considerations, the program requires the fleet mix to maintain an average of 35MPG, and since car-sharing utilization is measured as multiple households per car, each car-sharing vehicle enjoys a significantly smaller carbon footprint compared to the traditional American profile of multiple cars per household.  In terms of sustainable urban infrastructure, the City Council President successfully appealed to both his Council colleagues and the public by likening the initial phase of the program - where approximately 750 cars are expected to be removed from Hoboken streets – to building an invisible 750 space parking garage for free.
Hoboken hopes to serve as a model for other cities to take the leap of faith of taking away a small number of parking spaces from residents in order to free up hundreds or thousands more.  For dense, urban environments with intense on-street parking problems, car-sharing is truly a modern demand-based solution that makes parking garages seem so last century!
---
San Francisco Just Ended Single-Family Zoning
The San Francisco Board of Supervisors voted to Tuesday to eliminate single-family zoning, but pro-development advocates say additional changes are needed to unleash a wave of construction.
Biden's Environmental Legacy (So Far)
President Biden campaigned on promises to restore many of the environmental regulations rolled back by the previous administration, while promising new efforts to tackle environmental injustice and climate change.
This six-course series explores essential urban design concepts using open source software and equips planners with the tools they need to participate fully in the urban design process.
This course aims to provide an introduction into Urban Design Sketching focused on how to hand draw master plans using a mix of colored markers.
View More