Giant Tripod Towers Terrorize Suburbs
When Dwell Magazine asked for submissions to their Re-Burbia contest reimagining the suburbs, they probably didn't count on a 3000 ft. geothermal tower on legs that rips homes out of the ground and files them into its towering heights.
From the project description, by Michael Hughes and Damon Wake:
These 3000 ft mobile tower-cranes toddle towards suburban communities where they proceed to drill deep footings at the center of their cores into the earth and outstretch their tripod legs over a 2000 ft radius of suburb. The crane tears out homes from their plots and shelves them in 60 floors of open floor plates. Breaking it up into five sub neighborhoods, commercial/public floors are packed full of the big box stores and strip malls that sustain residential communities.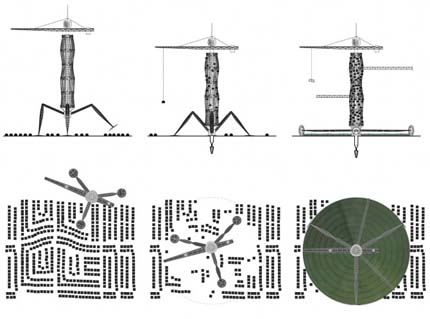 Published on Wednesday, August 12, 2009
in