With stimulus funding creating new transit projects across the country, now may be a great time to use innovative methods for funding development around transit, say Nadine Fogarty and Gloria Ohland of the Center for Transit-Oriented Development. Portland and Denver are just two communities that have seen property values rise around rail.
---
It has become increasingly clear over the past decade that the presence of transit increases property values and opens up valuable new development and redevelopment opportunities. There are many reasons for this, including the fact that traffic congestion has made driving less and less appealing. At the same time, demographic changes (an aging populace, smaller households without children) have boosted interest in city living.
A recent Denver Post story noted property values had increased 4 percent along the Southeast light rail line – the Post called it "the money train" – while declining by 7.5 percent regionwide. Portland's Pearl District has seen property values increase more than 1,000 percent along its streetcar line since 2001, while Tampa has seen increases of up to 400 percent. Another recent study found property values along the light rail system in Dallas increased 50 percent from 2005 to 2007, noting that existing and planned development near stations would bring in an additional $127 million in tax revenues a year.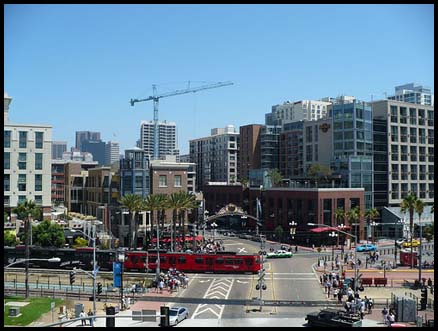 Investors and developers are catching on. The annual "Emerging Trends in Real Estate" report has called out sites near transit as a "best bet for investors" five years in a row, and anecdotal evidence suggests these properties are holding their value relative to more suburban locations even in the current market downturn. The foreclosure crisis, which has hit suburbs hardest, suggests these trends won't reverse any time soon. The cost of auto-dependency has increased to the point that it's no longer a good idea to 'drive until you qualify' for an affordable home in the suburbs. Last year the American Public Transportation Association calculated the annual cost of owning a car at $9,599. At that price affordability isn't just about housing costs, it's about housing plus transportation costs, which means that three-car households in the suburbs are vulnerable.
For all of these reasons, 'value capture' has been a hot topic in planning and local government circles this past year. Transit agencies want to tap the value that's created by development near stations to fund more transit. Local governments want to use it to subsidize more development, affordability and other public improvements. But confusion abounds: Where does the value come from? What are the factors that determine how much value is created? When is the value created? And, most importantly, what's the best way to capture it?
The Center for Transit-Oriented Development has explored these questions in Capturing the Value of Transit, a study that summarizes the findings of property value studies, provides examples of value capture strategies and how they've been used, discusses the role of property owners and developers, and provides a framework for deciding on the best value capture strategies for particular situations.
Not every study quantifying the value of transit has found a positive correlation. Our summary of the estimated property value premium, for example, ranges from -10.8 percent to 32 percent for residential, 9 percent to 120 percent for office, and from 1 percent to 167 percent for retail. This large variation has to do with at least four major factors:
• The size of the transit system and whether it connects to major destinations
• Whether the local real estate market is active
• Supportive public policies that leverage value through density bonuses, reduced parking and other incentives
• Traffic congestion, which clearly increases the value of sites that provide accessibility without driving.
Part of the inconsistency in these findings is due to the fact that most studies measure the value of existing land uses. But in fact the most value comes from new development, not existing development: Mixed-use development at higher densities creates more value than does an existing single-family neighborhood surrounding a station--and it is value that can be easily captured by the public sector through taxes, ground leases, and fees on business activity, to cite a few tried-and-true value capture strategies.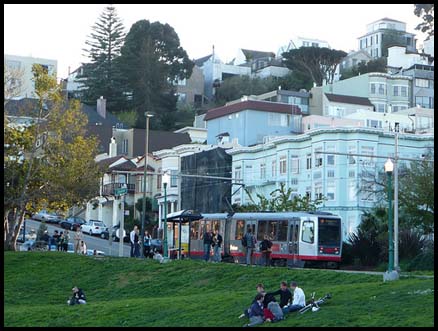 Clearly, development and redevelopment opportunities are required for transit to create value. In Portland, for example, the streetcar line two former brownfields to downtown, while the highest property value increases along Tampa's streetcar line were former industrial sites turned into high-density mixed-use development.
Unfortunately, most rail lines and stations are sited by transportation engineers who don't factor considerations about development into their decisions. When new transit lines are viewed not as transportation projects but as economic development projects with transportation benefits, alignments can be chosen to maximize the development opportunity.
The best opportunities for value creation are typically central, infill locations that have previously had no transportation access. Development in these locations offers additional benefits because it concentrates growth in areas already served by roads, sewers, fire and police services, and other infrastructure. Moreover, concentrating development, business activity and the tax base in these locations allows for focused value capture strategies.
Infill development can be more expensive, particularly if it involves a public-private partnership on publicly owned land. Developers understand, however, that transit is a desirable amenity that will help them market these properties for more money, that these sites typically allow for higher density development with lower parking ratios and that there may be public subsidies for streetscape and other public improvements – which makes development more profitable and increases a project's financial feasibility.
But when is the value created and what does the value curve look like? Our study finds values begin to rise when public discussion of a new line or system begins, and they increase as the project is funded and construction begins. Most of the value is realized by the time transit service begins, though there is potential for increases if a system is expanded, or if there are other existing factors such as rising gas prices, increased traffic congestion, or station area improvements. In some regions with new systems, including Minneapolis-St. Paul, Houston, Denver and Charlotte, speculation over created value has made the price of land so high that it has stifled development.
There are many tools for capturing the increased value of real estate around transit, including property and sales taxes, real-estate lease and sales revenues from joint development, increased transit ridership and farebox revenues, assessment districts and tax-increment funds, developer agreements, development impact fees, and fees on everything from parking to business licenses. In Seattle, for example, property owners voted to create an assessment district that paid for half the construction costs of the new South Lake Union streetcar. An elongated assessment district in Virginia will contribute 15 percent of the funding for the Dulles light rail line – equal to the local match required in order for the project to win federal funding.
Property owners who wanted a new station on land they owned along an existing rail line in Washington, DC paid for a quarter of the station's cost through an assessment district. Developers prepaid their ground leases to help finance construction of a suburban station on an existing rail line in the Bay Area. In Portland a private developer helped pay for construction of a light rail line to the airport in exchange for development rights around the airport's station. And in Portland's Pearl District, a development agreement between the city and the major property owner who would benefit from a new streetcar line resulted in the donation of land for right of way, parks and affordable housing.
While the difficulty of financing projects in today's markets has put development around many stations on hold, it is clear that concerns about economic and environmental sustainability make development near transit the wave of the future.

---
Nadine Fogarty is a principal at Strategic Economics, an urban and regional economics consulting and research firm. Gloria Ohland is VP for communications at the national nonprofit Reconnecting America. Reconnecting America, Strategic Economics and the Center for Neighborhood Technology are all partners in the Center for Transit-Oriented Development, which published the value capture paper, available at www.reconnectingamerica.org.
The Right to Mobility
As we consider how to decarbonize transportation, preserving mobility, especially for lower- and middle-income people, must be a priority.
Early Sharrow Booster: 'I Was Wrong'
The lane marking was meant to raise awareness and instill shared respect among drivers and cyclists. But their inefficiency has led supporters to denounce sharrows, pushing instead for more robust bike infrastructure that truly protects riders.
Tacoma Developing New Housing Policy
The city's Home in Tacoma plan is designed to address the region's growth and rising housing prices, but faces local backlash over density and affordability concerns.
Green Alleys: A New Paradigm for Stormwater Management
Rather than shuttling stormwater away from the city and into the ocean as quickly as possible, Los Angeles is now—slowly—moving toward a 'city-as-sponge' approach that would capture and reclaim more water to recharge crucial reservoirs.
This six-course series explores essential urban design concepts using open source software and equips planners with the tools they need to participate fully in the urban design process.
Learn the tools for implementing Universal Design in planning regulations.
View More