At a company presentation about environmental impact the other week a colleague included a historic photograph of Scollay Square in Boston.  You are pardoned if, even after visiting or living in that city, this doesn't sound familiar because all prominent characteristics of the area were summarily obliterated in the mid-twentieth century to make way for a potpourri of brutalist-style administrative buildings and renamed Government Center.  Urban redevelopment arguments aside, the photograph reveals a particularly interesting detail about the function and use of streets virtually erased from our minds over the last century.  <p> <img src="/files/u20603/Scollay.jpg" width="432" height="336" align="bottom" name="graphics1" />  </p>
---
 At a company presentation about environmental impact the other week a colleague included a historic photograph of Scollay Square in Boston.  You are pardoned if, even after visiting or living in that city, this doesn't sound familiar because all prominent characteristics of the area were summarily obliterated in the mid-twentieth century to make way for a potpourri of brutalist-style administrative buildings and renamed Government Center.  Urban redevelopment arguments aside, the photograph reveals a particularly interesting detail about the function and use of streets virtually erased from our minds over the last century.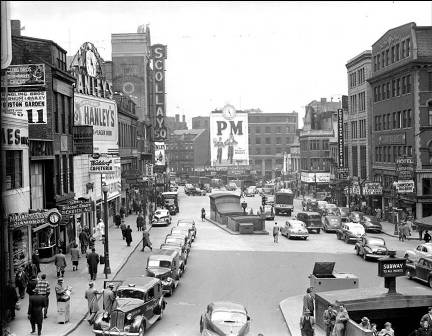 In the center and bottom-right corner of the scene are subway headhouses, smack-dab in the middle of the street.  Although Scollay Square is full of cars in this photo, it is clear that the configuration allows, or more accurately expects people to walk in and along the street to access the subway.  Several people can be seen in the middle of the street, unencumbered by crosswalks, pedestrian signals, or medians.  This is not a glimpse of utopia, but it certainly demonstrates that the street was once seen as a space for all users, not just for cars.  As is the case with many of the contemporary trends in urban land use, the current call for returning to a streetspace environment where the public right-of-way is shared by multiple users is not a new idea.  On the contrary, we have only just managed to forget the learned wisdom of thousands of years of urbanity in the Orweillian twilight of a car-culture gone awry.  Photos like these, like Winston Smith's glass-encased tidbit of coral, tell of a different and friendlier world.
To be fair, one could make the claim that the photo also shows the natural tendency of pedestrians to keep to the sidewalk.  True, but I submit that this is the effect of several causes that developed over a period of centuries.  First, people tend to gravitate towards the attractive features of storefronts.  Second, people tend to gravitate towards people.  Third, the faster speed and larger size of horses, horse and buggy carriages, and eventually automobiles gradually pushed pedestrians towards the periphery of streets.  Finally, the European design solution for rain and wastewater runoff (think bedpans emptied out of bedroom windows and horses in the hundreds) was the gutter, whereby the raised curb system used to whisk away water and waste resulted in a clean, elevated platform for pedestrians free of mud and puddles, and close to building fronts where there was also often shelter from rain.  This last cause can be contrasted against the drainage solution often seen in many Japanese cities where a small channel is provided right in front of the storefront, and a short platform is used to bridge the gap between street and doorway.  This alternate design results in a de facto shared street that freely mixes cars and pedestrians in even the most luxurious fashion, such as in Tokyo's glitzy Ginza district (see photo below).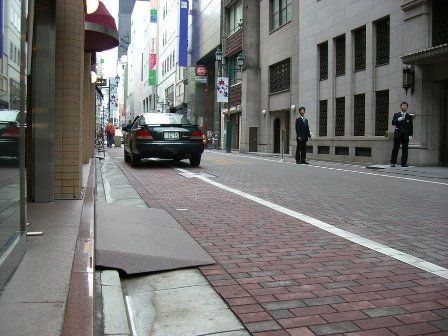 In other words, the function of a sidewalk evolved out of various converging factors unrelated to an explicit attempt to create separate spaces for walking and driving.  The domination of the street by cars in the last century is at least partially a result of an innocent tendency of pedestrians to traffic the sidewalk for various reasons, rather than a categorical forfeit of the majority of the public realm to one user-type.  In the current, thrilling campaign by planners to return urbanity to something more human scale, a photo memorializing the multiplicitous modal functionality of Scollay Square before its razing is as good a symbol as any for wisdom that must be embraced once again.
---
Inclusive Prosperity: No Displacement Necessary
Recent analysis identifies nearly 200 U.S. neighborhoods that have achieved the highly-sought-after goal of increasing the prosperity of residents without displacing the existing community.
Making Healthy Places
The editors of the book "Making Healthy Places," recently published in a second edition by Island Press, discuss the intersections of public health and planning, including key concepts such as green gentrification, health impact assessments, and AI.
Is it a Rowhouse, or a Rowhome?
Philadelphia has long been acknowledged as the capital of rowhouses in the United States. It's becoming more common for those rowhouses to be referred to as rowhomes.
This six-course series explores essential urban design concepts using open source software and equips planners with the tools they need to participate fully in the urban design process.
This course aims to provide an introduction into Urban Design Sketching focused on how to hand draw master plans using a mix of colored markers.
View More