---
In an effort to reduce traffic, citizens in Santa Monica, California have proposed a yearly cap on commercial development. Though many in the congested city are behind it, opponents say it's not an effective way to reduce traffic -- and that its passage could set a dangerous example.
Popularity can have its downsides. Santa Monica, California knows this better than many other cities in the United States. The affluent and scenic beachside town has the climate and the amenities to attract tourists, families and businesses alike. But it is also a draw for some of the less desirable elements of city life, like homeless people, scarce parking, and traffic – probably the city's three most notorious issues. But while it can be easy for many residents to avert the eyes away from the homeless and to park in a private garage, the city's choking traffic is unavoidable.
Rising frustration over Santa Monica's congestion has led a group of citizens to qualify a ballot initiative for the November general election that would fight what they argue is the root of the problem: commercial development. The bill would cap the amount of commercial development allowed per year in the city at 75,000 square feet for the next 15 years. This is the equivalent of about two acres, or like building a new supermarket and a handful of fast food restaurants. This is a significant cut for a city that sees an average of 160,000 square feet of commercial development each year.
The proposal is on the Santa Monica ballot as Measure T (as in "Traffic"), but around town and throughout metropolitan L.A., the development cap is known as RIFT. The acronym is especially apt, as the proposal has caused a major divide amongst residents, officials and developers. It stands for Residents Initiative to Fight Traffic, and its authors assert that the city needs to more actively prevent traffic from getting even worse. Opponents argue that the name itself highlights the proposal's two main problems: one, it's a residents initiative, and two, it won't fight traffic.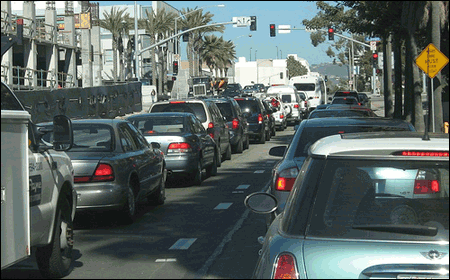 The prospect of counteracting the city's gnarling traffic was enough to entice more than 10,000 residents' signatures, nearly double what was needed to qualify RIFT for the election. Authors of the bill say this overwhelming support underscores the need for action – action they're not seeing from local government.
"We don't believe that this commercial development serves the residents," says Ted Winterer, a co-author of RIFT and a candidate for Santa Monica City Council. "It begins to just become an engine for revenue growth." And more jobs. And more traffic.
Congestion and Frustration
Put forward by the Santa Monica Coalition for a Livable City, the measure calls for limitations specifically on commercial development. An emphasis on developing office complexes and retail outlets has created a sharp imbalance between the number of jobs in the city and its supply of housing. The 8-square-mile city of nearly 90,000 grows to almost 200,000 during the work week, as this high concentration of jobs breathes commuters into town in the morning and right back out at night. The vast majority makes this twice-daily trek in cars.
"There's too many people trying to get in and out of the city everyday because our jobs-housing balance is out of whack," says City Council member Kevin McKeown. He's one of two members of the seven-member council to support RIFT. "Our commercial has exceeded our housing production. We need more housing, we don't need as much more commercial."
Winterer says that in 1980 the city had the same amount of jobs and housing, meaning the out-of-town commuting element was practically a non-factor.
Between 1980 and 2007, more than 9 million square feet of commercial development were built, Winterer says. "We now have a jobs-to-housing balance of 1.61 to 1. And it gets worse every year."
But opponents of RIFT argue that the measure won't do anything to improve that ratio, and may even make it worse. Herb Katz, a member of the city council who's currently serving a shift as mayor, says RIFT's development limitations would actually restrict the city's ability to approve new housing projects.
"It hurts affordable housing because a lot of our projects today are mixed use, which means there is retail on the ground level and housing above it. If I can't build the retail because I haven't got the footage to do it, I can't build the housing. That hurts affordable housing and market-rate housing," Katz says.
The measure includes some exceptions to the commercial development cap, including allowances for facilities like hospitals and places of worship, as well as the type of mixed-use development Katz mentioned. But the measure only makes that exception for mixed-use developments with 100% affordable housing, a development pattern that rarely gets built. In fact, it's one many in the planning field oppose outright.
"The majority of affordable housing built over the last 5 to 10 years has been mixed-use, mixed-income properties. And that is the best way that we know to build affordable housing -- in mixed income properties, rather than segregating poor people into their own neighborhoods or structures," says Terry O'Day, a Santa Monica Planning Commissioner and co-chair of a group opposing RIFT called Save Our City. He says RIFT would constrain the city's ability to develop more affordable housing "because it's the market-rate housing often that pays for it."
O'Day says RIFT would also affect the city's ability to implement the planning principles emphasized in its Land Use and Circulation Element (LUCE), which calls for greater mixed-use, mixed-income development, and more pedestrian- and transit-oriented development.
Opponents go on to argue that RIFT, by interfering with the city's general plan, wouldn't even accomplish its stated goal of reducing traffic. In a recent presentation to the city council, independent analysts reported that RIFT "substantially impacts proposed LUCE's ability to concentrate new development and improve traffic conditions."
A Previous Attempt
Controlling commercial development to fight traffic is not a new idea.
"This is something that's actually been tried out by other cities over the years, and it hasn't quite worked," says Genevieve Giuliano, an associate dean at the University of Southern California's School of Policy, Planning and Development and director of the METRANS Transportation Center at USC and California State University Long Beach. She points to the example of Walnut Creek, California.
In the mid-'80s, frustrated citizens in the growing San Francisco suburb passed an initiative much like RIFT that put a limit on the amount of commercial development allowed until the amount of traffic at major intersections was reduced.
"They felt that there was too much commercial growth occurring, which to them translated into more and higher traffic and more traffic problems," says Walnut Creek Senior Planner Ken Nodder.
The measure passed in 1985, but due to ambiguities in the bill language it was invalidated by the state supreme court in 1990. Sandra Meyer, the city's planning manager, says citizen initiatives of this sort tend to fall short of their goals because they often take for granted the nuances of effective planning.
"These kinds of citizen-based initiatives, a lot of times they have very unrecognized consequences as they go through into the future," Meyer says.
There haven't been any studies to show whether Walnut Creek's initiative reduced traffic, according to Nodder, but the city found the growth limitations effective enough to include them in the city's general plan. The limitations are good at controlling growth in a built-out city, according to Meyer, but their effect on traffic is likely small.
In fact, Walnut Creek's limitations may actually increase the amount of traffic in the city by pushing development to its neighbors.
"Like a tube of toothpaste, if you squeeze growth in one city, it shifts it to another," says Robert Cervero, an expert in transportation planning at the University of California, Berkeley College of Environmental Design. "In Walnut Creek's case, this meant more traffic traveling through the city over time, but a frozen property and sales tax basis to generate funds to do anything about it."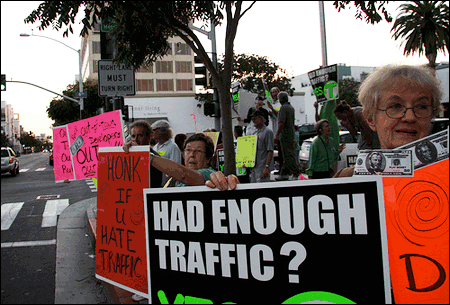 Property taxes make up a significant amount of city revenues, and by limiting the amount of development, cities limit how much property tax they're able to collect. This is a major concern for opponents of RIFT in Santa Monica. The independent analysis presented to the city revealed that RIFT's passage would reduce the city's expected tax revenue by about $11 million a year, and the school district's by about $1 million. But proponents say things are being blown out of proportion.
"This doesn't take away any existing revenue from the city. Any changes this makes are on possible future additional revenue, and the change happens incrementally so that we can adjust the budget as we go," says McKeown, a RIFT supporter on the city council.
As the election approaches, the stakes may be highest for people who don't even live near Santa Monica. According to a recent article from the Los Angeles Times, RIFT opponents are expected to raise more than $1 million for their campaign by Election Day, much of it coming from developers based in Chicago, Houston and New York.
"We are being outspent probably 10 to one," says RIFT supporter Winterer. He says it is developers and architects who stand to see negative impacts from RIFT, not the city or the people of Santa Monica.
A Mistake or a Model?
Opponents counter that the real issue is not who would feel the worst repercussions from RIFT, but rather how the proposal fails to achieve what it promises. They say traffic will simply not get better by blocking development.
"If they wanted to target traffic, there are a number of measures that you could take in order to directly target traffic," says O'Day. "These are the ways that you reduce traffic: by creating transit-oriented, walkable communities where residents have access to neighborhood services. You don't do it by upending that whole planning process, which is what RIFT would do."
"I think it would be dangerous for the region if this passes in Santa Monica," O'Day says.
Cervero says piecemeal approaches to growth control in the name of traffic are not realistic, especially in heavily developed places like L.A.
"Growth management only works on a regional, or in some instances, a subregional/corridor level," he says. "The dynamics of urban growth are too powerful for any one city in a huge metropolis to do anything about it through its only growth restriction."
Despite warnings from the opposition, RIFT continues to gather support. Los Angeles City Council member Bill Rosendahl, whose district borders Santa Monica, recently offered his endorsement of the proposal, giving it some additional credibility in the eyes of supporters. Like Rosendahl, officials from other cities in Southern California and beyond have been keeping a close eye on the proposal. Some fear their citizens will follow Santa Monica's lead if RIFT passes, while others hope its passage will open the door for a new method of controlling traffic in a heavily congested region. Support on both sides of the issue is strong and there appears to be no obvious winner. The only certainty on Election Day is that the whole region will be watching to see what happens.
---
Nate Berg is assistant editor of Planetizen.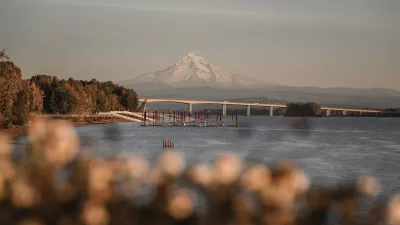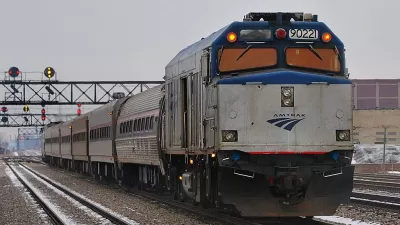 Amtrak Ramping Up Infrastructure Projects
Thanks to federal funding from the 2021 infrastructure act, the agency plans to triple its investment in infrastructure improvements and new routes in the next two years.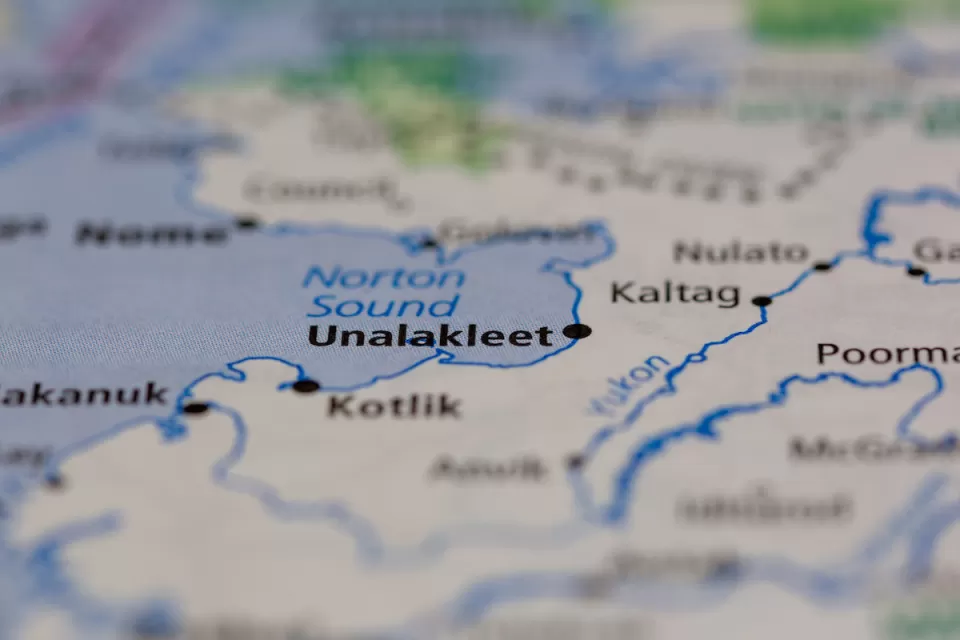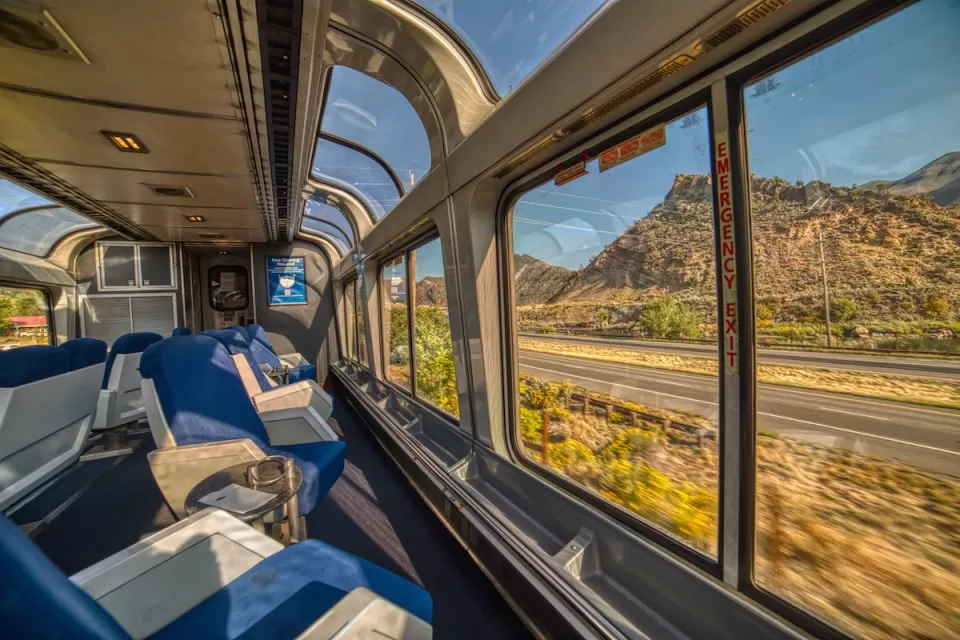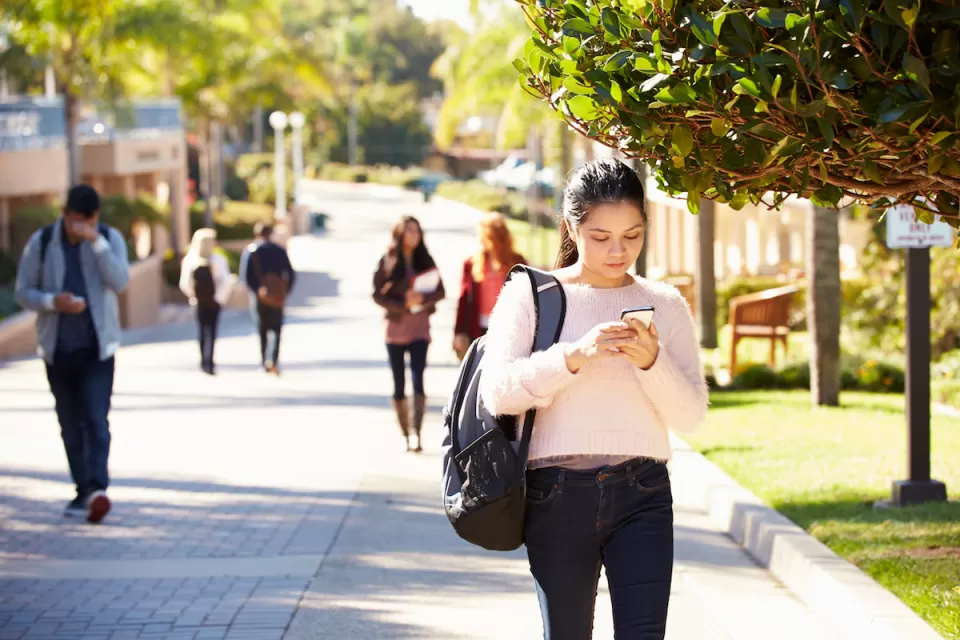 This six-course series explores essential urban design concepts using open source software and equips planners with the tools they need to participate fully in the urban design process.
Learn the tools for implementing Universal Design in planning regulations.
View More