How is the financial crisis impacting urban planning and land use policy? Managing Editor Tim Halbur takes a look at some early indicators drawn from recent news headlines and conversations with planning professionals.
---
On a daily basis, we're hit with major news headlines about impending economic disaster, reeling markets, and aggressive fiscal policy designed to slow the bleeding. It's difficult to summarize what all of this means for our public and private lives – the facts aren't all in yet. But we can start to examine what is going on at the local level and how land use and development are likely to be impacted in the near-term. In the coming weeks, we will continue to bring you an occasional summary of headlines related to the economy and its impact on our cities, and we'll talk to planners around the country to get their perspective.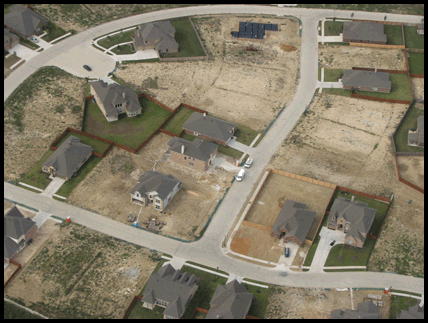 Slowing development
"We are just beginning to feel the effects of the financing crisis," says Dan Marks, planning and development director of Berkeley, California. "Our major entitlement permits are down 10 percent, and we are just beginning to see a reduction in the number of people applying for building permits It's way too early to predict how much impact this will have, but I'm expecting a deep and long recession in the development business, as the financing crisis and drop in people's overall sense of security plays itself out in a negative feedback loop, further deepening what is likely to be a difficult time."
Planetizen has followed several stories of housing developments stopped in their tracks by the new financial landscape. Early buyers, like Robert Waltenspiel of Auburn Hills, Michigan, are finding themselves surrounded by empty lots. When interviewed by The Register-Mail, Mr. Waltenspiel said that there are no other kids for his children to play with, so he has to take them to a local playground to find playmates. His 4-year-old "will walk up to strange girls in the park and say, 'Hey, will you be my friend?'...A, it's adorable. B, it's sad."
New Daleville, an exurban development written about by author Witold Rybczynski in his book The Last Harvest, is another such project. NPR reported that the project is only half built out, and dotted with empty lots. Envisioned as an upscale, semi-rural development, residents are now skimping on external elements like siding so they can hold on to their mortgages.
What happens to these half-built developments now? Will exurbs become ghost towns, populated by a few lonely residents wandering deserted streets, fending for themselves in terms of basic services? Or will the eventual revival of the housing market allow developers to pick up where they left off? Or will these far-flung developments return to nature?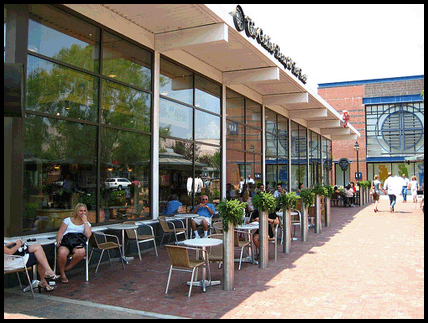 Restaurant Revitalization?
And what about commercial real estate? Retail is taking a big hit as people hunker down and try to save money. But somewhat counter-intuitively, restaurants may be enjoying a different fate. Some sources report that restaurants are taking over the traditional role of anchoring downtowns and shopping centers. Developers in Dallas report in the Dallas Morning news that they are increasing the percentage of eating places in their centers to meet the rising demand. The National Restaurant Association also projected restaurant sales to increase 4.4 percent this year. And a study by Oregon Metro reported by CoolTown Studios says that wine bars, specialty grocery stores and movie theaters can raise home values within a block and a half by as much as 30%.
Other developers are looking to institutional projects like hospitals and schools to keep afloat. In an article in the Ann Arbor Business Review, Curt Peterson, group vice president at CSM Group, a construction management firm based in Kalamazoo, said, "I think that the retail and hotel side are the most difficult to get lending for; medical and life sciences are strong...The major challenge will be for municipal projects where the variable-rate bond funding is very high compared to the norm."
A Regional Problem?
In other parts of the country, the effects of the financial crisis have been less extreme or non-existent. I spoke with Donald R. Sampson, Director of the Department of Community Development in the City of Pine Bluff, Arkansas, who reports, "We still need housing, despite the situation, because housing is a need, not a luxury item." Sampson says that although he thinks credit scores might become more significant in procuring loans for individuals, their lending institutions are regional and weren't involved in the types of investments that are sinking national financial groups. "We're still closing loans, and helping people to purchase loans." Sampson says.
But over in Berwick, Maine, the outlook doesn't look as rosy. "We saw a dramatic slowdown in permits," says Judy Burgess, planning coordinator for the town of 6,353 residents. "I've had no applications for projects in the last- wow- I'd say six months. It didn't just happen with this drop, but it is happening. There's a big drop in revenue from building applications, and subdivision applications. So the only other alternative is to cut services."
Uncertain Times
As I write this, the Bush Administration is moving forward with a $250 billion plan to prop up some of the nation's largest banks in the highly unusual step of taking equity positions in these private businesses, and the presidential candidates are preparing for their final debate. Change is in the air, and there's no denying that financial trends and national policy are going to continue to have an unfolding impact on what happens at the state and local level. The coming months are sure to bring more headline-worthy developments that impact every aspect of the urban environment.
At least we're not in Iceland...
The Right to Mobility
As we consider how to decarbonize transportation, preserving mobility, especially for lower- and middle-income people, must be a priority.
Where Pandemic Bike Improvements Won Out
While some cities are reverting back to pre-pandemic street configurations, others are taking advantage of the momentum for bike and pedestrian infrastructure to make pandemic-era projects permanent.
This six-course series explores essential urban design concepts using open source software and equips planners with the tools they need to participate fully in the urban design process.
Learn the tools for implementing Universal Design in planning regulations.
View More