---
A new WTO proposal on domestic deregulation could have a significant impact on the ability of planning departments to undertake zoning and land use planning activities, restrict signage, and create guidelines and other design-related criteria. Ellen Gould and Andrew Pask examine the implications, using their city of Vancouver as an example.


The proposal introduces a new set of "domestic regulation disciplines" that will impact how governments can regulate. At the local government level, this could open up to challenge a range of municipal regulatory tools, financing mechanisms, and standards – undermining the ability of local governments to effectively manage land-use activities within their boundaries.
At the end of January 2008, the chair of a little-known WTO committee, the Working Party on Domestic Regulation, issued a draft text for new binding restrictions on how governments can regulate. These restrictions are called "domestic regulation disciplines" and will take the form of an amendment to an existing WTO agreement, the General Agreement on Trade in Services (GATS), which applies to all levels of government including municipalities. Local governments in Canada (as well as elsewhere) could be particularly impacted because the federal government has already agreed to have GATS apply to municipally-regulated services like construction, retail distribution, sewage, outdoor advertising, and waste disposal.
Yet even as the disciplines are moving towards adoption, WTO negotiators have not made public any assessment of what their proposals will mean in specific terms for local governments. This oversight could have significant consequences for cities across the globe.
Undermining Municipal Authority
Under the new disciplines, the right to regulate to meet "national" policy objectives is recognized, but a footnote that appeared in earlier drafts clarifying that this includes "sub-national" objectives has been deleted. This lack of recognition of sub-national objectives is a particular problem in countries like Canada where many services are the regulatory responsibility of local, regional, or provincial governments. In the event of a WTO challenge, dispute panels might deny the legitimacy of local objectives if they were not shared by central governments.
In fact, the disciplines were drafted with apparently little regard for the authority of sub-national governments. Instead, they require that approval processes involving businesses and government be "as simple as possible." Simplicity, here, could mean limiting the involvement of multiple levels of government, instances of "shared responsibility," or reducing any instances where multiple approvals from different levels of government are required.
Under the proposed disciplines, companies seeking permission to supply a service such as retail, recreational, or residential development could only be required to approach "one competent authority" for approvals. And yet, in Vancouver – as with other cities – there are an array of processes within the purview of local government that also fall under the mandate of other levels of government – including social housing and shoreline development to name but a few.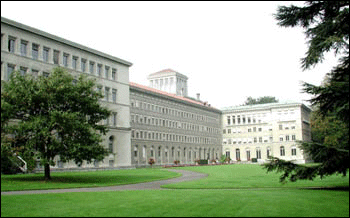 The Scope of Municipal Regulations Affected
The proposed WTO restrictions will apply to "measures relating to" licensing and qualification requirements and procedures and technical standards. Therefore, not only are the actual requirements and standards covered but as well any government measure related to requirements and standards. Thus, Council decisions around the issuance of contracts, the licensing of businesses (in general, as well as specific licenses for taxi's, food vendors, and other specialized services) and more is at stake. But more dramatic still is the possibility that licensing could also include all aspects of the development process. The US delegation has expressed concern that such a broad definition of licenses could cover "permits related to construction [and] the operation or use of facilities "
The development of standards and guidelines are the hallmark of much innovative municipal policy. Yet under the proposed disciplines, the notion of standard is so broad as to include everything from zoning bylaws (a form of land-use standard relating to the permitted uses and characteristics of development on a given site), sustainable and "green" building standards, design guidelines and more.
As an antidote to the current level of open-endedness, GATS negotiators could work to protect municipal regulatory authority to limit the definitions of what the disciplines cover. So far, this hasn't happened. Another way could be to make an exception for zoning and hours of operation regulations, as one GATS proponent has recommended. Again, this sort of amendment has yet to appear.
Creating Grounds for Challenges
Challenges to municipal regulation of small-scale developments are unlikely. However, a WTO country with a substantial development industry might undertake a challenge if a large development was being held up or prevented. Similarly, a challenge could be launched over a particular project – such as a big box store - if a WTO win opened the door to many more projects of its kind.
The proposed disciplines provide two main avenues for regulations to be challenged: 1) on the basis of their content, and 2) on the basis of process - how the regulations are developed and carried out.
Potential Violations Due to Content
Municipal regulations or procedures that "discriminate" against foreign companies by either directly or indirectly favouring local business (e.g. through a local procurement, or economic development policy) can already be challenged under the GATS. Now, however, the proposed disciplines would create grounds for challenge to the much broader category of "non-discriminatory" regulations, which includes the majority of the tools of city government. Non-discriminatory regulations include things like zoning and building-related bylaws, sewage bylaws, health bylaws and regulations that set development charges. For municipalities, this will be the first time that their most elementary forms of regulations and procedures could be disciplined in an enforceable way by an international institution.
For a city like Vancouver, the language of the WTO document suggests the possibility of challenges to the City's requirements that developers preserve views, provide public open space, or observe transportation or sustainability principles, for starters.
There are a number of other examples of non-discriminatory Vancouver regulatory practices that the disciplines appear to conflict with. For instance, Vancouver's development approval process includes a variety of measures to make sure a proposed development works for the overall community, and not only for the suppliers and consumers of construction services. Design considerations are taken into account to achieve goals like preservation of the character of neighbourhoods. Other design-related and aesthetic criteria Vancouver uses in the evaluation of development proposals are requirements for:
Landscaping
Public art
Tower separation to mitigate impacts on privacy
Heritage building and façade preservation
Green building standards
Urban agriculture opportunities
Resident amenities
While voluntary compliance is the norm, the City is empowered to enforce its decisions, as it did when it took out an injunction to stop construction of a downtown skyscraper with windows causing excessive glare. Considerations like these could be ruled neither "objective" - since they often involve inevitably subjective judgments, nor "relevant" - since construction services can be supplied without factors like urban agriculture or community amenities being considered.
Restrictions on Zoning
Not only design concerns, but zoning itself might be threatened by the disciplines if panels chose to take a narrow view of what is "relevant" to a service and a broad one of what constitutes a restriction on trade. Zoning by definition deals with externalities, the effects a particular development will have on surrounding land uses, and these are not strictly relevant to the actual services involved in constructing buildings.
Is zoning a restriction on trade? Zoning certainly restricts trade in services by preventing uncontrolled development. Traffic restrictions imposed on retail developments might be perceived to run counter to the interests of merchants and their customers, and represent another restriction on trade in services.
The new disciplines also would open up to challenge a variety of municipal fees and other costs charged to developers. The result again would be to limit what broader community benefits municipalities can seek from development. The disciplines stipulate fees would have to be limited to "the costs incurred by the competent authorities", with the result that anything beyond the administrative costs of processing a development application might be ruled to be a regulatory violation.
Potential Violations Due to Process
Not only does the content of the regulations, standards and charges mentioned above come into question with the new disciplines, but so too could the process through which they are applied. Under the disciplines, all measures related to regulations would have to be "transparent", with details published in advance, and requirements that are "pre-established."
Municipalities have found they can often achieve what is best both for their communities by building flexibility and regulatory discretion into the development approval process. In Vancouver's case, Community Amenity Contributions, Development Cost Levies and any other community-enhancing charges on development employ a mix of both formula-based extractions and brokered "give and take" negotiations. For example, additional density might be permitted in exchange for added green space, building height for more social housing.
Yet this regulatory flexibility might be challenged under the disciplines as not being sufficiently transparent and not giving developers "pre-established" requirements they have to fulfill. The "pre-established" requirement would also seem to endanger the authority of municipalities to downzone, an authority recognized by Canadian courts.
The disciplines require regulatory procedures to be "as simple as possible." This is a very tough standard to meet, as arguably any process could be made more simple if objectives other than simplicity were sacrificed. For example, jurisdictions that do not have requirements for community input or other complicating steps in their approval processes could be held up as examples of how maximum simplicity can be achieved.
The time approvals take, as well as the complexity of the process, is often a point of contention between developers and municipal governments. The proposed GATS disciplines would require processing of an application to begin "without undue delay" and final decisions on completed applications to be given "within a reasonable timeframe". In Vancouver's case, with speculators wanting to cash in on the current pre-Olympic building boom, a multi-year process for rezoning might be viewed as "unreasonable" or creating "undue" delays.
The disciplines would also effectively bias the process of developing regulations in favour of foreign companies. Governments would have to make an effort to give "service suppliers" an opportunity to comment on proposed regulations, and to give written responses to their comments. The right to comment would be a WTO-backed obligation for commercial interests to have input on regulations, a right not extended to neighbourhood, environmental, or heritage preservation groups.
Some WTO delegations have objected that this "prior comment" requirement is not permitted under their domestic law, and raised concerns about the burden it would place on sub-national governments.
Conclusion
Media coverage of the current round of WTO negotiations is rare, and what little coverage there is usually focuses on the agricultural aspect of the talks. But while the GATS Working Party on Domestic Regulation may not have attracted a lot of attention, its work will nonetheless produce permanent, binding constraints that could have significant effects on municipalities. The draft domestic regulation disciplines therefore merit broad discussion among planners and all those concerned with municipal government.
---
Ellen Gould Ellen Gould is a Vancouver-based consultant, advising the Harrison School of Law, Georgetown University, consumer groups, municipal governments, and professional associations on the impacts of international trade agreements.
Andrew Pask Andrew Pask is director of the Vancouver Public Space Network and has worked on municipal planning issues in Ontario and British Columbia.
San Francisco Just Ended Single-Family Zoning
The San Francisco Board of Supervisors voted to Tuesday to eliminate single-family zoning, but pro-development advocates say additional changes are needed to unleash a wave of construction.
Something Old, Something New: Biden's Housing Plan
President Biden's Housing Supply Action Plan is a catchall of existing proposals, tiny tweaks, and things Congress would have to fund—plus a few genuinely interesting administrative moves. Here's the rundown.
This six-course series explores essential urban design concepts using open source software and equips planners with the tools they need to participate fully in the urban design process.
This course aims to provide an introduction into Urban Design Sketching focused on how to hand draw master plans using a mix of colored markers.
View More